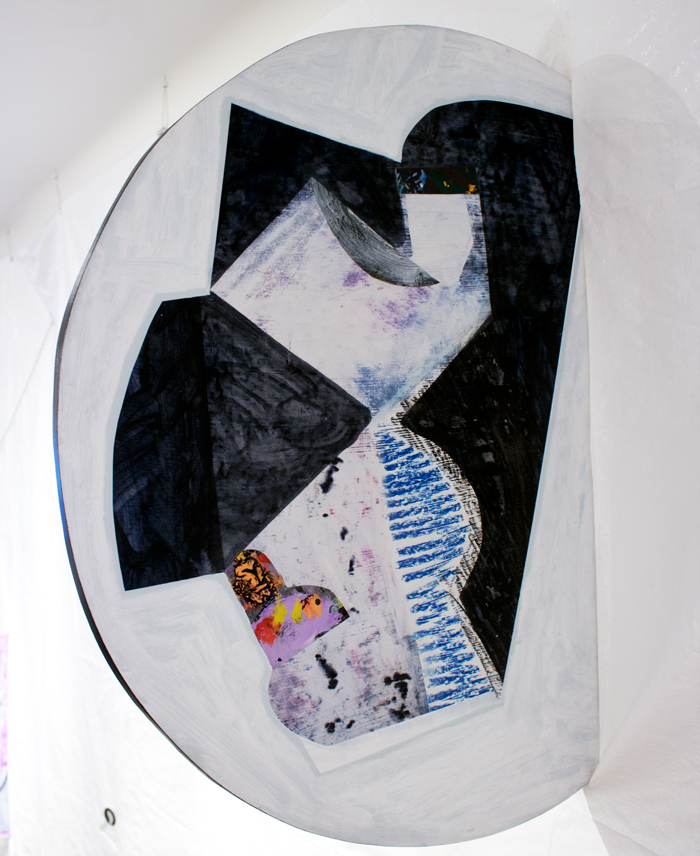 COLLAGE ON VIEW
Russell Leng: Temporary Tunnels
at FIELD Contemporary in Vancouver, British Columbia, Canada
26 October-9 December 2017
Temporary Tunnels presents 8 new paintings and a series of drawings by Leng incorporated into
a site-specific installation.
Russell Leng narrates the work:
"After I left the clearing (where the stone table offered so much), I entered a space that appeared when needed and faded once passed through. It was solid but permeable–sandstone perhaps, with tiny holes punctured into its surface. As I entered this tunnel, my pockets became heavy. Reaching in, I found lost objects that seemed familiar. I placed each one into a hole and a memory played out in colour. Cloudy stones became piles of blue powder. They multiplied in my peripheral vision, and diminished in scale as my eyes focused back on them. Clarity weakened their wonder and denied their rarity.
"I continue through and arrive at the mouth of another tunnel, this one high-key white. A cut in the wall calls for a healing noise to patch, cover and repair. A shimmer behind, half in half out. I navigate over the uneven terrain, aided by spikes secured to my feet. They lead me to a tightly woven plane, then ask to be used. I break the spikes from my toes and start to scrape, cut and arrange. As I work, I see a round form ahead, whispering a familiar invitation."
Russell Leng is a Canadian artist based in Vancouver. Kolaj Magazine wrote about the artist in Kolaj #13, just after he was shortlisted for the 2015 RBC Canadian Painting Competition. Read more HERE.
---
INFORMATION
FIELD Contemporary
17 West Broadway
Vancouver, British Columbia V5Y 1P1 Canada
(604) 315-0501
Hours:
Friday, Noon-5PM
Saturday, 1-6PM
or by appointment
Image:
Temporary Tunnels 2 (Familiar Invitation)
by Russell Leng
24″x12″
acrylic, oil pastel, ink, staples, drywall screws, holographic foil, rubber, on wood panel
2017
Courtesy of the artist and FIELD Contemporary, Vancouver