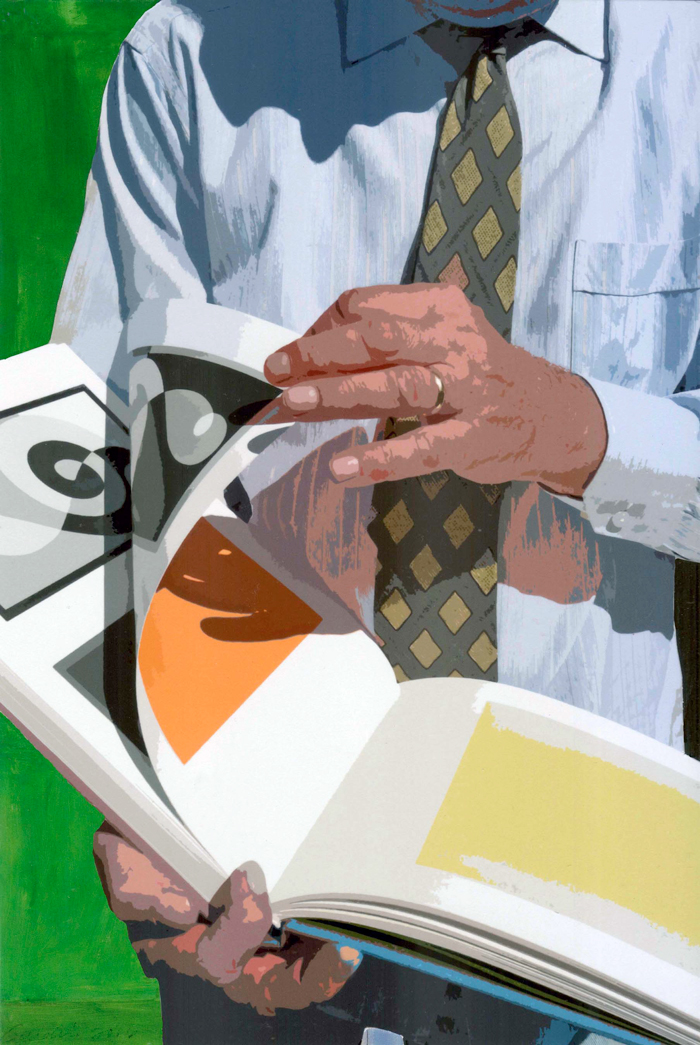 COLLAGE ON VIEW
Ginnie Gardiner: The Color Prophecies
at the Woodstock Artists Association in Woodstock, New York, USA
27 October-25 November 2018
Artist Talk with art critic Carter Ratcliff: Saturday, 27 October, 3PM
Artist Reception: Saturday, 3 November, 4-6PM
Ginnie Gardiner says about the work in this show:
Mexico shook Josef Albers loose from the greys and blues of the North and inspired Albers to use magenta, turquoise, violet, and ocher, among other colours, in varying combinations. These are the colours of nature and everyday culture in Mexico. Pure, "out of the can" colours like those used as house paint or in advertisements, take their natural place with the red earth and turquoise skies. Our society and popular culture has since metabolized the intuitions of Albers, and in this series I'm seeking a re–integration of that special dialog he achieved with the conscious and material reality formed by painting that joins abstraction with representation.
"The Color Prophecies" is a new series begun in September 2016. In it, I am exploring where colour predicts and dictates certain interactions. For the creation and design of these images, I am painting solid colour mixtures on woodblock papers to use for backgrounds and various planar elements with isolated figural elements from my photographs. These mixed media collages function as the studies for my paintings.
I have been working with the premise of creating paintings with specific colour palettes for many years. For me, it is a working process that is endlessly fascinating. I was never interested in attacking the blank canvas or putting down one mark and seeing where that led me. Of course, this is a subject that has been written about with many variations. The practice of orchestrating the colours in a painting to register in a particular key is my approach.
The juror for 2018 solo shows is Kenise Barnes, Director and owner of Kenise Barnes Fine Art in Larchmont, New York.
The artist catalog, The Color Prophecies, and other series by Ginnie Gardiner are available from Kasini House Artshop HERE.
(Text adapted from the gallery's press materials)
---
INFORMATION
Woodstock Artists Association
28 Tinker Street
Woodstock, New York 12498 USA
(845) 679-2940
Hours:
Wednesday-Thursday, Noon-5PM
Friday-Saturday, Noon-6PM
Sunday, Noon-5PM
Image:
Go
by Ginnie Gardiner
9″x6″
mixed media collage
2016