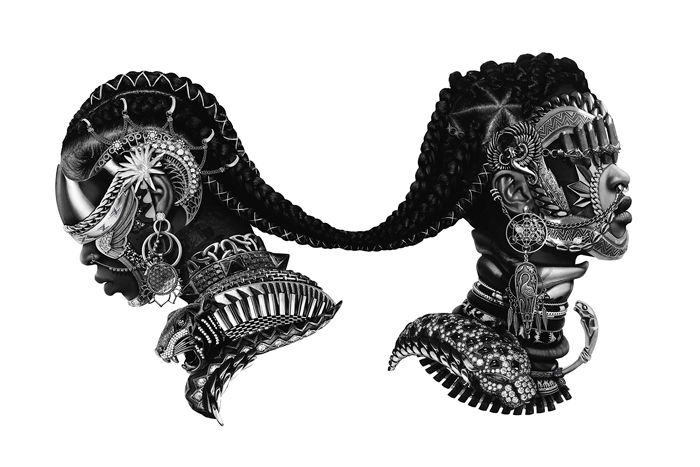 COLLAGE ON VIEW
the cut, the tear & the remix: contemporary collage and Black futures
at the McMaster Museum of Art in Hamilton, Ontario, Canada
Online only: 22 April-22 July 2021
The McMaster Museum of Art in partnership with the Nia Centre for the Arts presents the virtual group exhibition "the cut, the tear, & the remix: contemporary collage and Black futures", curated by Hamilton visual artist and art educator stylo starr. The artists, Emkay Adjei-Manu, Anna Binta Diallo, FEZA, Kofi Oduro, Sonya Mwambu, SPATIAL-ESK, Ghislan Timm, and Yung Yemi, are all deeply engaged in unearthing a future rooted in their individual ancestral connections to the African and Caribbean diaspora through varied interpretations of collage. Artists present their work using "cut & paste" techniques—both analogue and digital—that go beyond traditional tactile paper and photomontage iterations of the medium to include new media such as video, digital art and design.
Visitors enter "the remix" through a cosmic and ethereal environment custom designed by artist SPATIAL-ESK. The interactive space invites guests to navigate between dedicated artist rooms that create intimate encounters with the art. The unique online presentation of the remix, as a result of current global circumstances, is in and of itself an envisioning of the future of Black spatial and temporal experiences. Whether it's through engaging with Anna Binta Diallo's mythical silhouette cut-outs, Yung Yemi's Afro-futuristic portraits, or Kofi Oduro's coded audio track, the show acts as
an invitation for others to contemplate and participate in this new imagining.
The exhibition is accompanied by a printed feature in PITCH magazine, an independently run Black arts publication based in Hamilton. The project is an output of starr's curatorial research and mentorship through the unique Curator-in-Residence program hosted by the McMaster Museum of Art and Nia Centre for the Arts.
(text adapted from the museum's press materials)
---
INFORMATION
McMaster Museum of Art
Alvin A. Lee Building (Attached to Mills Memorial Library)
McMaster University
1280 Main Street West
Hamilton, Ontario L8S 4L6 Canada
(905) 525-9140 x23081
Hours:
The museum is temporarily closed until Fall 2021.
The exhibition is viewble online HERE.