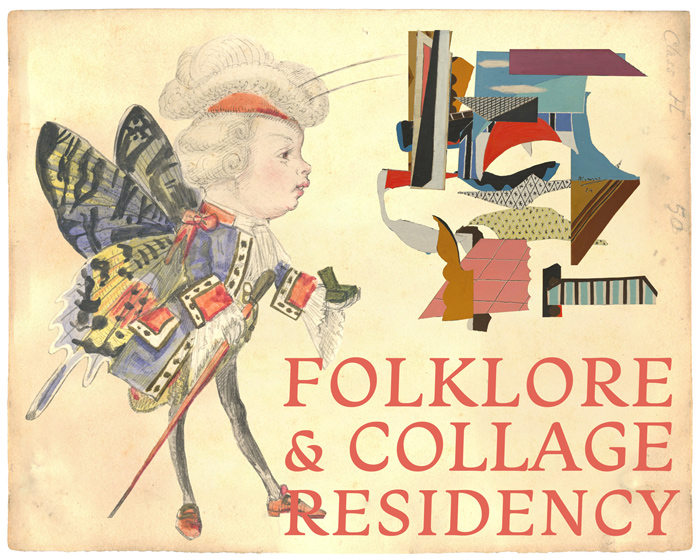 RESIDENCY UPDATE
Folklore & Collage Residency: Virtual
Summer 2023
A virtual residency centered on collage artists who want to incorporate history and folklore into their artist practice. Residents will make artwork for an exhibition and book.
ABOUT THE RESIDENCY
Folklore is the imagination of the past as it is understood in the present. More importantly, folklore is how a community expresses itself to one another. In order for folklore to be transmitted over time, it must be nurtured. During a time when folklore is devalued by economic systems and dismissed by political power, artists play an important role in calling attention to and celebrating these important elements that shape community identity and reinforce communal ties. In times of crisis and collective trauma, these stories can be key to a community's sense of resilience and ultimate survival. By engaging with these stories, artists can play a role in activating folklore for a community and facilitating their transmission
Folklore & Collage Residency is a four-week program designed to support artists who want to develop a practice that includes folklore in their artmaking. In four virtual meetings over four weeks and through ongoing, online discussion, we will explore folklore as an idea, its role in culture, and influence on art. During the Residency, artists will identify stories from communities and make art which activates these stories. Artists will examine the work done previously by artists in Residencies in Scotland and Tennessee to develop a series of strategies for making collage that is in conversation with folklore relevant to their own community.
Designed for collage artists, professional development sessions focus on artist practice: topics include Collage in Theory; Copyright & Appropriation; Developing Context; Collaboration; and Collage in Presentation. Using stories they identify from their own communities, Residents will make a body of work (a collage or series of collages). After the residency, work from this body of work and a statement (or story) for inclusion in a book about folklore will be published by Kolaj Institute in 2024.
This Residency is part of Kolaj Institute's Folklore Program. Learn more about the Folklore Program HERE.
---
PARTICIPATING ARTISTS
Kolaj Institute is excited to announce the twelve artists from India, Chile, Canada, the United Kingdom, and across the United States that were selected to participate in the virtual residency.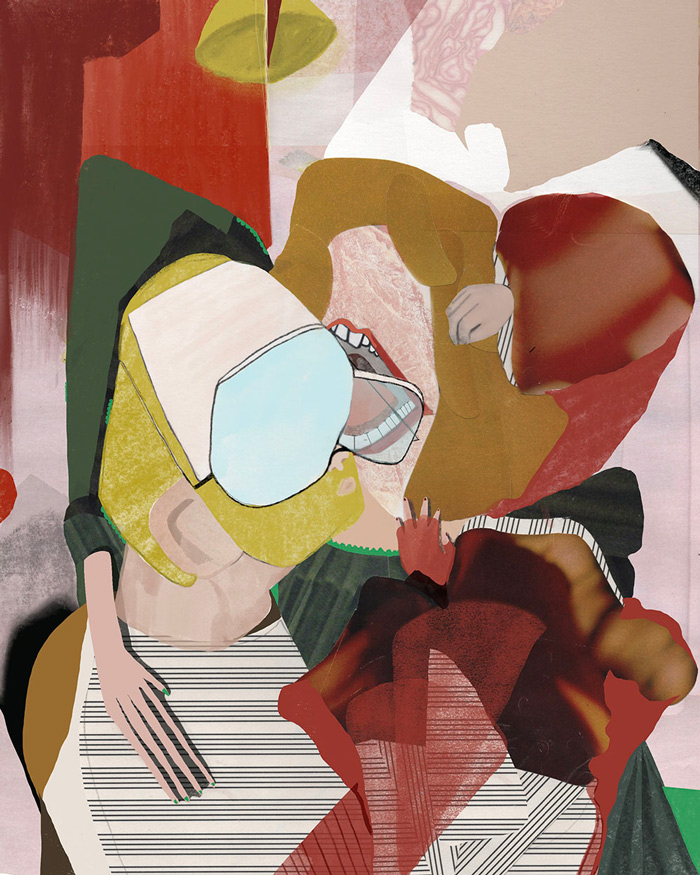 Charlotte Kingston Larson creates her illustrations within the confines of her apartment in Brooklyn, New York where she resides with her partner and their dog, Stain. This environment is in stark contrast to her upbringing in Colorado, but she finds trash heaps and strangers to be far more inspirational than any mountain. NYC first laid its hands upon her in 2010, when she began studying Communications Design at The Pratt Institute. In 2014, Larson graduated with honors, made the President's List, and participated in the coveted Pratt Show. One of her illustrations was featured in the Society of Illustrators Student Competition Show and another in the Lürzer's Archive of the World's Best Illustration in 2019. Her work has been featured in art fairs and local galleries in both Denver and New York. Several commissioned animations focusing on social justice and voter participation garnered upwards of 20 million views on the Giphy platform. She has had a plethora of jobs, some more creative than others, as she has continued to create work that delights in its obscurity.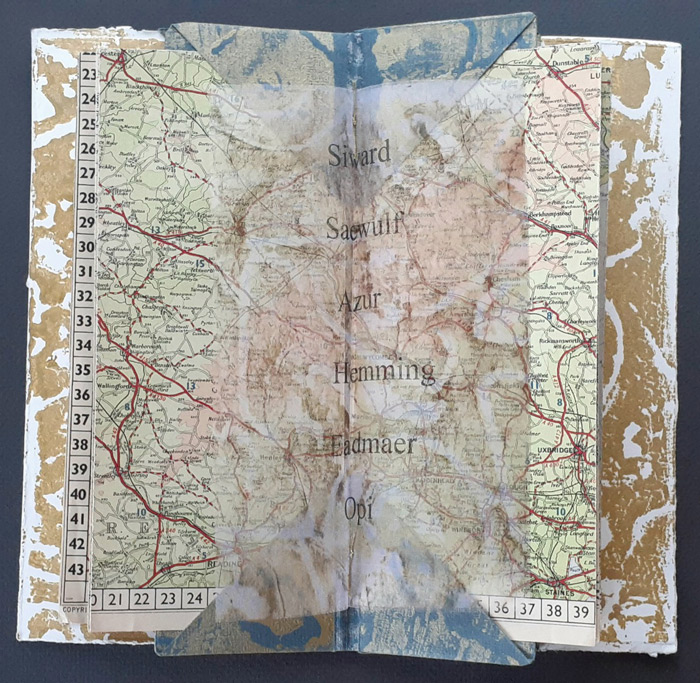 Mixed media artist Claire Marcus has a special interest in landscape's power to evoke narrative and wonder. Her work in book and paper arts includes printmaking, drawing, photography, and textile techniques. A fifth-generation textile artist, Marcus has training in painting, architecture, and art history. She holds MFA and BA degrees from the University of Pennsylvania, where she studied with MacArthur Fellow Rackstraw Downes, Red Grooms, and photographer Rudy Burckhardt. Marcus has exhibited with Al-Mutanabbi Street Starts Here, Center for Book Arts, Centre for Print Research, Kalamazoo Book Arts Center, Minnesota Center for Book Arts, Philadelphia Center for the Book, and San Francisco Center for the Book. Her work is held in public and private, national and international collections. Born and raised in New York City, Marcus lives in Bethlehem, Pennsylvania. She has been a teaching artist for the Pennsylvania Council of the Arts since 1998, conducting residencies and community arts projects in school, correctional, and cultural settings.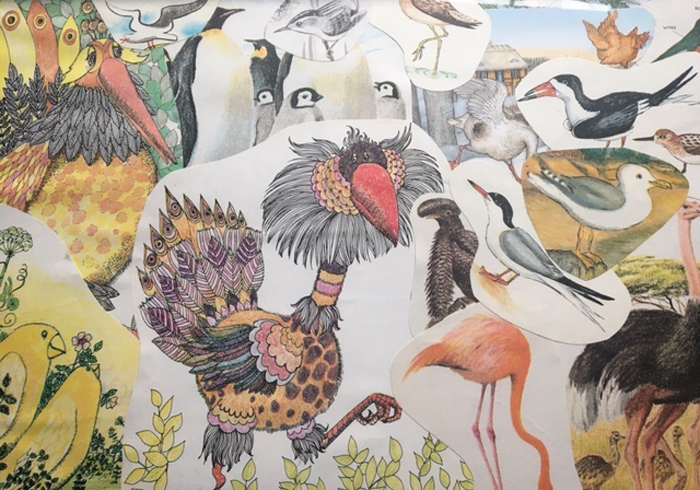 Clare Jones is a collage artist based in Ithaca NY, on the traditional homelands of the Cayuga Nation. She completed a BA at Carleton College, where she studied printmaking and book arts with Fred Hagstrom. She then completed an MFA in Poetry at the Iowa Writers' Workshop and Graduate Certificate at the University of Iowa Center for the Book, where she studied with paper maker Tim Barrett. All of her work combines a love of literature and natural history. Jones' poetry has been published in Poetry, Sport, Sweet Mammalian, and elsewhere. She has sold her artwork at the Ithaca Artist Market and is a member of the College Book Arts Association. She has received grants from CBAA, the Community Arts Partnership of Ithaca, the Saltonstall Foundation for the Arts, the Fulbright Program, the Caxton Club of Chicago, and the Iowa Writers' Workshop. Jones was born in New Orleans, where she developed an interest in ecology and folklore. This interest has developed over time as she has completed a number of ecopoetic projects in Micronesia and Polynesia. A major force behind her art is the study of natural history, particularly on islands and coastal regions, as global climate change and human activity alter landscapes and languages. Jones first began making book collages as an elementary school teacher on a remote atoll in the Marshall Islands, where she encouraged children to create their own books out of natural or found objects, as books were few and far between or damaged. This resourcefulness and commitment to recycling has stayed with her and informs her practice today.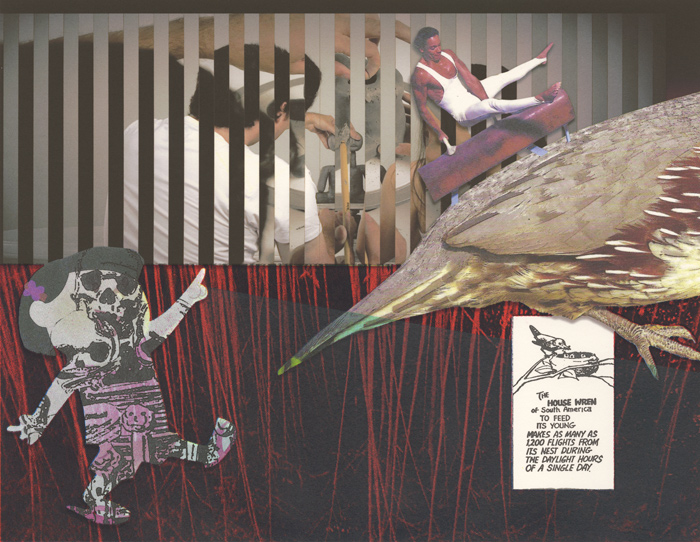 Danqi Cai received her BFA in Printmaking and Humanistic Studies from the Maryland Institute College of Art (MICA) and her MFA in Studio Art from the University of Tennessee Knoxville (UTK). She is an Assistant Professor of Foundations at the University of Arkansas in Fayetteville, AR. Cai has shown nationally in juried exhibitions at venues including the Alper Initiative for Washington Art (DC), Bradbury Art Museum (AR), International Print Center New York (NYC), and the Joel and Lila Harnett Museum of Art (VA). She received the Muskat Studios Prize from The Boston Printmakers 2019 North American Print Biennial and the Best in Show award from the 2018 Four Rivers Print Biennial. Her work has been supported by artist residencies, including the Chautauqua School of Art and the Hambidge Center. She served as an Executive Board Member for the Mid American Print Council from 2020 to 2022.
Indira Govindan is a retired academic administrator/faculty with a long successful career in higher education with a total of five degrees (from India and USA) including a doctorate in religious studies. She obtained her post-graduate degrees in history from India's premier universities steeped in Marxist academic traditions. This early training in critical examination of capitalism and imperialism and their deleterious effects on the colonies has been particularly influential in shaping her collage art. Art had always been a lifelong passion for her and since retirement, she has immersed herself in becoming a full-time artist. She has no formal degree in art, but she has learned from well-known artists and at prestigious institutions, including advanced-level courses in botanical illustration at the New York Botanical Garden and Cornell University and a year-long course with collagist Randel Plowman. Govindan enjoys learning new skills through classes and workshops and is constantly expanding her skill set which now includes bookmaking, printing, jewelry making, botanical painting, papercut art, and wood burning. Her art career started with painting in oils and watercolors and over time has shifted to mixed media and collage. Indira had a long association with the mixed-media magazine Cloth Paper Scissors which had published several of her articles and artwork. Her artwork also appeared in Uppercase magazine. She has won several prizes, including two first place finishes, in mixed-media category at the the New Jersey Senior Art Show. Her mixed-media art Civil While Disobedient was accepted into Monmouth University's curated Artivism exhibition. She has also participated in several group exhibitions in New Jersey. Many of her paintings and handmade books now reside in private homes all over the world. She donates the proceeds from the sale of her arts and crafts to support physically challenged children in India. She also financially supports art-related activities through her non-profit organization. Govindan was a member of the Selection Committee for Member Shows at the Visual Arts Center of New Jersey for a two-year term. In 2021, she was selected to participate in the Kolaj Institute's virtual Money Money Collage Art Residency where she, along with several other artists illustrated Eleanor H. Porter's 1918 novel on capitalism and its philanthropic manifestation, Oh, Money! Money!. In 2022, she was selected to participate in Photo Trouvée Magazine's 9-week-long virtual residency. She is a committed naturalist with particular interest in tree preservation and is a certified master gardener from Rutgers University, New Jersey. After living in the US for four decades, she now divides her time between India and the US.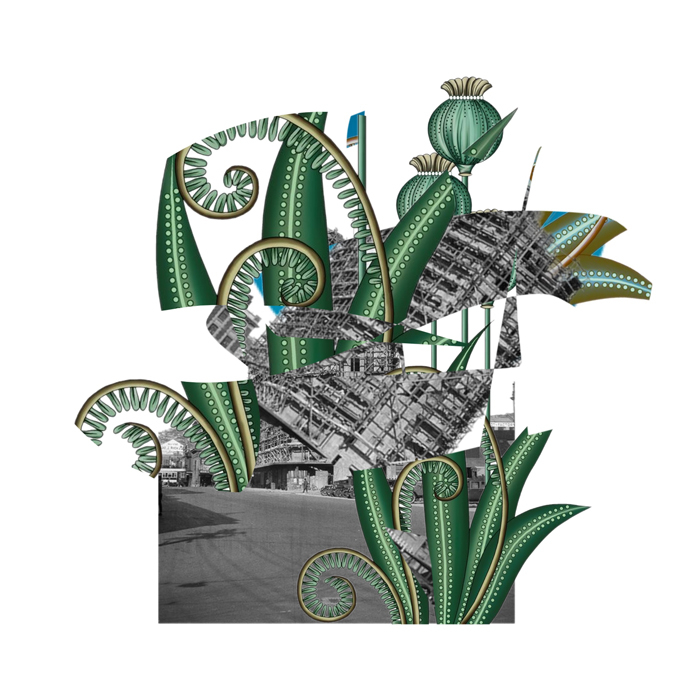 Iris Weaver is a mixed media artist, photographer, a sometimes poet and a sometimes dancer. She grew up making collage with her collage artist and art therapist mother. Weaver went to art school at The Royal Academy of Art in The Hague and then at the Gerrit Rietveld Academie in Amsterdam on weekends while teaching in The Netherlands. She is currently teaching children art and is a classroom teacher in Bonny Doon, California. Weaver is an active member of the Paris Collage Collective, featured on their website and in their book. Her work has appeared in All Mixed Up, a mixed media exhibition, Santa Cruz Art League, 2016, as well as the L'Atalier Salon and Spa, collage, mixed media, and photography art shows, March 2011 and June 2014.
Jennifer Lentfer is a Nebraska farm girl emerging from a career in international aid and philanthropy to put art at the center of her life. An essay and collage series interrogating narratives of "America, the great" within her own German settler ancestry, entitled "A story of us," appeared in EcoTheo Review in 2021. Jennifer's poems have been published in The Guardian UK, Split this Rock, the Fredericksburg Literary and Art Review, Poached Hare, Lucky Jefferson, Yemassee Journal, and on her blog, how-matters.org. As a writer in the nonprofit sector, her articles and essays have appeared in such publications as The Chronicle of Philanthropy, OpenDemocracy, and Civil Eats. Jennifer is currently writing her first play about family violence, misogyny, ableism, and U.S. healthcare, which she swears will include laughter. After fleeing the state as soon as she could at the end of college, Jennifer fled back to Nebraska in 2021.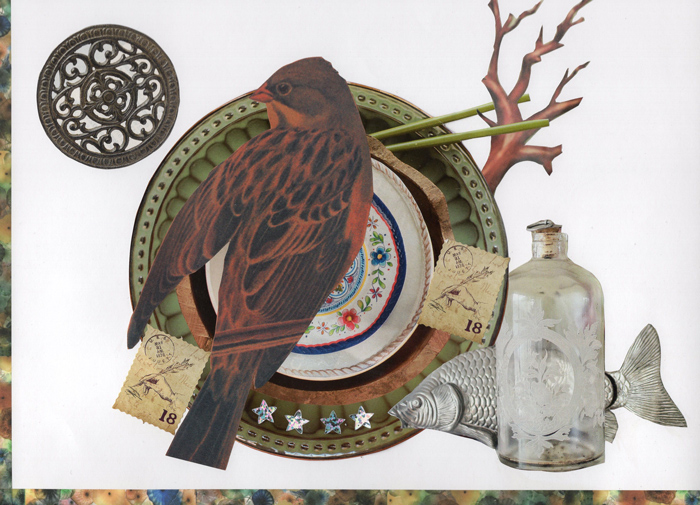 Veronica Poblete Villanueva is a Chilean choreographer, who specializes in Theater Dance. The practice of this style and her search to build new body languages ​​has led her to investigate different disciplines of dance and art. Since she was a child, she has loved making scraps and collecting different types of paper, perhaps it is a family passion because her father is a printer and her grandfather had a stationery store. But, it was in 2008 that she began to draw and resume other manual practices, and about 5 years ago she had integrated collage as a form of artistic expression. In 2022, she participated in two collective collage artistic exhibitions, the first online, which is a sample of the workshop "El collage cinematográfico" and the second, which was the exhibition "Arte Correo" in Buenos Aires, Argentina.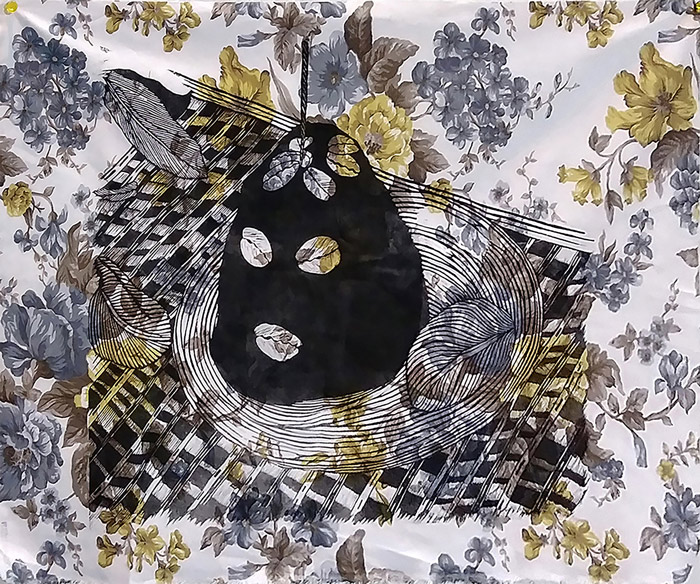 Jacoub Reyes hosts independent workshops and collaborative projects in the Greater Miami community. He is currently the Artistic Director for the City of Boynton Beach's Quantum Eco-Park and the President of the Florida Printmakers Society. Reyes is a recipient of the Foundation for Contemporary Arts Emergency Grant, Broward County's Artist Innovation Grant, 4Culture, The Puffin Foundation, The Pew Collective Grant, Allies in Arts Grant, Immerse Artist Grant, and Awesome Grant. His work is held in several public and private collections, including MassArt, Morgan Conservatory, UCF, Frontera Galeria Urbana, The City of Orlando's Public Art Collection, The Miami-Dade Public Library System's Permanent Art Collection, MDPLS Zine Library, The Vasari Project, and Hoopsnake Press. He has exhibited regionally, nationally, and internationally. Notable exhibitions include the International Print Center New York, Umbra: New Prints for a Dark Age juried by Alison Saar, La Sagrada Botanica Installation hosted by Creative City Project, Arte Insurgente Residency in GDL, MX, SGCI's El Encuentro beach installation in San Juan, PR, PaperWest juried by Willie Cole, and 3rd PaperWest juried by Sam Vernon. Artist residencies include the MAC en el Barrio, Denbo Fellowship at Pyramid Atlantic, Zygote's Open Call Residency, Alfred University's BIPOC Artist Residency, UCSF's Library Artist in Residence, The Webb School Visiting Artist and Educator, Ma's House BIPOC Residency, Shinnecock Nation, Southampton, NY, among others. Reyes has worked in museums, fine art print shops, and universities as a visiting artist and lecturer. He holds a BFA in Drawing and Printmaking from the University of Central Florida.
Kate Sutherland is a fiction writer, a poet, and a collage artist. She is the author of four books of stories and poems: Summer Reading (winner of a Saskatchewan Book Award for Best First Book), All In Together Girls, How to Draw a Rhinoceros (shortlisted for a Creative Writing Book Award by the Association for the Study of Literature and the Environment), and The Bones Are There. Her stories and poems have also appeared in various magazines and anthologies including Best Canadian Poetry and Best American Experimental Writing. Her collages have been published in long con magazine, Canthius, and The Ex-Puritan, and have been exhibited as part of the Fertile Festival of New and Inventive Works, and in an online group show at the John B. Aird Gallery. She has done residencies at Hawthornden Castle in Scotland and at the Leighton Artist Studios in Banff, Canada.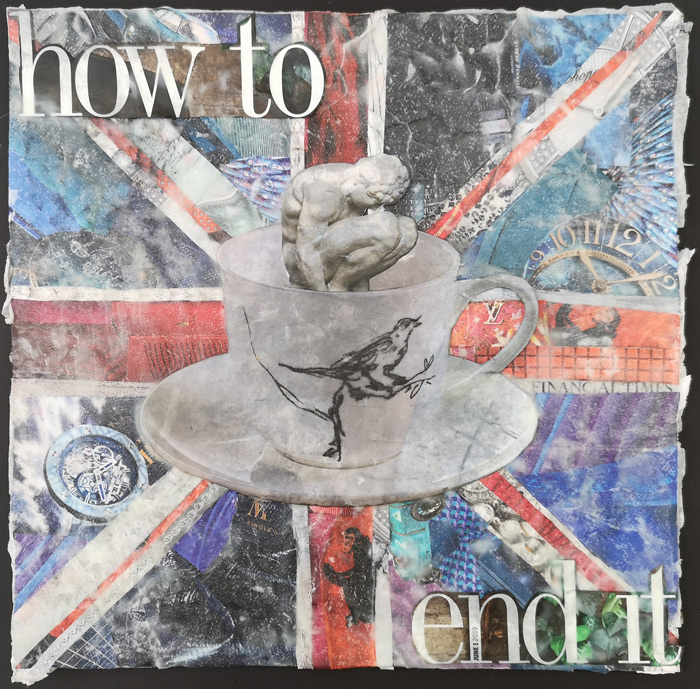 Originally from a textile art background, Lorraine Pocklington has turned to collage as a preferred medium. She lives and works in West Wales, United Kingdom. Her book, Nana Joy and the Sadness of the World, which uses analog and digital collage, was created for her MA in Graphic Communication in 2018. The collages were made from unsolicited direct mail received by five households in the United Kingdom over the course of a year. Professionally, she provides graphic design and web services for small businesses under the name Greenweeds. Pocklington also works as a Community Manager for an open-source database company. As part of that, she creates blog illustrations and produces the in-house magazine.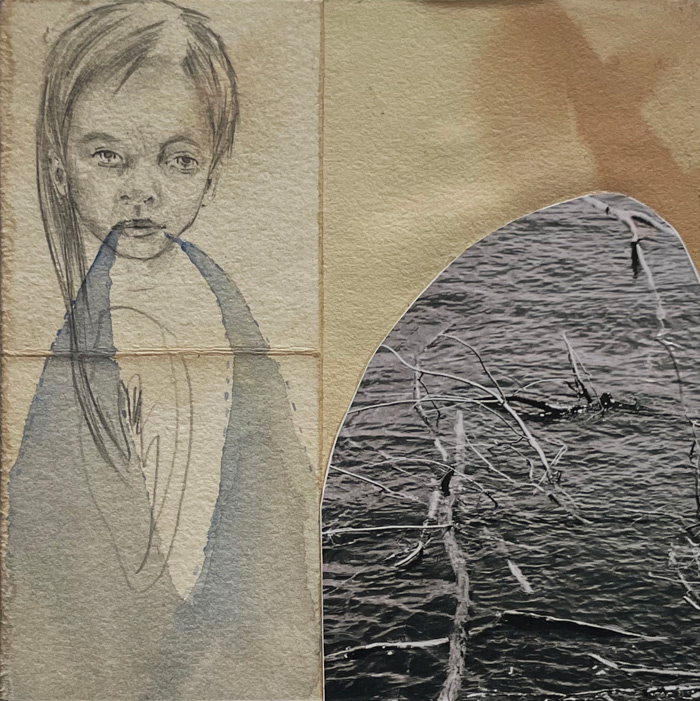 Okja Kwon is a Korean-born, transracial adoptee artist who communicates through intimate illustrative image-making. In response to attempts to transcend an identity historically rooted in imperialism, global capitalism, and desirability, Kwon draws upon metaphors that take ritualistic form. The enactment of disassociation, often in the form of "witnessing," provides a compilation of whispered ideations and fragmented (re)imagined remembrances of in-betweenness, loss, and the repair and rebuilding of relationships. All of which are connected to the erasure of self; regarding the constructs of nationalism and belongingness. Kwon has exhibited artwork in various state, national, and international galleries and educational institutions. She holds Bachelor of Fine Arts degrees in Painting & Drawing and Narrative Print & Forms; and a Master of Science in the Cultural Foundations of Education, where she wrote about the cultural and legal implications of post-9/11 immigration reform and family detention at T. Don Hutto in Taylor, Texas. Currently completing a Ph.D., Kwon is writing about the complex intersections of how emotionally driven offerings of "care" and the implications of international legal linguistics contribute to ideals of nationalism, impacting those deemed as "other." Kwon teaches Critical Thinking and Writing in the Department of Art and Design at the University of Wisconsin-Milwaukee.
---
GUEST ARTISTS
Jennifer Evans
Jennifer Evans of Denver, Colorado works in several media: paper collage, found object mosaic and assemblage, textiles and mixed media. A quote from the artist Luchita Hurtado, "Everything in this
world, I find, I'm related to" captures the essence of Evans' approach to her art. While not a classically trained artist, she draws inspiration from diverse sources, including folklore (which was her major at the University of California, Berkeley) as well as ancient traditions, such as Australian aboriginal spirituality, African griottes and minkisi, Mexican milagros, Native American folklore, Swedish traditions as well as the
Buddhist ancestral roll call. Contemporary concepts of feminism and cultural inequities combine with these traditions as inspirations for her artwork.
Evans has shown her work at The Art Students League of Denver, The Highland Park Art Center, and the Spark Gallery in Denver. Her altered book, Reading Circles, appeared in Studio Visit, Volume 32. Recently she was featured in an article in Wabash Magazine . Her work, including "The Blue Women Series" (a 100+ series of cut-paper collages), can be seen on her Instagram page.
CoCo Harris
As a multidisciplinary artist who straddles the literary and visual arts, CoCo Harris is driven by history, and the desire to tell the collective human story. She is a photo-based visual artist who employs photography and other media to build culturally-revisionist narratives that fill in the blanks, reimagines –and is curative. Whether photo-essays, visual memoir, or collage, her work seeks to revise history while unearthing and adding new layers to untold narratives. Harris aims to create/bridge awareness to the irrefutable connections between the past and the present in our American narrative.
Before focusing on the arts, she was an intellectual property law professional running her own patent law firm until recently. On the other side of her life and brain, Harris received her MFA in Fiction and is the Founding Editor/Publisher of Telling Our Stories Press—a literary imprint with a series of anthologies showcasing the art of short memoir. As a screenwriter, she churns scenarios from her life into TV sitcoms; and is a curator of film shorts for Stowe Story Labs and the Vermont Film and Music Festival.
Her recent exhibitions include "Many Americas: Art Meets History" at the Wilson Museum at the Southern Vermont Arts Center in Manchester, Vermont; and "Allegories, Renditions and a Small Nation of Women" at the Sarah G. Smith Gallery at Yale University.
CoCo Harris is a Southern artist from Atlanta, with a studio practice in Greenville, South Carolina, where she is continually posing new questions to old ideas across genres and art forms. www.cocoharris.com
FACULTY
Ric Kasini Kadour
Ric Kasini Kadour, a 2021 Andy Warhol Foundation for the Arts Curatorial Fellow, is a writer, artist, publisher, and cultural worker. Working with the Vermont Arts Council, Kadour curated four exhibits: "Connection: The Art of Coming Together" (2017) and Vermont Artists to Watch 2018, 2019 and 2020. In 2017, he curated "The Art of Winter" at S.P.A.C.E. Gallery in Burlington, Vermont. In 2018, Kadour curated "Revolutionary Paths: Critical Issues in Collage" at Antenna Gallery in New Orleans, which bought together collage artists whose work represents the potential for deeper inquiry and further curatorial exploration of the medium; followed in 2019 by "Cultural Deconstructions: Critical Issues in Collage" at LeMieux Galleries in New Orleans, which furthered the conversation. Since 2018, he has produced Kolaj Fest New Orleans, a multi-day festival & symposium about contemporary collage and its role in art, culture, and society. As Curator of Contemporary Art at Rokeby Museum in Ferrisburgh, Vermont in 2019 and 2020, he curated three exhibitions, "Rokeby Through the Lens" (May 19-June 16, 2019), "Structures" (August 24-October 27, 2019), and "Mending Fences: New Works by Carol MacDonald" (July 12-October 25, 2020). He also curated "Contemporary American Regionalism: Vermont Perspectives" (August 17-October 20, 2019); "Where the Sun Casts No Shadow: Postcards from the Creative Crossroads of Quito, Ecuador" (November 1-30, 2019); and "Many Americas" (August 20-November 27, 2022) in the Wilson Museum & Galleries at the Southern Vermont Arts Center. "The Money $how", co-curated with Frank Juarez, was presented at the AIR Space Gallery at Saint Kate-The Arts Hotel in Milwaukee, Wisconsin (April 10-September 12, 2021). For Birr Vintage Week & Arts Festival in Birr, County Offaly, Ireland (August 13-20, 2021), he curated "Empty Columns Are a Place to Dream", which traveled to the Knoxville Museum of Art in January-February 2022. At 516 ARTS in Albuquerque, New Mexico, Kadour co-curated with Alicia Inez Guzmàn two exhibitions: "Many Worlds Are Born" (February 19-May 14, 2022) and "Technologies of the Spirit" (June 11-September 3, 2022). In 2023 at the Knoxville Museum of Art, Kadour curated "Where the Sun Casts No Shadow: Postcards from the Creative Crossroads of Quito, Ecuador" (January 9-February 16, 2023) and "Mystical Landscape: Secrets of the Vale" (March 17-May 28, 2023), which will travel to MERZ Gallery in Sanquhar, Scotland in September 2023. Kadour is the editor and publisher of Kolaj Magazine. He has written for a number of galleries and his writing has appeared in Hyperallergic, OEI, Vermont Magazine, Seven Days, Seattle Weekly, Art New England (where he was the former Vermont editor) and many others. Kadour maintains an active art practice and his photography, collage, and sculpture have been exhibited in and are part of private collections in Australia, Europe and North America. In January-February 2020, he was artist-in-residence at MERZ Gallery in Sanquhar, Scotland. He holds a BA in Comparative Religion from the University of Vermont. Kadour splits his time between Montreal and New Orleans. www.rickasinikadour.com
---
PARTNERS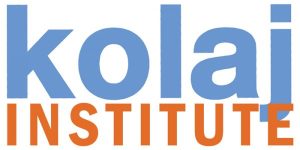 About Kolaj Institute
The mission of Kolaj Institute is to support artists, curators, and writers who seek to study, document, & disseminate ideas that deepen our understanding of collage as a medium, a genre, a community, and a 21st century movement. We operate a number of initiatives meant to bring together community, investigate critical issues, and raise collage's standing in the art world. www.kolajinstitute.org