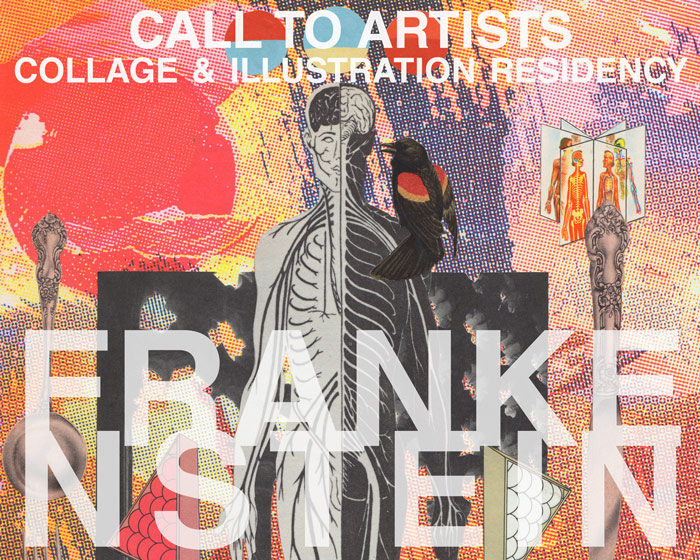 INSTITUTE NEWS
Collage & Illustration Residency – Frankenstein
Kolaj Institute is excited to announce the fifteen artists selected to participate in the residency.
During the Collage & Illustration Residency – Frankenstein, artists will work to visually interpret Mary Shelley's 1818 proto-science fiction novel, Frankenstein; or, The Modern Prometheus. As part of Kolaj Institute's ongoing Collage & Illustration project, this virtual residency aims to explore the themes of creation, identity, and the boundaries of human imagination through the captivating mediums of collage and illustration. Kolaj Institute will publish Frankenstein; or, The Modern Prometheus using the illustrations made during the residency as a way of bringing this important, historical book and the themes it raises to 21st century readers. A selection of artwork will be exhibited at Kolaj Institute in New Orleans.
This residency seeks to bring together a diverse group of artists who are passionate about exploring the intersections of art, literature, and the human experience. Participants will delve into the rich narrative and visual potential of Mary Shelley's classic novel and create thought-provoking artworks that reflect the essence of Frankenstein in contemporary contexts.
Frankenstein tells the story of a young scientist who becomes obsessed with uncovering the secret to creating life. However, he soon realizes that his aspiration of "playing God" comes with severe repercussions. Throughout the story, the author delves into various human flaws such as grief, pride, an insatiable thirst for knowledge, secrecy, and shame. The protagonist, Victor Frankenstein, must confront the aftermath of bringing unnatural life into the world, leading to tragic events that jeopardize everything he values.
During this project-driven virtual residency, artists will collaboratively produce a series of collages that illustrate the book. As a group, artists will analyze the story, discuss themes, uncover symbols, ask questions, and visually interpret the text for a 21st century audience. The residency will span four weeks, with a deadline for the finished illustrations scheduled a month after the residency ends, offering artists ample time to immerse themselves in their creative process and develop their ideas.
Christopher Kurts and Nancy Bernardo will lead the residency, facilitating the collaboration and discussion of Shelley's book. Bernardo will speak about collage as illustration and how collage artists can engage with the marketplace for illustration. E. Francis Kohler will talk about the history of adaptations of Frankenstein and how the many permutations of the monster is itself a collage. These artists and educators will be available to offer guidance, feedback, and support throughout the residency, fostering a collaborative and nurturing atmosphere.
---
PARTICIPATING ARTISTS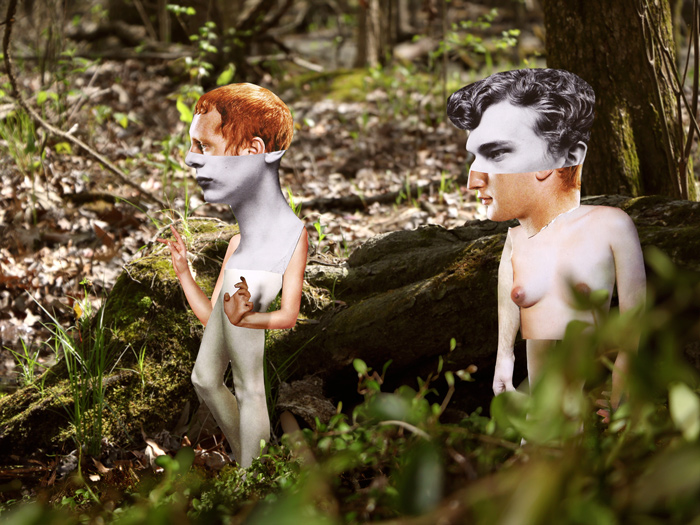 Emily Denlinger's artwork explores the human condition: issues of identity, survival, truth, and power. She is interested in the way these topics surface consciously and subconsciously while she is creating. Denlinger's images capture her psychological interpretation of reality. As someone with an active dream life, she works to find the connections between her awake and asleep lives. Denlinger has worked as Area Head and Professor of Photography & New Media (previously Digital Arts) at Southeast Missouri State University since 2009. In her free time, she enjoys spending time with her animals, listening to audiobooks, creating extravagant desserts, antiquing, growing orchids, and she works to promote voting and registering to vote in her local community.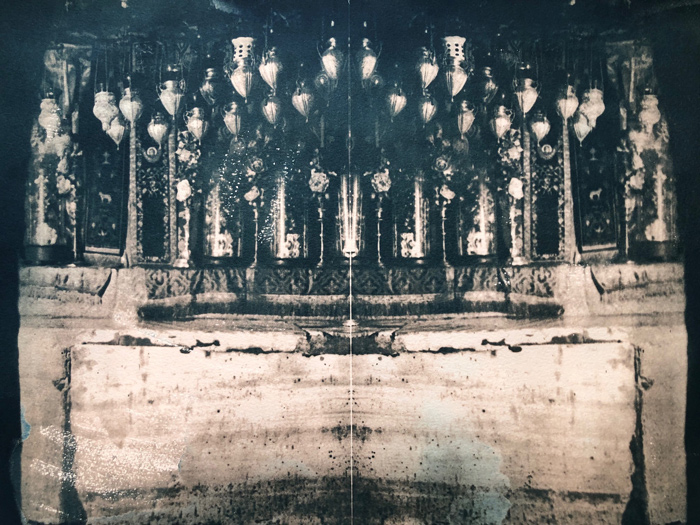 Claire Dannenbaum is a librarian and visual artist living in Eugene, Oregon. Her work explores the conceptual life of books through manipulation, destruction, reconstruction, and collage. She uses collage to explore how we know the world through associations shaped by specific stories, textures, landscapes, and lived corporeal knowledge. Recently, she has explored cyanotype photography as a method of collage using historic images and her own photography, and seeks to create a feminist imaginary; one that explores femaleness and power, and also interrogates the limits and mythologies of patriarchy. Dannenbaum's artwork has been exhibited in Oregon, Washington, California, and Rhode Island. In 2021, Dannenbaum was part of "Building Collage" at the University of Massachusetts Amherst. Working as a librarian continues to be a rich source of inspiration for her art, and also supplies her with an endless array of source material.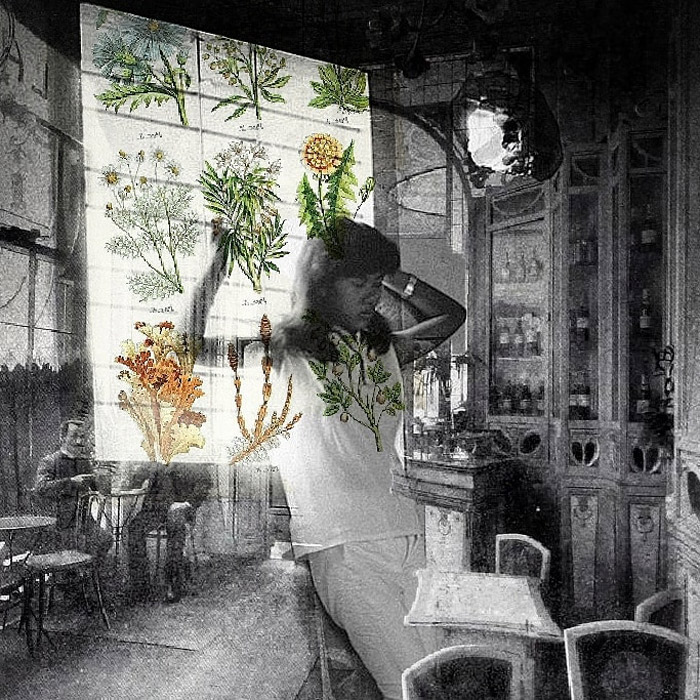 Jessica TranVo is an artist that works in collages/mixed media. She graduated from BSU'14 as a double major with Bachelor's degrees in Fine Arts, English Literature (with a focus on Irish Literature), and a minor in Art History. Her background is in acrylic and oil painting on canvas and mixed media. She collages digitally or on paper with found images and incorporates elements of painting. Escapism & anxiety runs undercurrent through her surrealist collages: dreamscapes, the elements of nature and flowers, and women reclaiming nature, space, desserts, etc. Her work plays in the liminal space of diaspora and postmodernism. She is a queer, mixed Vietnamese American artist that works full-time at MIT's Literature Section, frequently researching visual representation for their literary and academic community.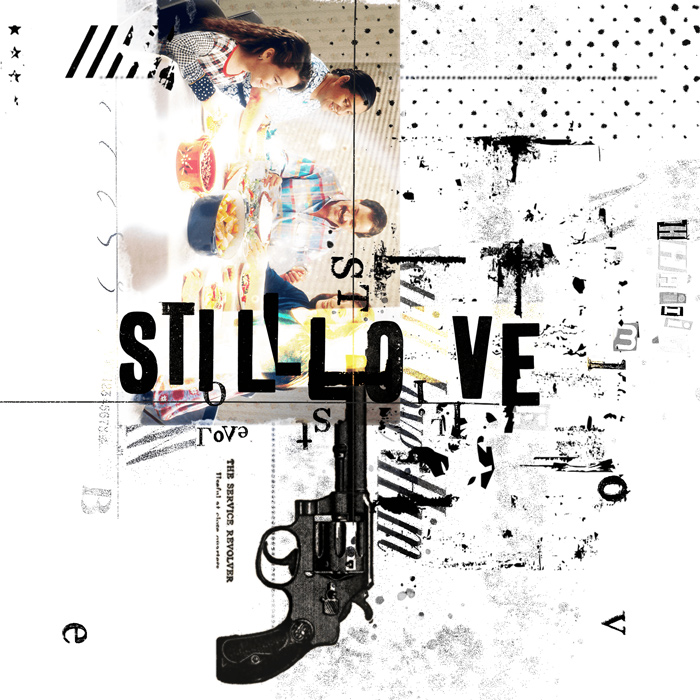 Rosie Lewis is a multi-disciplinary artist and designer with a strong focus on photography, collage making, and motion design. Holding a Bachelor of Arts in Illustration from Birmingham City University, they were selected as one of only 20 students to exhibit at New Designers 2022, receiving exceptional feedback. With a distinctive aesthetic approach centered around creative problem-solving and playfulness, Lewis' portfolio showcases EP/album cover designs for musicians, social media content creation, and collaborations with esteemed clients like Birmingham Conservatoire. Currently working as resident designer at Beatfreeks, an insight-led engagement agency, Lewis continues to explore the intersection of creativity, curiosity, and humor in their innovative artwork.
Tya Alisa Anthony, an interdisciplinary artist and curator, explores themes of social justice, human rights, and identity through painting, photography, collage, and sculpture. Her artwork refocuses narratives of marginalized people while shedding light on the social, economic, and natural environments that surround her subjects. She reimagines historic narratives as an opportunity to explore alternate realities. Anthony is particularly interested in creating autonomous spaces for bodies of color and using core memories as a form of catharsis. Anthony holds a Bachelor of Fine Arts Degree with summa cum laude Valedictorian honors from Rocky Mountain College of Art + Design. She currently resides in Denver, where she in addition to her artistic pursuits, is the Director of Education & Community at RedLine Contemporary Art Center, the founder of Mahogany Vū Contemporary Virtual Gallery, and the editor of Contemporary Thought Magazine, Living Culture: A Mahogany Vū for BIPOC artists of the Diaspora. Anthony's contributions to the art world extend beyond her personal practice. She is a journalist contributor to Hyperallergic Magazine, a TANK Studios Alum artist, a Redline Artist in Residence Alumni, and serves on the Advisory Board for Leon Gallery. She is also an advisory board member of the Colorado Photographic Arts Center and a former member of the Board of Tilt West. Anthony's work has been exhibited nationally and is included in the permanent collection commissioned by the Octopus Initiative, Museum of Contemporary Art, Center for Visual Arts, LEON Gallery, and RedLine.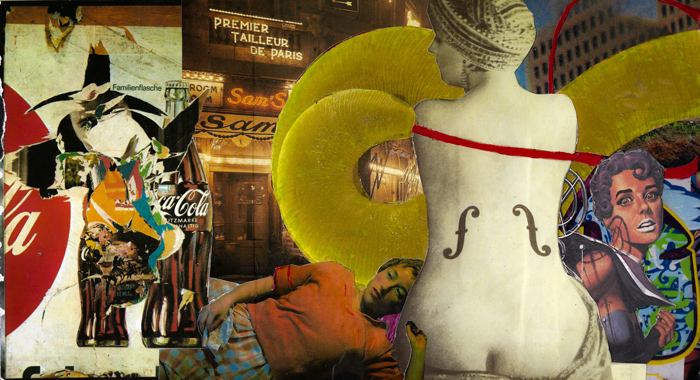 Anissa Malady is a collage artist, book destroyer, and librarian with a deep passion for the intersection of art, literature, and human expression. Inspired by photography and the provocative allure of erotic arts, she weaves together captivating visual narratives that challenge conventions and ignite conversations. Originally from Denver, Malady pursued her artistic education at the Rocky Mountain College of Art & Design. Her journey as a collage artist and book destroyer emerged from a desire to question traditional notions of preservation and archiving, inviting viewers to confront the transient nature of print and what is deemed archivable. Having resided in San Francisco for over 20 years, Malady draws inspiration from the city's rich street art scene, infusing her work with an urban energy and rebellious spirit. Her collages are an amalgamation of found imagery, fragmented text, and layers of meaning, reflecting the complexities of the human experience. Malady's art invites viewers to explore the boundaries of sensuality, desire, and human connection. With each piece, she encourages dialogue and introspection, challenging societal norms and sparking contemplation on the intricacies of identity and sexuality. Her work has been exhibited at the Center for Sex and Culture, San Francisco Public Library, 1920-a-Rama, and on the streets of San Francisco.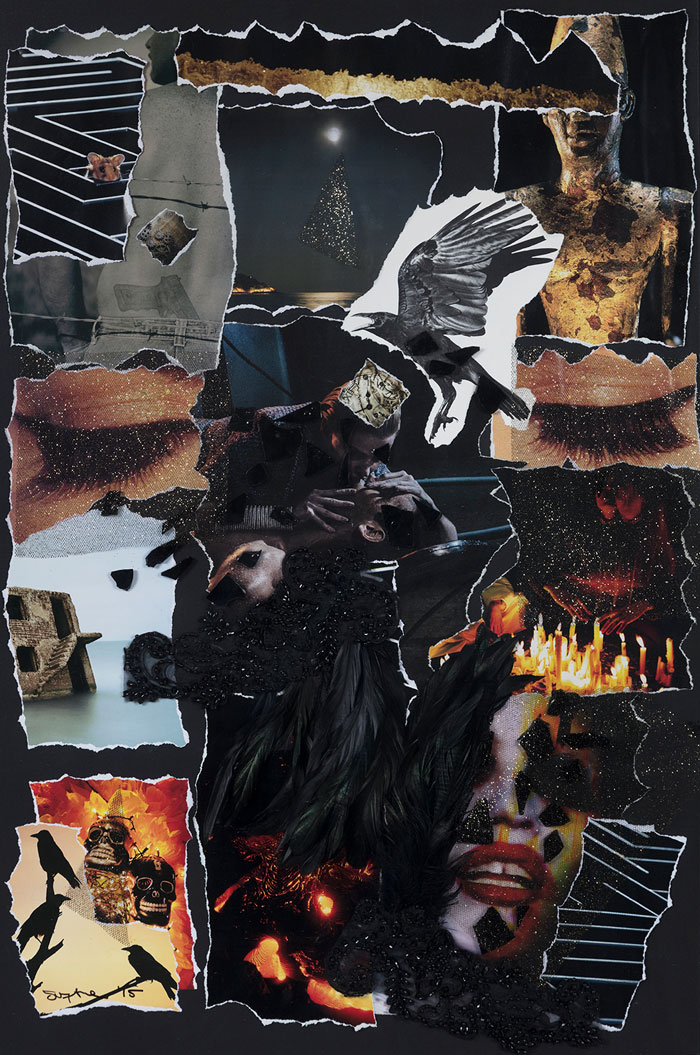 Suzanne Greenberg's deepest desires, secret fantasies, and private tragedies are the source of her mixed media collage, painting, and film. She celebrates access to global art materials and works large to depict expansive forces and feelings. She searches the world for images and materials from the stratum in which humans live and transforms them into powerful illustrations of euphoric sensuality and searing pain. In her artwork, she cherishes the imprint of the hand, the imperfect, nontechnical way of making. Her work provides lush visions of coexistence and harmony, what can be with what we already have. Greenberg lives in New York City. She started doing collage in 2015 through the 92nd Street Y. She has never shown her work or had it published. She has a BA in dance from Evergreen State College. Between 1989 and 2014 she lived in Maui, Hawaii and it greatly influences her current work. She believes the vast array of her emotions has helped her create unique work.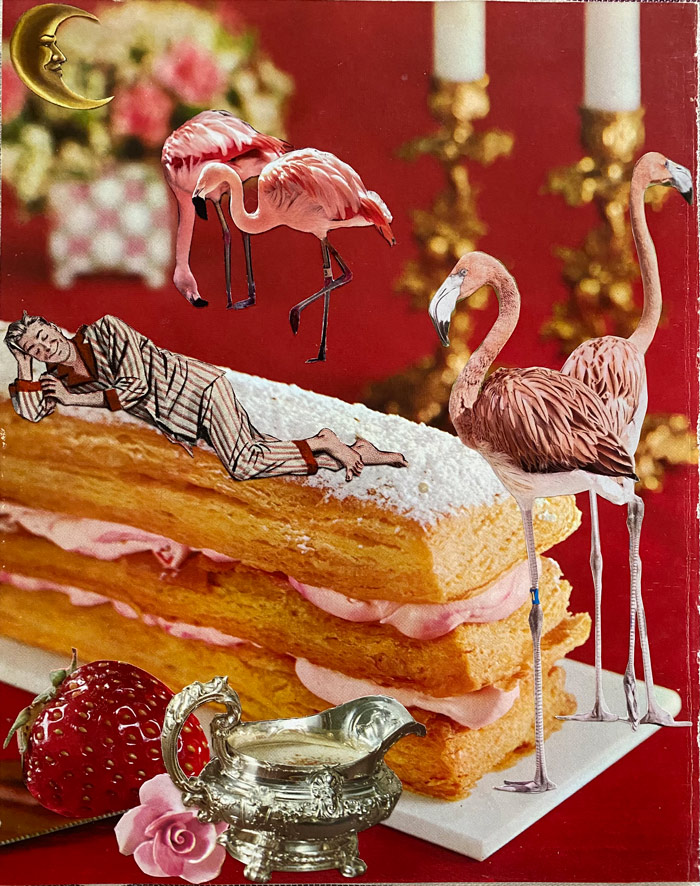 Rebecca Steiner's background is in art history, with degrees from Indiana University and UCLA. Professional experience includes positions at the Daniel Weinberg Gallery, Alice Adam Ltd, UCLA Grunwald Center (Hammer Museum), The Art Bulletin, Los Angeles County Art Museum, and Getty Research Institute, as well as creating and operating an independent crowd-sourced photo project "The Average Joe Photo Show." More recent work includes editing and curatorial projects, as well as custom framing for exhibitions. Steiner's collage compositions explore the dramatization of vernacular imagery through whimsical juxtapositions and surreal milieus. Using images sourced from current and vintage periodicals, placed alongside found household ephemera, Steiner's collages address themes such as the social construction of gender and identity, domesticity, desire and nostalgia, gastronomy, consumerism, and mass consumption. In each mise-en-scène, a moment in time is suspended, illuminating the figural representations in dialogue with each other and with their fabricated environments. Playing with art historical and cultural imagery, theatrical narratives celebrate tropes of beauty, desire, and extravagance. They invite the viewer to indulge in the moment on display and to disconnect through a dream world fantasy while reflecting on the construction and legacy of stereotypes and privilege. Participation in the Kasini House Curating Collage Workshop in Fall 2020, followed by continuous involvement in The Crit Lab (an alternate critical community for working artists) since Spring 2021, has helped catalyze and give shape to her evolving art making strategies. Steiner's collages have been featured in Kolaj Magazine, in various gallery group exhibitions including at MAPSpace (Port Chester, NY) and the Chester Gallery (Chester, CT), at the Bristol Art Museum (Bristol, RI), and in the ongoing holiday project "Miss Florence's Artist Trees" at the Florence Griswold Museum (Old Lyme, CT).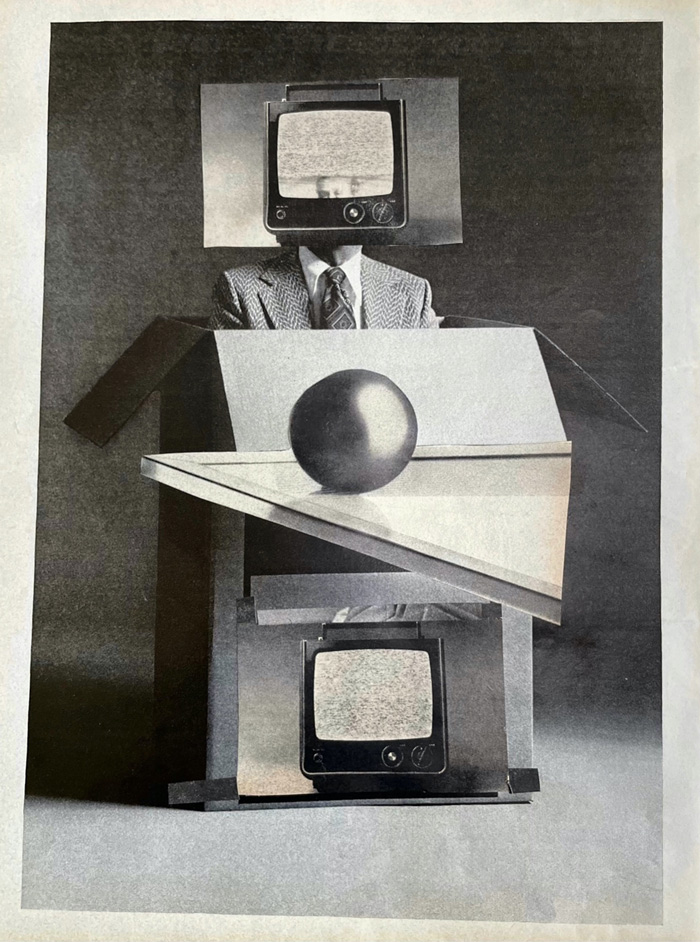 Maureen Letton is a collage artist living in San Francisco, California. Influenced by the cartoon character Bugs Bunny, she spent her childhood creating preternaturally surreal great art daily. From her mother, who worked in the film industry with Groucho Marx and enjoyed wandering through L.A.'s many junk stores and junk yards, Letton gained an appreciation for the random and unusual. Attending Catholic school when the Mass was still in Latin gave her an appreciation for high drama, incense, and interesting icons. After attending Pasadena City College, Letton was distracted by a career in the pre-press/printing industry, raising twin daughters, and then working in pre-press some more. Her career put her in contact with the West Coast's best designers, art directors, and illustrators, and with huge stacks of Communications Arts magazine, illustrator catalogs, and other advertising graphics to enjoy. When the pandemic struck, she retreated to her studio and re-embraced a daily art practice, initially focusing on random objects and signs she found in the deserted streets, then gradually expanding the scope of her scrap searches and of the resulting work. These last few years, like her cartoon mentor, Bugs, Letton has been hopping (sorry) between photography, glue, paper, scissors, and pixels, using a hybrid analog/digital path to create, manipulate and organize her images. She looks for narratives and characters among the chaos and absurdity of our post-whatever world and, occasionally, accidentally makes something beautiful. In addition to Bugs and Groucho, Letton takes inspiration from artists like Roy De Forest, Irving Penn, Leonora Carrington, Sandow Birk, Remedios Varo, all the Surrealists, Dadaists, Punks, and the cool collage artists she gets to see these days in museums, online, and in person. Since her first gallery show in 2022, Letton has exhibited in 7 Bay Area group collage shows, most recently a group show with some of her collage heroes at Mothbelly Gallery in San Francisco. She has also contributed to a postcard book project by The Polaroids Collage Club/Kanyer Art Collective, and a collaborative piece published in Semioculus Magazine based in Estonia.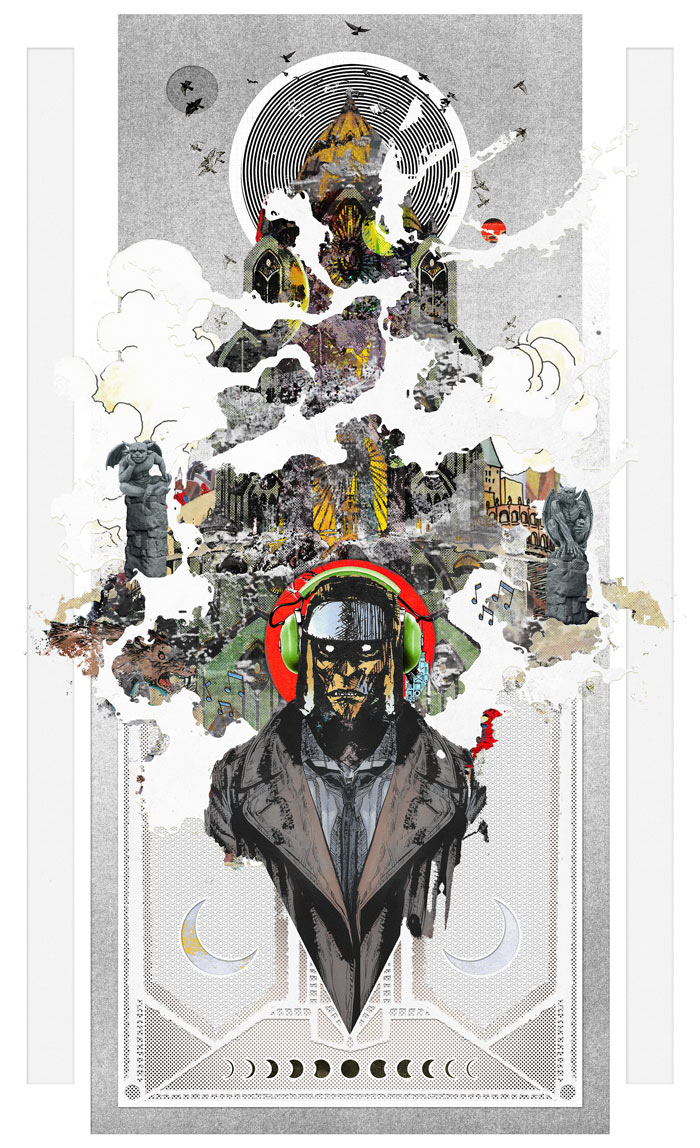 Anthony Naimo is a queer artist from St. Louis, MO. Their genre-bending narrative compositions utilize collage and found objects, scavenging and salvaging preexisting media in an ever-expanding context of cultural materials. Naimo studied photography at Northwest Missouri State University before going on to receive a graduate degree in Metal Design in 2023 from East Carolina University. They live in Spruce Pine, North Carolina, working as a studio artist, writer, and the Metals Studio Coordinator for Penland School of Crafts.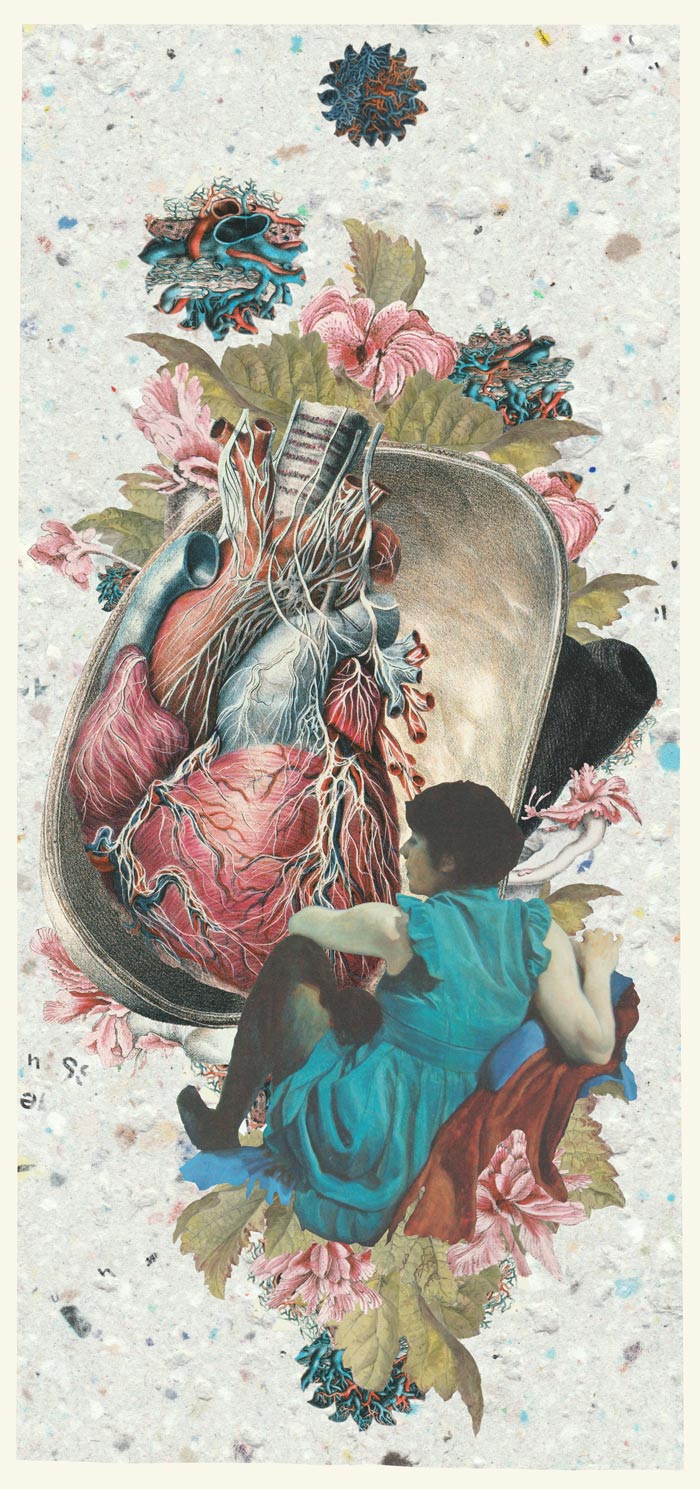 Anthony D Kelly is an illustrator, writer, visual artist, and integrative psychotherapist. He works mainly with illustration, collage, poetry, and assemblage techniques to create hopeful, humorous, and occasionally unnerving and deeply satirical work. He is currently based in Castlebar, County Mayo, Ireland. He has extensive experience as a Gallery Administrator, Curator and Project Facilitator from his time at Basement Project Space, an artist-led initiative that was part of the cultural fabric of Cork City, Ireland (2009-2012). The aim of this initiative was to generate an exhibition/project space independent of established institutions, to provide development opportunities for emerging artists, and to encourage cutting edge experimental practice across a broad range of disciplines. Anthony is currently an active member of the Irish Collage Community. He was chosen as Kolaj Magazine's World Collage Day Artist 2023. He has exhibited across Ireland, Europe and in the U.S.A. and has delivered workshops and lectures at Collagistas Festivals 5 & 6 in Dublin and Brussels. His work has featured in many publications including Art Reveal, Creativ Paper, Murze Magazine, Kolaj Magazine and the recently released publications Empty Columns are a Place to Dream and Artists in the Archives from Kolaj Institute and Kasini House. He has work residing in the permanent collections of Mayo County Council, Kolaj Institute, New Orleans, USA, and The Henry Sheldon Museum, Vermont, USA. He has studied Arts Administration, Arts Participation and Global Development and Humanistic Psychotherapy. Anthony is greatly interested in the Arts as an effective method for engagement with social, political, and global development issues; and for seeking beyond the known to formulate the new. He is also deeply interested in the creative interplay between literature and visual art, the quality of wonder, and their roles in promoting positive mental health.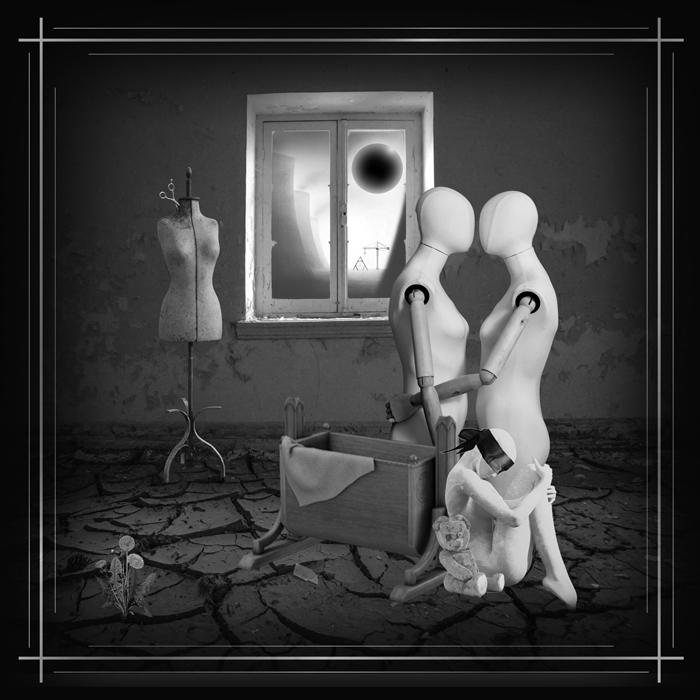 Elzbieta Zdunek is a surrealist collage artist, specializing in digital, predominantly grayscale compositions which closely emanate the textures and visual techniques used in the traditional, analog collage practice. Exploring themes such as fate and the inevitability of repeating history, loss and loneliness, and curiosity and confusion about one's own identity, her work derives heavy inspiration from 1920s silent films and historical theatre. This inspiration is evident in the muted color palette, pseudo-framing technique used to border each piece, and predominant imagery of masks and mannequins. Zdunek began her artistic career as a photographer but began exploring collage-making during the pandemic of 2020. A self-taught artist, Zdunek's background of leaving her birthplace, Poland, and emigrating between countries inform her work, and she is currently based in Berlin, Germany. Zdunek seeks to indicate one essential, overarching lesson to viewers of her work: That there is no such thing as objective perspective, and this multi-dimensionality of events is created by the various differing natures of our relationships in regard to those events. She has exhibited locally in Berlin, as well as in in New York, London and California; her works have also been published in several art magazines, including, Heckmag, Artist Talk, and The Huts. She is also a popular cover art author on the Berlin music scene.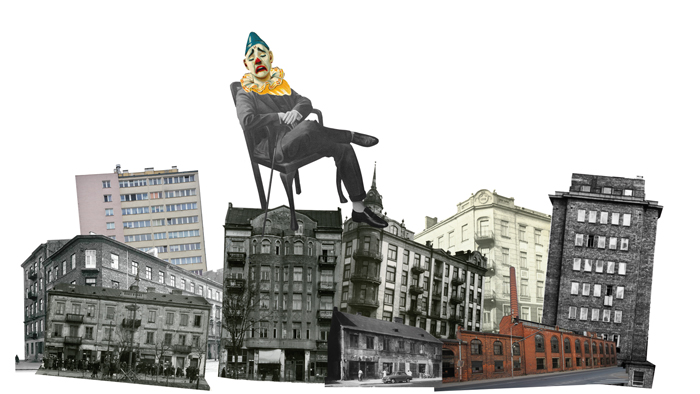 Marta Janik is a collage artist who works in analog, digital, and animation. She was born in Bydgoszcz, grew up in Cracow, and currently lives in Warsaw, Poland. Previously, she lived in Berlin for seven years, where, among other things, she worked as a guide at the Salvador Dali Museum. She is interested in surrealism, kitsch, circus, mushrooms, and whales. She graduated in Literature (Polish Studies) at Jagiellonian University, computer graphics at the AGH University of Science and Technology in Cracow, and she is also a graduate of the first edition of the Ecopoetics School at the Institute of Reportage in Warsaw. Most of her collages are hand-cut, but she is increasingly working digitally. This is linked to the fact that she has been interested in animation for a few years now. Last year she made a collage animated music video for the queen of the Polish music scene, Alicja Majewska, commissioned by Sony Music Entertainment Poland. She runs collage workshops in Warsaw cultural institutions. For the project "Collage Language", which she realized for the House of Culture "Praga" in Warsaw, she received the Warsaw Cultural Education Award 2020, 1st place in the "Cultural Institutions" category. She permanently cooperates with the Museum of Caricature in Warsaw, where she conducts workshops for school students and creates posters. She has participated in two projects organized by Kasini House and Kolaj Magazine: "Empty Columns Are A Place To Dream" in Birr in Ireland and "Artists in the Archives" in Vermont, USA. In the project "Empty Columns Are A Place To Dream" she showed her interest in ecology and her concerns about climate change. She showed a giant oak tree in her collage and the Birr authorities invited the artist to plant a real oak tree in the grounds of Birr Castle Demesne. She has shown her work in group exhibitions in, among others, the USA, Ireland, Germany, Italy, and Slovenia.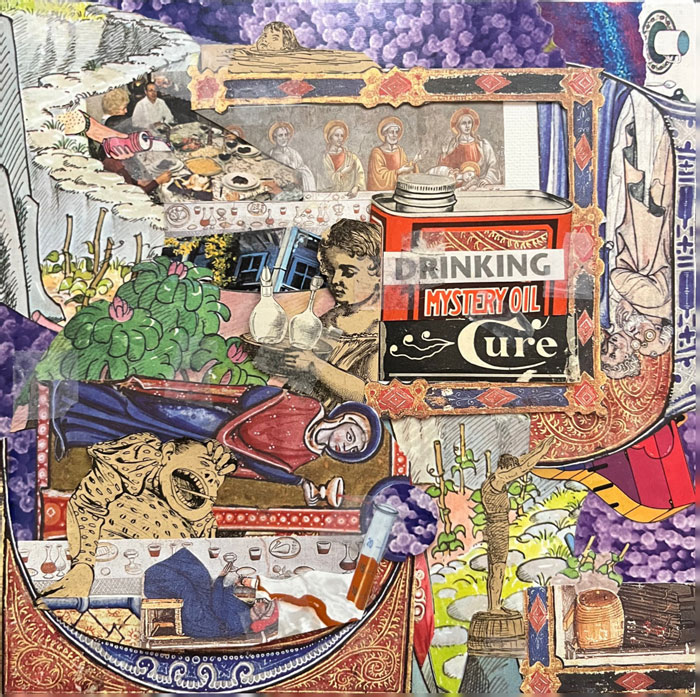 Veronica Schwaller is a Boston-based artist focusing on collage, collaborative art, and abstract acrylic paintings. Educated as a mechanical engineer, she strives to combine her technical and creative skills into her artwork. Her work has been shown in two exhibitions at Smith College: Impermanence (2018) and Impressions (2020) and she was a participating member at the Queer Art Collective in Pawtucket, RI in 2021.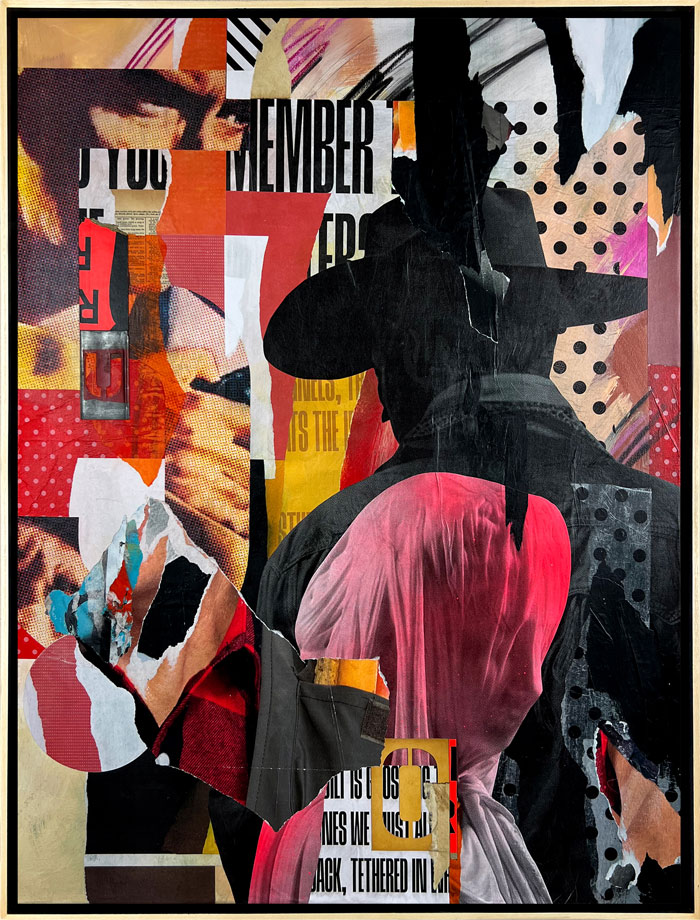 David Edward Johnson is a mixed media artist living and working in both Austin, Texas and The Finger Lakes region of New York State. His work centers on an exploration of belief systems, the birth and death of the American Dream, the nature and validity of desire, as well as identity and loss on a personal level. Visually, his oeuvre sits at the intersection of the organic, the geometric, the iconic, the abstract, and the found. All of that takes shape into mostly large-scale assemblage pieces that hover in between mediums. David characterizes his output in three words: abstraction, definition, and deconstruction. He has had works appear in juried art shows across the US, shown with selected galleries, has shown at The Other Art Fair in multiple cities, had his work featured on the album art for multi-platinum-selling musical artist Andy Grammer, was chosen from over 100,000 artists to be featured in the Saatchi Art catalog and was selected for inclusion in the London Art Biennale.
---
FACULTY
Nancy Bernardo
Nancy Bernardo currently lives in Rochester, New York and has been a practicing graphic designer for 22 years. She received her MFA from The School of the Art Institute of Chicago and has been an educator for 14 years. Bernardo's work has been commissioned for book cover designs such as: Checking In/Checking Out (NO Books, 2010), New Orleans Review Art + Literary Magazine (2009-2014), Deconstructing Brad Pitt (Bloomsbury Press, 2011 and discussed in Kolaj #11) and History of Design: Beyond the Canon (Bloomsbury Press, 2018). Bernardo has been recognized and awarded honors through Graphis Design Annual, Print Regional Design Awards, Design Observer 50 Books 50 Covers, HOW In-House Design Award, HOW Best of International Design and STA 100. Her work has also been exhibited in Rochester, New Orleans, Seattle, Chicago, New York City and in the United Kingdom.
Christopher Kurts
Christopher Kurts is a storyteller and artist in New Orleans, Louisiana. He is the Coordinator for Kolaj Institute, where he has organized artist labs, residencies, workshops and forums which have often led to exhibitions and publications. In this role, Kurts acted as the Art Director for Kolaj Institute's Oh, Money! Money! by Eleanor H. Porter, illustrated and interpreted by contemporary collage artists. His own work recently appeared in the exhibition, "Empty Columns are a Place to Dream" which debuted in August 2021 during the 53rd Annual Birr Vintage Week & Arts Festival in Birr, County Offaly, Ireland. In January 2022, Kolaj Institute published a book about the project and the exhibition traveled to the Knoxville Museum of Art in Knoxville, Tennessee. Kurts is also the co-founder and lead organizer for The Mystic Krewe of Scissors and Glue, a group of creatives in New Orleans who meet monthly to collage, converse and foster community. Along with the Krewe, Kurts helped organize "Unfamiliar Vegetables", a group exhibition for Kolaj Fest New Orleans in July 2019, which was later published as a book.
E. Francis Kohler
E. Francis Kohler was born and raised in Sacramento, California. He moved to San Francisco in 1985 to study sculpture and film at the San Francisco Art Institute. After graduating in 1989 with a BFA, he moved to Los Angeles, but soon returned to the Bay Area. He spent the next few years working odd jobs to support himself while pursuing his art career. He made short films, contributed to X-RAY Magazine, and curated group exhibitions. In 1994, he began volunteering at Creativity Explored, an organization that provides art classes for people with disabilities. He quickly became a full-time instructor and facilitator there, and has held various positions at the organization since then. He has also curated numerous exhibitions for CE, and conducted workshops for the public. Kohler is a founding member of the C.D.L. (Collage & Diorama League) and a member of The Kut-uPs (a San Francisco-based collage group). He continues to live in San Francisco, where he contributes to FREAKY magazine and creates collages, drawings, dioramas, and zines.