"I place shapes into grids, playing with space, weaving movement with stillness, flatness with depth, paint with graphite and collage, light with dark, playfulness with seriousness. I entertain myself with discovering the possibilities."
-Nancy Goodman Lawrence, collage artist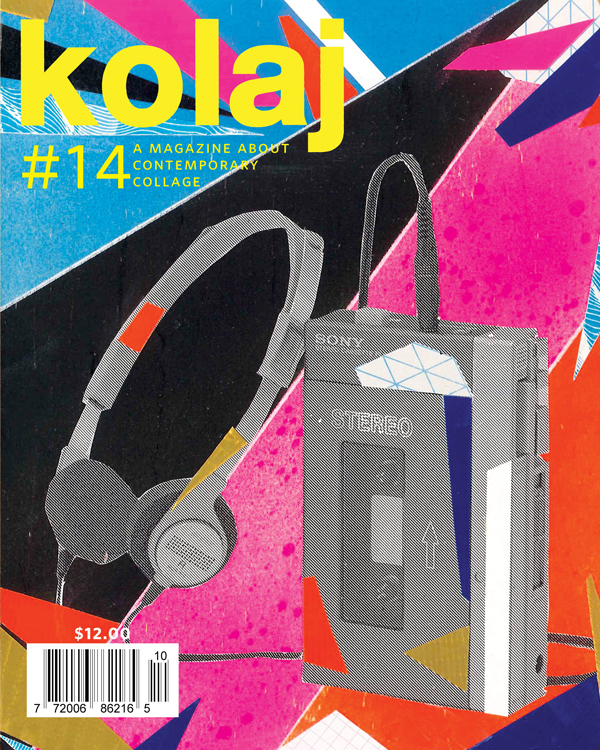 From Barcelona to Vancouver and points in between, Kolaj #14 delivers a look at the wonderful world of collage: the people who make it and the people who love it.
INSIDE THIS ISSUE
Michael Ziobrowski's 80's pop-inspired Come Walk With Me Man No. 1 is on the front cover. "My goal is to create aesthetically pleasing work, with either some substance to promote a dialog from the viewer, and/or to create those same aesthetically pleasing images with a space for the viewer to lose themselves, escape into the piece and just enjoy what they see, and feel the same freedom in viewing it, as I felt in creating it," he writes. The ubiquitous artist, who sometimes travels under moniker X Is the Weapon, has a new collage 'zine. We review it.
We report on collage that is lining the streets of Montreal's Village, on the Collage Artists of America's juried member exhibition, and on the new home of the National Collage Society Teaching Collection. We explore how an internet meme raises questions about collage…a little warning, it's ballsy.
In his editorial, Ric Kasini Kadour raises the issue of collage taxonomy. Steven M. Specht reveals how powerful simple gestures can be in a rigorous examination of minimalist composition in contemporary collage. Nancy Bernardo shares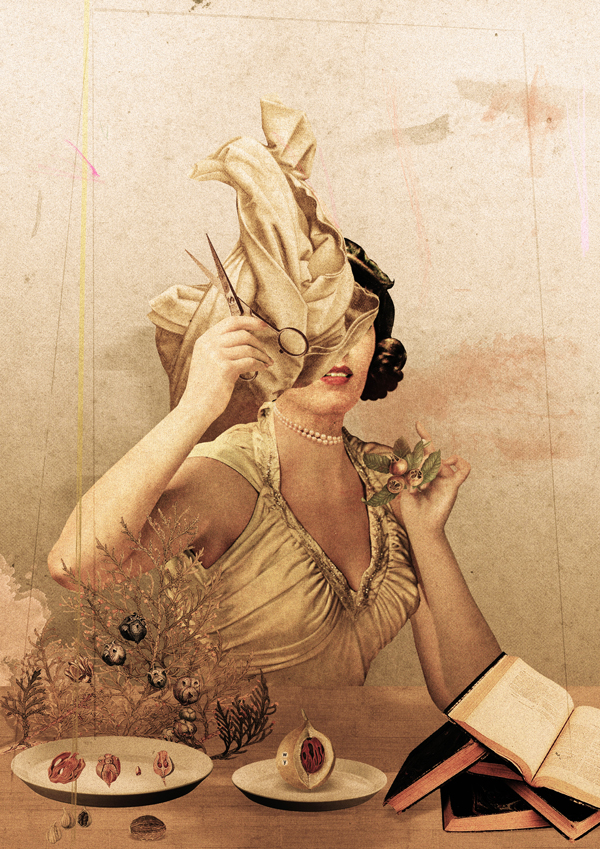 her insights on getting her graphic design students to use their hands through collage. "I wanted the students to get off the computer," she writes.
Cory W. Peeke interviews Woodstock, New York-based Robert Ohnigian about his modestly composed, historically aware, and increasingly popular collage work. Catherine G. Wagley reviews an exhibition at The Craft and Folk Art Museum in Los Angeles that focuses on paper as the medium. Stephane Bernard surveys collage in 'zines at the annual Vancouver Art/Book Fair. And we review Collage Makers, a new survey of collage from Barcelona.
Exhibition-in-Print continues in Kolaj #14. We curate the work of nine collage artists to explore the portrayal of children in collage. And we share artist portfolios from Montbard, France; Oakland and Los Angeles, California; Chelsea, Quebec; and Brampton, Ontario.
The back cover features Recipe I by Laurindo Feliciano (image above) whose artist portfolio appears in the issue.
What makes Feliciano's artwork remarkable is his ability to present final images that are seamless and polished. He is an example of someone who is wielding the full power of collage as a visual language.
And as always, a Kolaj Artist Directory.
Already subscribed? Don't worry, you will be receiving your copy the week of 25 November.
SUBSCRIBE OR ORDER AN ISSUE

(US dollars)

(Canadian dollars)