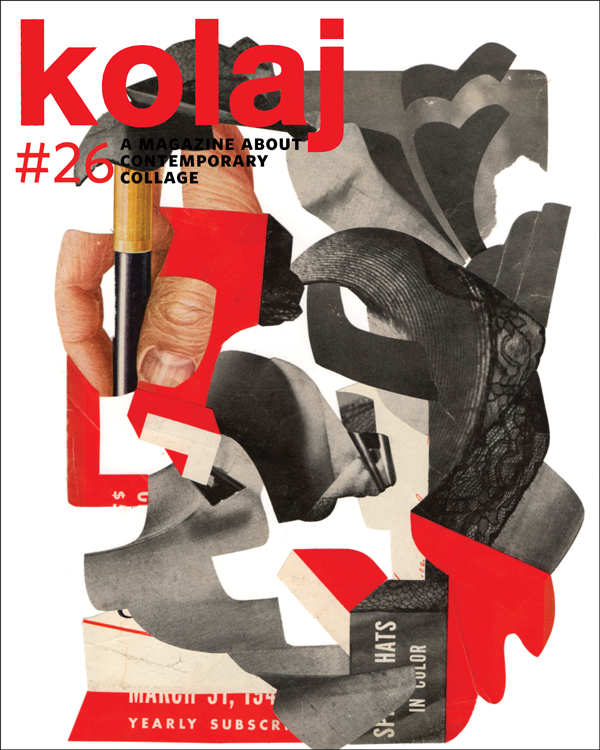 In this Issue
Our goal with every issue is that Kolaj Magazine is essential reading for anyone interested in the role of contemporary collage in art, culture, and society. In Kolaj #26, we go deep into critical areas: copyright, political art, materiality, and concepts that explain the centrality of collage in the history of art.
Jack & Jane Do It All Right by Jim Ford is on the cover of Kolaj #26. The collage is from the Milwaukee, Wisconsin artist's "One Sheet Wonders" series. A portfolio of his work is in the issue.
In the issue's News & Notes section, we report on collage popping up everywhere: KAOS returns to Slovenia. A century-old art center hosts its first collage exhibition. The National Gallery of Scotland is showing four hundred years of collage. And collage is gracing steps on Parliament Hill in Ottawa, Ontario, Canada.
In the article, "Immersive Materiality", Etty Yaniv investigates the everyday material used and labour-intensive processes being used to create create site-responsive environments. She writes, "It is not by chance that all five artists are women. They inherit a rich legacy of Installation Art by preceding women artists who created formidable three-dimensional forms born of discarded material through experimental processes."
Jane Affleck interviews Halifax, Nova Scotia artist Peter Dykhuis who is rebooting encaustic with collage. In "Mapping Back," Affleck observes, "Encaustic's characteristic semi-transparency may be ideal for use in collage, as it allows underlying layers of paper to remain visible while permitting the medium its own signifying potential."
In the second installment of a four part series exploring the notion of Uncollage, Todd Bartel asks, What does an uncollage look like before it was made into a seamless whole? He writes, "It is particularly exciting to credit collage when there is a lack of visible evidence, and cataloging the above offers several ways of detection."
Copyright. It's a curious and complex issue for collage artists. In "Thieves in the Temple", writer Dillon Raborn reports on Robyn Redish and the Stolen Painting Instagram and explores topics of copyright, appropriation, and collage making. He writes, "There is, however, a very real point of contention which wraps her situation into an ethical dead-end upon closer scrutiny: Redish is a collagist."
What is the role of the artist during these contentious political times? In "Truth • Will • Art", the grandson of John Heartfield reflects on the collagists place in contemporary political art. John J Heartfield writes, "These lingering images are a powerful way to combat racism, xenophobia, climate change denial, the rise of authoritarians, and drum beats for senseless wars."
Collagist Virginie Maltais takes us to "An Urban Capharnaum" in her profile of the collage community at Usine 106u Gallery in Montreal, Quebec. "A few of the province's collagists show there, with each using the medium in their own way, be it brutal, dreamy, or obsessive. This variety of work shows us that collage is a vast medium which allows authentic expression and originality."
From Prague in the Czech Republic, Kosmo Nauty uses recycled and upcycled materials, including textiles, paper and cardboard, as way to revive "objects and non-living things" and to connect to memory and childhood. The artist offers us a Cut-Out Page.
ARTIST PORTFOLIOS
Susan Lerner
New York, New York, USA
Scene and action are the hallmarks of Lerner's collage which feel performative in nature, like stills from a movie with a past and a future.
Mary Ellen Bartley
Wainscott, New York, USA
I'm particularly drawn to the dust jackets that barely cling to the well-worn volumes. I've poked around, without the rigor of a scholar, and wondered how certain books especially the illustrated art books may have provided direct inspiration and reference.
Julie Liger-Belair
Toronto, Ontario, Canada
Their serious and stern faces provide an ironic counterpoint to the humour and levity I try to inject into the work.
Dominique Norville
Vancouver, British Columbia, Canada
Playful imagery masks deeper commentary. Close looking pays off in complex stories that unfold in interesting ways.
Jim Ford
Milwaukee, Wisconsin, USA
My work is, at times, a rebellion or reaction to our time and place; and other times embracing the human experience.
Kolaj Magazine relies our subscribers. Their support of this magazine keeps us going and makes it possible for us to investigate and document collage and to promote a deeper, more complex understanding of the medium and its role in art history and contemporary art. SUBSCRIBE TODAY!
(US dollars)

(Canadian dollars)