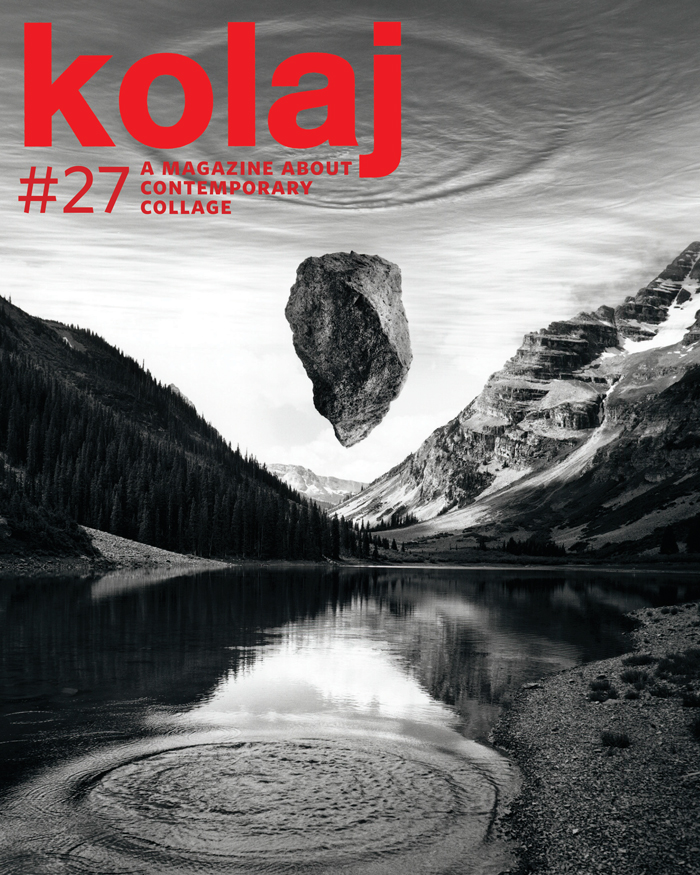 In this Issue
In Kolaj #27, we consider the role art collecting plays in the collage scene, remember artists who have recently passed, get introduced to an Inuk artist from the Canadian Arctic, hear about a collaborative model that dates back to the sixteenth century, and learn about the role of uncollage in photography and film. Our goal with every issue is that Kolaj Magazine is essential reading for anyone interested in the role of contemporary collage in art, culture, and society.
For the first time in the magazine's history, we are featuring a photomontage on the cover: Untitled (water as the sky with a floating rock) by Jerry Uelsmann. In the third installment of a series of articles about uncollage, Todd Bartel investigates uncollage in photography and film and discusses the work of Uelsmann, Fran Forman, Vik Muniz, Eadweard James Muybridge, and Oscar Gustav Rejlander.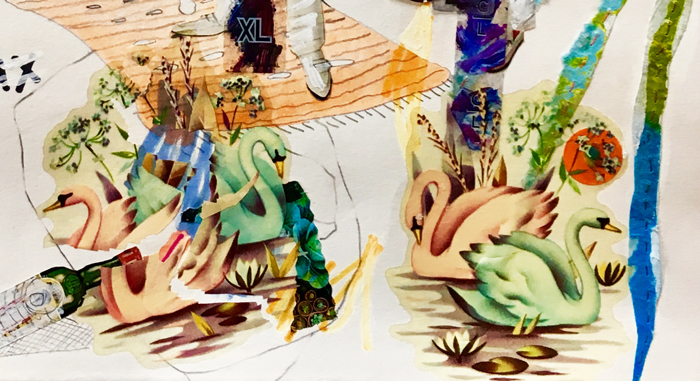 Carlyn Clark writes about her experience of The Karkhana Collaboration Project in "Communal Atelier." Eight artists from Canada, the United Kingdom, and the United States collaborate on a single series of work. She writes, "Each layer required a different approach and a new way of proceeding."
The issues remembers two collage artists who have recently passed away. Frank Juarez profiles the art of Stuart Howland (1957-2018). In "Other Kinds of Perfection," Juarez writes, "His collages explored the human mind, how we think, how we work, and how we put things together to process life."
Allan Bealy remembers poet, mail artist, & collage collaborator Steve Dalachinsky (1946-2019). Bealy writes, "Spontaneous, funny and on point, he shared his work with an international network of artists and musicians."
In "Reinventing the Wheel," Editor Ric Kasini Kadour weighs in on this summer's "Cut and Paste: 400 Years of Collage" at Scottish National Gallery of Modern Art and the cycle of large collage exhibition at major institutions.
Floyd Kuptana is an indigenous artist from the Canadian Arctic who has been working in collage since 2012. Richard D. Mohr introduces the Inuk artist's work and discusses how sinister portent pervades his work.

In "Build a Story, Piece by Piece," we reflect on the role of art collectors in light of the recently announced, collage-focused Doug + Laurie Kanyer Art Collection.
We share two Calls to Artists in the issue: Schwitters' Army and Corporeal Gestures. And we note two exhibitions: Painter and collagist Lari Pittman's retrospective, "Declaration of Independence", at the Hammer Museum at the School of Arts and Architecture, University of California Los Angeles and American collagist Matthew Rose's first solo exhibition in Japan, "Weekend Plans", at Karuizawa New Art Museum.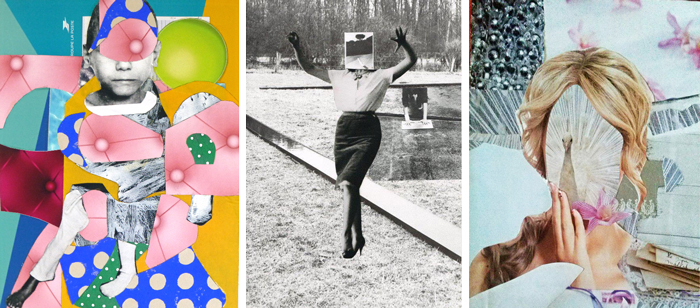 Artist Portfolios
Dominic Corrigan
Sligo, Ireland
"In the final compositions I am attempting to create something bigger than my visual experience by adding what I perceive as my emotional experience."
Katarina Pusica
Fröndenberg, Germany
"Behind each of her works lies a story, unique story, especially about feelings, relationships, women's emotional conditions, wishes and dreams."
Mieke Messer
Amsterdam, The Netherlands
"The strength of her work is that daily life becomes theatre. She shows us that the world is a stage, and life is a theatre."
Pascal Marlin
Paris, France
"The human figure is omnipresent…What I paint is not premeditated. I start with the face and the technique develops by chance. The canvas dicates materials and colours."
Shari Epstein
Long Branch, New Jersey, USA
"The question of when a work is a collage and when it is a painting is a good one to consider when viewing Epstein's work. She maintains a delicate balance between the two."
Kolaj Magazine relies our subscribers. Their support of this magazine keeps us going and makes it possible for us to investigate and document collage and to promote a deeper, more complex understanding of the medium and its role in art history and contemporary art.
| | |
| --- | --- |
| (US dollars) | (Canadian dollars) |
| | |