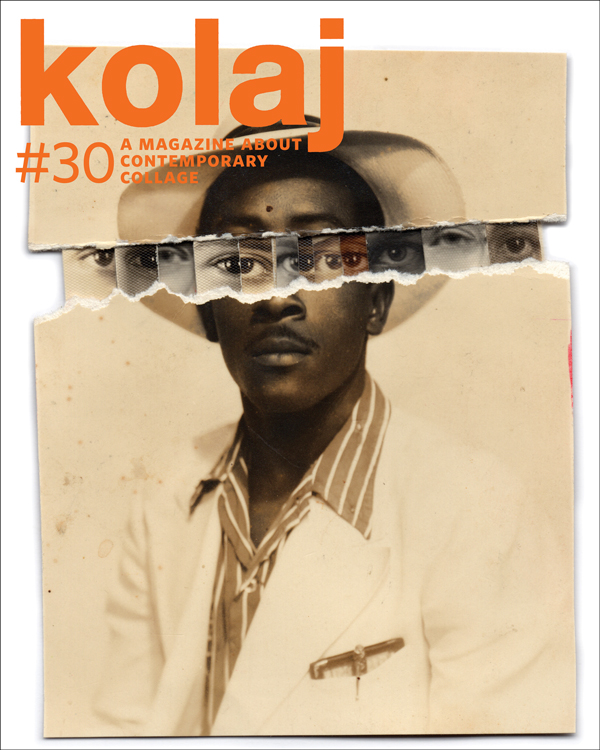 From the island of Cuba to the tip of South America, to Norway and Denmark then back across the Atlantic to North America, Kolaj #30 is a journey through the hearts and minds of the collage community. These artists are responding to social upheaval, questioning the function of the photographic image, repurposing old billboards, encouraging children to engage with art, making new festivals, telling stories about their communities, reflecting on personal histories, imagining cities, and intervening on the urban landscape. Our goal with every issue is that Kolaj Magazine is essential reading for anyone interested in the role of contemporary collage in art, culture, and society. We not only hope you enjoy the articles and images in Kolaj #30, we hope it takes you somewhere you never knew existed.
INSIDE THE ISSUE
A collage from Ricardo Miguel Hernández's series "When Memory Turns to Dust" is on the cover of Kolaj #30. An article about the Cuban artist's work investigates his interventions on photographs. "The metaphysical distance between the reality of these photographic archives and the re-presentation and re-creation to which Hernández submits them is mediated by that psychological dimension of particular identity that the maker permeates them with," writes Yenny Hernández Valdés. "He composes that puzzle from the torn, the stained, and even the glue residue, giving life to a swarm of 'other' memories that, as a final result, acquire a narrative and aesthetic plus as the viewer confronts them and interferes in the visual and discursive deconstruction of works already resemantized."
We profile a new collage festival in Viborg, Denmark. And we look at collage in "Louisiana Contemporary" at the Ogden Museum of Southern Art in light of the history of Annual Exhibitions.
The social uprising in Chile has lead to the creation of a new platform dedicated to the research, mediation and dissemination of Chilean collage. We tell their story.
In a personal essay, Joan Harrison reflects on her friendship with the great 20th century mail artist and collagist Ray Johnson.
In the issue's editorial, Ric Kasini Kadour considers the National Gallery of Art's acquisition of a collage by Native American artist Jaune Quick-To-See Smith and what it means that they call it a "painting".
Collagists Heather Annis and Melanie Mowinski share how they met and the story of their ongoing exchange in "Tale of Two Collagists".
Clive Knights offers us a work of fiction that meditates on art's relationship to power. This is out of character for us, but in these turbulent times, Knights' story reminds us that fiction can speak to a greater truth.
In the third installment of our year-long series, Going Big, we look at how Norway's Miss.Printed takes her art to the street and how locative collage is a strategy she uses to go big, increase the scale of their work, and engage with the larger art world.
In our round-up of News & Notes, we report on a new online platform that uses the online exhibition format to share and promote the work of fellow collage artists. Danielle Krysa aka The Jealous Curator has written a children's book aimed at delivering artistic encouragement to kids. The City of Seattle, Washington has been using its "1%-for-Art" funds from city construction budgets to collect art. We report on the collage they are collecting. An update from Kolaj Institute reports on what's coming this fall.

ARTIST PORTFOLIOS
Brian Barker
Denver, Colorado, USA
"I try to follow the thread presented to me. 'Let the image lead the way' is a good mantra for both the poet and the collagist."
Gisele Olson
Jackson Hole, Wyoming, USA
"Western themes permeate her work. A bear and a man rassle in a saloon. A trio on horseback surveys a castle. A group of men gathers for a hanging under an arch of elk horns."
Patti Robinson
Westhampton Beach, New York, USA
"Composing my titles is a crucial step in sealing the practice; it's always an Ah-ha! Moment."
Rhonda Barrett
Dartmouth, Nova Scotia, Canada
"So my use of newsprint, the acidic, hard to preserve, useless paper is an attempt to elevate the paper, for even fifty more years, to make the life of the trees lost to it worthwhile."
Steven McCarthy
Falcon Heights, Minnesota, USA
"I unfurled the billboards in my driveway, which gave my neighbors something to amuse over, and did a series of rough cuts using scissors to 'harvest' useable elements. Vinyl cuts beautifully…"
Kolaj Magazine relies on our subscribers. Their support of this magazine keeps us going and makes it possible for us to investigate and document collage and to promote a deeper, more complex understanding of the medium and its role in art history and contemporary art.
Current subscribers will receive their copy by 8 October 2020.