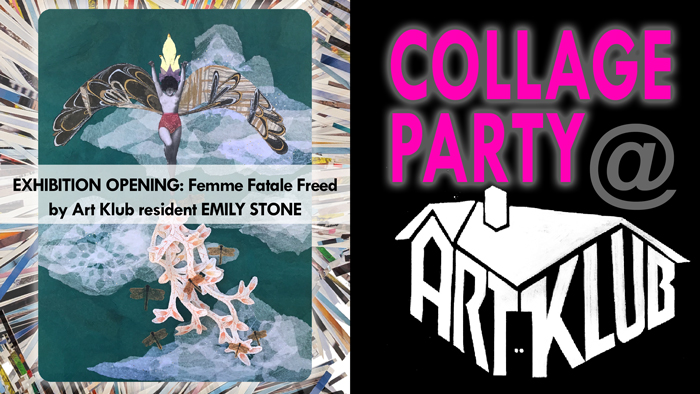 AT KOLAJ FEST NEW ORLEANS
Collage Party at Art Klub & Exhibition Opening: "Femme Fatale Freed" by Art Klub Resident Emily Stone
1941 Arts Street, New Orleans
July 11, 2019, 6-9PM
Art Klub welcomes Kolaj Fest New Orleans with COLLAGE PARTY, an evening of collage making, show & tell, and readings celebrating the opening of the exhibition "Femme Fatale Freed" by Art Klub Resident Emily Stone.
Opened in September 2017 in the St. Roch neighborhood, Art Klub is a residency, performance, and exhibition space dedicated to providing accessible and inclusive community programming for artists and audiences. They serve as a producer and venue for visual and performing arts, creating programming that's arts-centered and community-driven. Learn more at www.artklub.org.
Florida artist Emily Stone presents the results of her paper arts residency at Art Klub. In her "Femme Fatale Freed" series, Stone removes "femmes fatales" from paintings made between the late 18th and early 19th centuries and uses collage to dress them royal attire and place them in dreamlike backgrounds. In doing this, Stone gave these femmes fatales new life in an empowering world filled with possibility.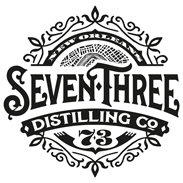 At COLLAGE PARTY, in addition to collage making, participants in Kolaj Fest New Orleans will have an opportunity to show images of their collage and tell a story about them. These presentations will intermingle with a series of readings being organized by Portland, Oregon collagist and writer Kevin Sampsell. COLLAGE PARTY is open to everybody in New Orleans and an opportunity for Kolaj Fest New Orleans to meet and mingle with the city's art community. Doors open at 6PM. Presentations begin at 7PM.
Collage Party at Art Klub is free & open to everyone.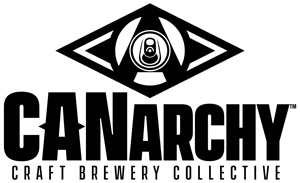 The bar is sponsored by Seven-Three Distillery and CANarchy Beer Collective. Drinks are $5 or $20 for an open bar. A drink ticket is included in the Kolaj Fest New Orleans registration packet. Bar proceeds benefit Art Klub.
About Kolaj Fest New Orleans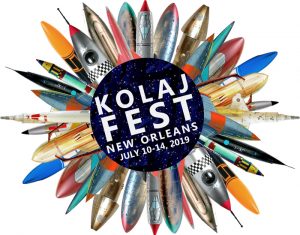 Kolaj Fest New Orleans is a multi-day festival and symposium about contemporary collage and its role in art, culture, and society, July 10-14, 2019. Visit the website to learn more, see an overview of the program, and register to attend. Kolaj Fest New Orleans would not be possible without the support of Press Street, Ogden Museum of Southern Art, LeMieux Galleries, Mystic Krewe of Scissors and Glue, Antenna Gallery, Kolaj Magazine and Kasini House. Kolaj Fest New Orleans is made possible through a generous gift from Laurie and Doug Kanyer. WEBSITE

About Emily Stone
Instagram @19stonefree
Emily Stone is completing a paper arts residency at Art Klub in New Orleans in July culminating in the exhibition, "Femme Fatale Freed". The St. Petersburg, Florida-based artist studied printmaking at St. Petersburg College, solar plate etching at Bloom Art Center, fix and flux etching at the Portland School of Craft, and yarn arts at Morean Art Center. Her work has been shown in exhibitions in St. Petersburg and New Orleans. She is a founding member, curator and studio artist at the St. Pete Women's Collective.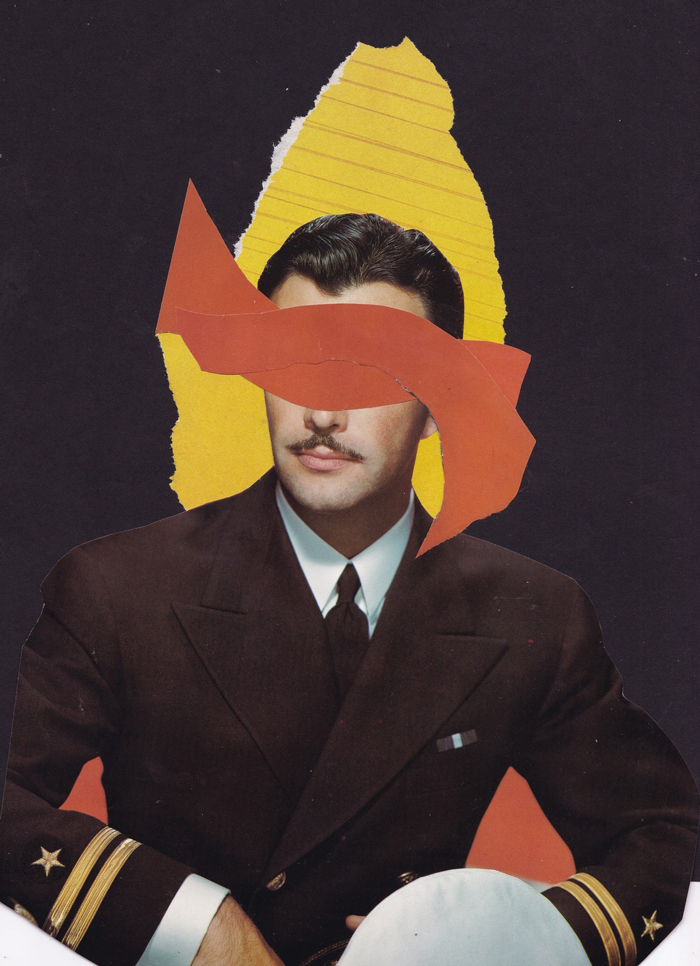 About Kevin Sampsell
www.kevinsampsell.com
Kevin Sampsell is the host of Kolaj Fest New Orleans Collage Making Space. There, he will host the workshop "Assorted Tips & Tricks: A Collage 101". Sampsell is curating a selection of readings for Collage Party at Art Klub. Kevin Sampsell lives and works in Portland, Oregon. From 2014 to 2018, he has hosted an Open Collage Night at Portland's Independent Publishing Resource Center. He also writes, sells books, and operates the publisher Future Tense Books. Sampsell has been writing for Kolaj Magazine since Kolaj #11, where his first-person account, "My Rookie Season in Collage", was published. He has also written artist profiles of Kurtiss Lofstrom (Kolaj #12), Luke Dolkas (Kolaj #19), and Evan Clayton Horback (Kolaj #22).
---
INFORMATION
Art Klub
1941 Arts Street
New Orleans, Louisiana 70117
(504) 583-8232
Images: (top to bottom)
from the "Femme Fatale Freed" series
by Emily Stone
Double Blindfold Captain
by Kevin Sampsell