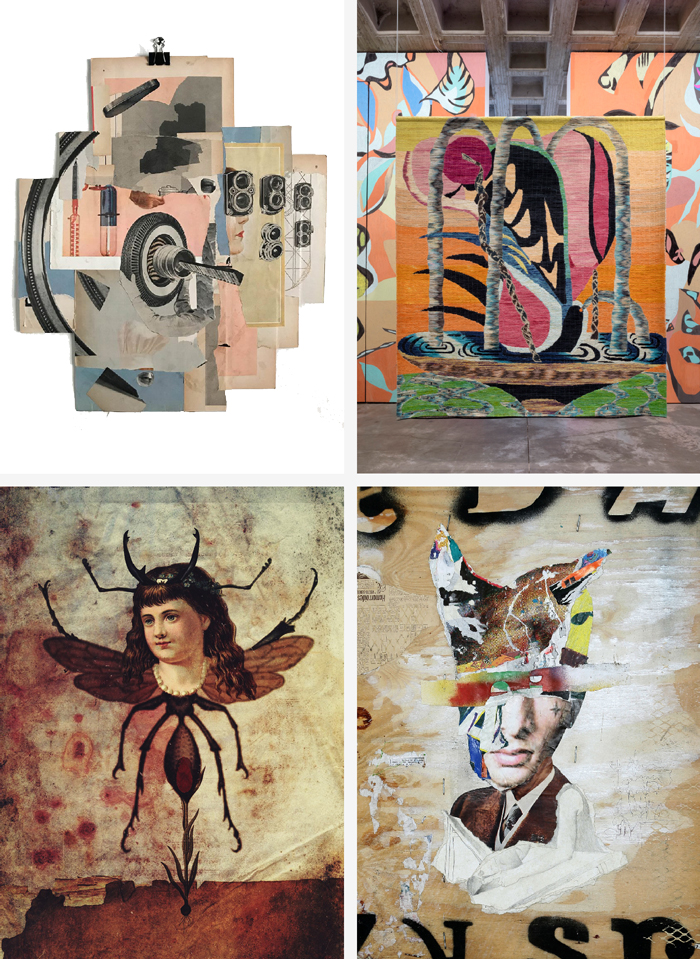 AT KOLAJ FEST NEW ORLEANS
Collage artists from Mexico, Brazil, and Peru Share Their Experience
With a rich, complex history that blends indigenous, African and European cultures, Latin America is as diverse as it is large. Its history of colonization gives it a complicated relationship with Modernism which in various countries has been embraced or rejected as foreign influence. A culture of muralism and a deep appreciation for the role of art in civic discourse and cultural resilience has bolstered Latin American art. And artists who have taken up the role of expressing national identity and pride have produced remarkably unique work. In recently years, Latin American art has enjoyed a key presence on the international art scene through fairs and exhibitions. In this panel, artists and art professionals will share their approach to collage and speak to how it is received in their communities.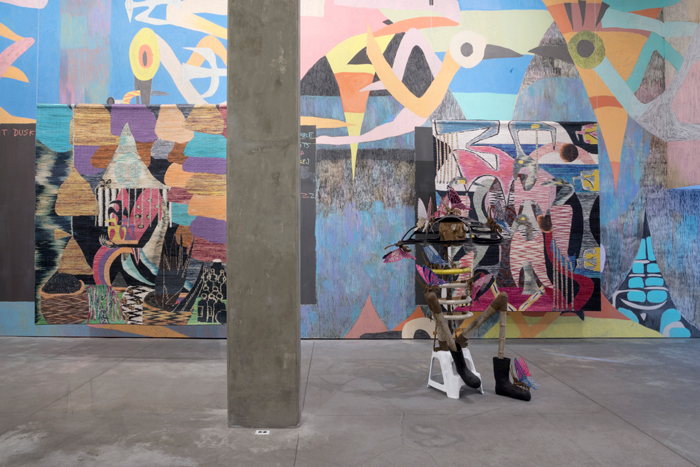 Since 1983, Galeria OMR in Mexico City has represented emerging and established contemporary artists in Mexico City and during that time has developed an international reputation. In 2009, the gallery opened el52, a dedicated project space for emerging artists. Galeria OMR's Clara R. Alvarez will "share how the international art community is playing a fundamental role in Mexico City and how we take it from here to the world." Alvarez, who recently worked on the first solo exhibition of Yann Gerstberger, will share how the artist "turned OMR into a collage of collages, where textile collages, paper collages and culture collages–all made by a workforce collage–converge and receive the audience into a whole different experience."
For the past three years, Kike Congrains has organized CollageWave, an annual festival celebrating all things collage in Lima, Peru. He also travels to remote places in the country to improve the quality of life of the people living there by offering collage workshops. He will present on the community of collagists in Peru and how he works in his country and networks with the rest of the world.
Tala Wakanda is a Mexico City-based illustrator, painter and collage artist focussing on folkloric art expressions. "In my art there is a confluence of Folk-Tales and Mythology, of the animal and the human-self, all seen through the particular lens of very personal, harrowing experiences and of a profound love of nature." Wakanda will share her collage making practice and her experience as an artist and illustrator.
From the historic mining town of Nova Lima, Brazil, Serguei Silva uses "various fonts, old magazines, tickets, posters, advertisements and product packaging" to make collage. He writes, "Reinforcing this mass of vibrations, layers of information intertwine, numbers, letters, colors and textures, form people. In these images I send presents constructions as heads or portraits states that represent the individual emotional states. Silva will share his work and offer his perspective on making art in Brazil.
Jay Berrones makes collage that "addresses those uncertain areas of human confusion and sheds light on them to provoke the audience to seek that truth for themselves." The Mexico City-based artist has been working to create a collage-focused screenprint shop, TOIL, and recently completed an artist residency at La Cimbra Galeria in Bogotá, Colombia.
About Kolaj Fest New Orleans
Kolaj Fest New Orleans is a multi-day festival and symposium about contemporary collage and its role in art, culture, and society, July 10-14, 2019. Visit the website to learn more, see an overview of the program, and register to attend. Kolaj Fest New Orleans would not be possible without the support of Press Street, Ogden Museum of Southern Art, LeMieux Galleries, Mystic Krewe of Scissors and Glue, Antenna Gallery, Kolaj Magazine and Kasini House. Kolaj Fest New Orleans is made possible through a generous gift from Laurie and Doug Kanyer. WEBSITE

About the Presenters
Clara R. Alvarez
www.galeriaomr.com
Clara R. Alvarez's studies included art management, art criticism, and Mexican heritage. She currently works as a gallery assistant at Galeria OMR in Mexico City. In the past she has worked at art auctions, in the corporate world, and the art fairs Zona Maco, Art Basel Miami, and Houston Art Fair. Her current work includes research regarding the gallery's artists, their techniques and the art market, as well as gallery tours, writing and translating texts for publications and planning Art Theory lectures. Alvarez lives and works in Mexico City.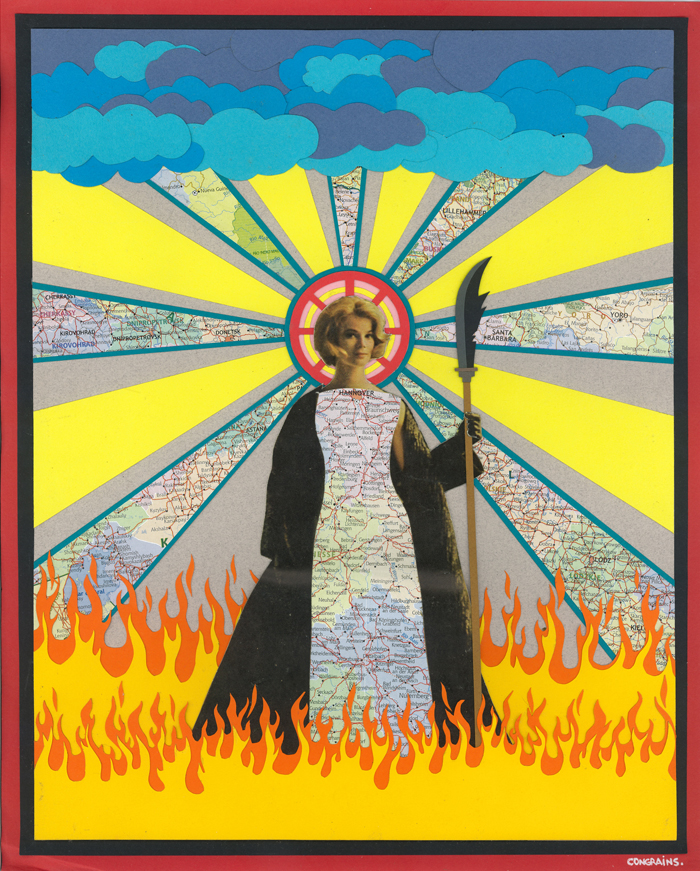 Kike Congrains
Instagram @canson_city
Enrique "Kike" Congrains is a self-taught artist in Lima, Peru who works mainly with paper. He started doing collage after a 10-year stint as an advertising copywriter. He has shown work in group and solo exhibitions in Peru, as well as Argentina, Spain, Hong Kong, and Norway at the Scandinavian Collage Museum. Congrains' goal as an artist is to make collage popular in Peru and for people to consider collage a respectable medium to express themselves. To that end, he produces the annual juried collage show, "CollageWave", for established and emerging Peruvian collagists. He also teaches free collage workshops to underprivileged kids. He uses coloured cardstock to complement the vintage images he selects for each piece, giving his collages a look that is a crossbreed between collage and paper art.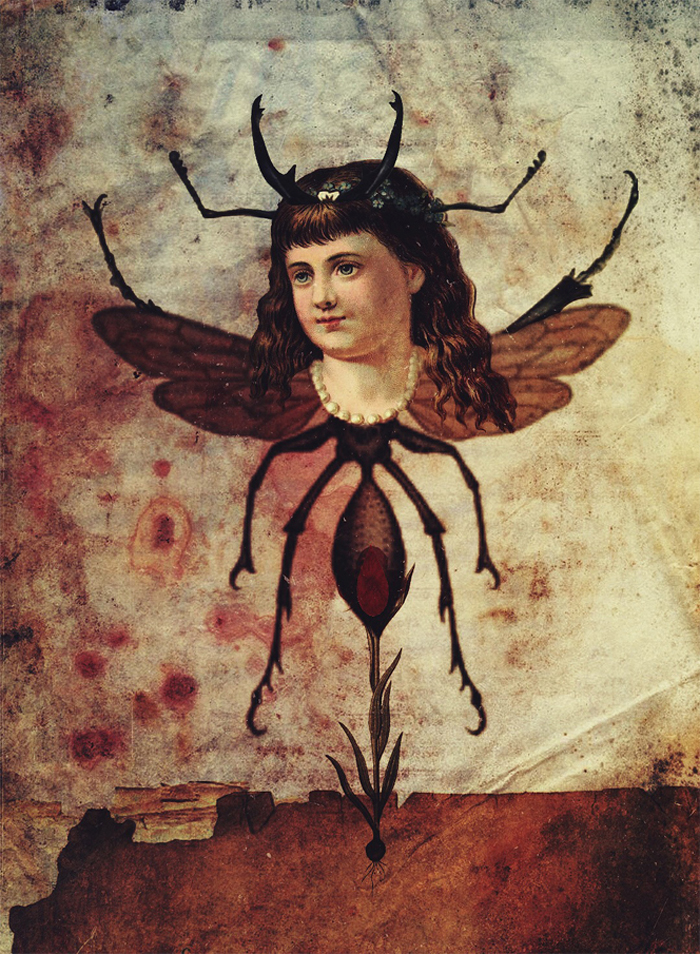 Tala Wakanda
Instagram @talawakanda
Tala Wakanda, an English graduate, spends her time making art and teaching literature. Her work has been exhibited in Mexico and her illustrations have been published in Kodama Cartonera, Punto de Partida (UNAM), Samsara editorial and ARCA de literatura. She lives and works in Mexico City.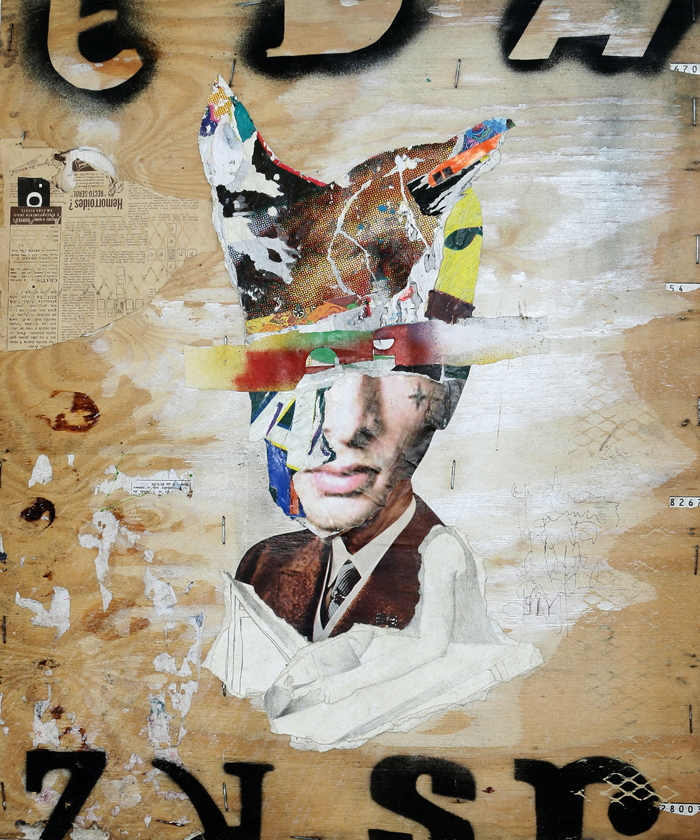 Serguei Silva
www.flickr.com/photos/b7z
Brazilian artist Serguei Silva has been making collage since 2012, after studying graphic design at university. His first solo exhibition was in 2013 at the Casa Aristides de Cultura in his hometown of Nova Lima. From 2014 to 2016, he taught collage workshops in collaboration with several NGOs. In 2017, his work was selected for the cover of Oltre Collage Fanzine #1. In 2018, his work was published in the Italian art and literature magazine, Rapsodia, and was selected for the "Unnatural Symmetry" exhibition mounted by the Rochester Collage Society in New York. Silva researches animation and collage. He lives and works in Nova Lima, Minas Gerais, Brazil.
Images:
Yann Gerstberger installation at Galeria OMR, Mexico City
Courtesy Clara R. Alvarez
Saint by Kike Congrains
Courtesy of the artist
Beetle by Tala Wakanda
(digital collage; 2018)
Courtesy of the artist
Cabeaça by Serguei Silva
Courtesy of the artist