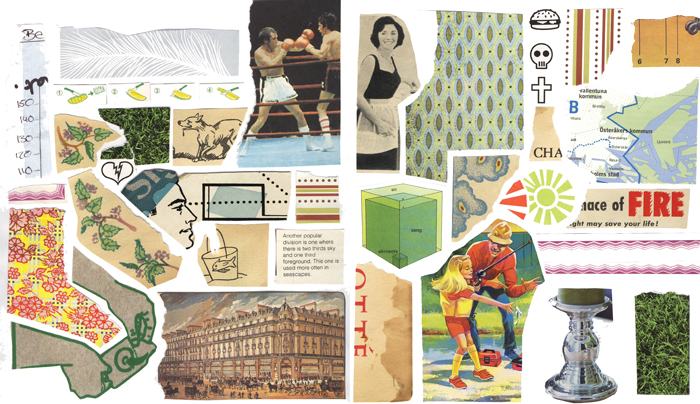 CALL TO ARTISTS
Kolaj Magazine Seeks Artist-Designed Cut Out Pages
A Cut-Out Page is a selection of fragments that one can use to make a collage. The feature reflects artists' styles and approaches to collage making and shows how artists select and organize fragments. People use the Cut-Out Pages to make collage. Go HERE to see some examples.
Kolaj Magazine invites submissions of Cut-Out Pages for an occasional feature in the magazine or for the World Collage Day Special Edition.
How to Submit
1) Make A Cut Out Page
To make a cut out page, select a number of fragments and arrange them on a single 8″x10″ sheet in a manner that allows them to be cut out (i.e., not touching each other). The background of the sheet should be white.
2) Scan the Cut Out Page
Scan that sheet at 300+ dpi.
3) Email the Scan
Send your scanned file to editor@kolajmagazine.com. If you are a member of the Kolaj Magazine Artist Directory, please include a link to your profile. If you are not, please send your bio, artist statement, and 2-3 examples of your collage work.
Deadline: January 31, 2021 to be considered for the World Collage Day 2021 Special Edition. 
Subscribe to Kolaj
Kolaj Magazine is the world's only internationally-oriented art magazine dedicated to contemporary collage. Subscribe and get your copy today.
Kolaj Magazine Artist Directory
Kolaj Magazine's Artist Directory is a tool for organizing and cataloguing artists who work in the medium of collage. SEE IT! JOIN IT!