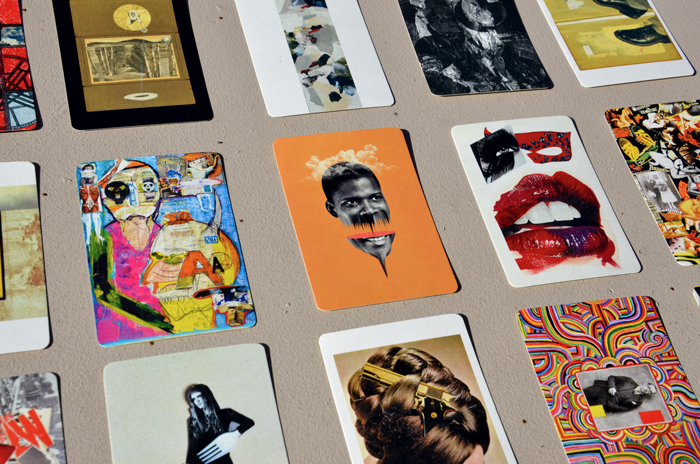 The Fifth Pack of Collage Artist Trading Cards Is Here!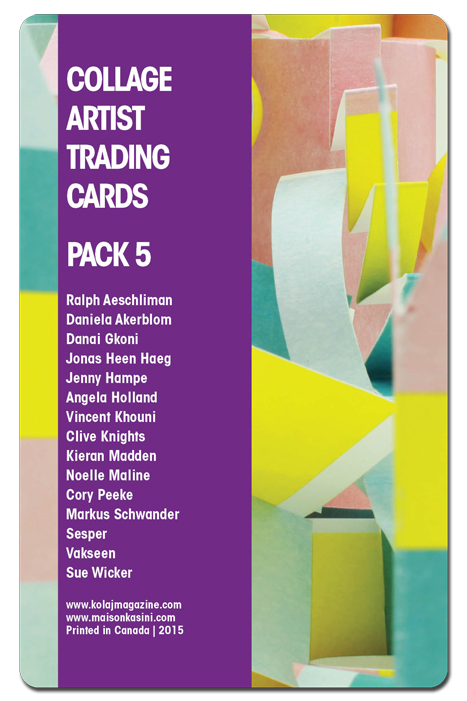 Kolaj works with the Kolaj Magazine Artist Directory to produce curated packs of the Collage Artist Trading Cards.
Each card is a full colour, 5.5" x 3.5" postcard with rounded corners. An example of an artist's work is on the front of the card and the artist's public contact information is on the back. Collage Artist Trading Cards come in packs of 15.
You can frame the cards you like as mini-prints; collect and curate your very own exhibition. You can also use the cards for discovering contemporary, fine art collage. We think they are a great way to be introduced to the artwork of collage artists.
"When we started the Collage Artist Trading Card series, we thought of them as a tool to discover different collage artists and to experience collage offline and in a tactile manner," said Ric Kasini Kadour, Curator, Collage Artist Trading Cards. "As we prepare to release the fifth pack, the series has become an archive of working collage artists. I keep a stack on my desk and often shuffle through them to remind myself of the incredible diversity taking place in the medium."
Pack Five features artists from Brazil, Canada, Norway, Switzerland, the United Kingdom, and the United States, and, as always, includes a diverse selection of collage practice.
Collage Artist Trading Cards, Pack Five
5.5″x3.5″ | 15 full-colour postcards with title cards in clear plastic bag | 2015 | Published by Kolaj Magazine | Printed in Canada
Ralph Aeschliman, Moscow, Idaho, USA | Daniela Akerblom, Montreal, Quebec, Canada | Danai Gkoni, Athens, Greece | Jonas Heen Haeg, Oslo, Norway | Jenny Hampe, Vinje, Norway | Angela Holland, Santa Barbara, California, USA | Vincent Khouni, Montreal, Quebec, Canada | Clive Knights, Portland, Oregon, USA | Kieran Madden, Brooklyn, New York, USA | Noelle Maline, Lakewood, California, USA | Cory Peeke, La Grande, Oregon, USA | Markus Schwander, Basel, Switzerland | Sesper, Saõ Paulo, Brazil | Vakseen, Los Angeles, California, USA | Sue Wicker, Bournemouth, England, United Kingdom
If you would like your work included in a future pack, visit the Collage Artist Trading Cards Call to Artists: HERE.