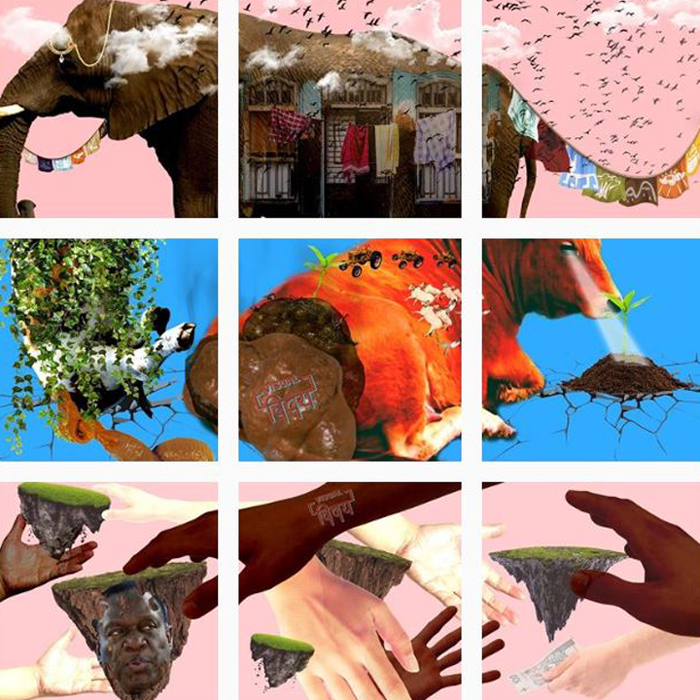 An Online Collage Project Seeks to Challenge Artists
Rohan Mukherjee, the India-based creative head of the design firm Applause Applause, wants to start a global collage movement on Instagram.
"I've been chatting with a bunch of collage artists online, and it's a common feeling that often the great work being created by beautiful people in other countries get missed by by the rest of us. Local stories that we want to hear," writes Mukherjee. "I work in India, but my collage may resonate with someone in Spain. And vice-versa."
Mukherjee proposes "Visual Vishay" during the thirty-one days of August. "The challenge is to tell a local story through your collage from wherever you live in the world," he writes. Vishay is the Hindi word for "news". He encourages artists to post their collages using the hashtag #VisualVishay on Instagram and to follow others doing the same. "The idea here is to post one collage every day, but the theme is based on whatever is going on in your life and in your part of the world."
He explains further, "The days you pick are up to you, just make sure that you cover these emotions in the given week. So, for example, if there's a Trump headline somewhere, the emotion it might fall under could range from indifference, to helplessness to disgust. It's ultimately your, the artist's, interpretation of that news. At the end of four weeks, each artist might have created twelve pieces of local news that evoked in them a range of emotions."
Rohan Mukherjee says about himself and his art:
I've never really studied design or art, or any form of it. I'm a writer who just picked up some basic skills while working alongside designers in branding studios. So, when I started experimenting with what I can put on my Instagram, discovering my style became a daily process–literally, through at least one artwork every day–on some good days, even two! Ever since I started Visual Vishay, it has received pleasantly encouraging feedback and it felt apt to give this project some room to breathe globally. After all, everyone has a local story with an international appeal. In any case, it's 2018 and international borders are fast dissolving in terms of keeping the rest of the world excluded.
Creating collages for me is like having a free reign in a visual playground. I can experiment with anything I dream up–and here, images become my paint, my ingredients. This is the feeling I want other visual artists to enjoy and appreciate as well.
To learn more about "Visual Vishay", visit Mukherjee's Instagram account @imnotrohan, where you'll find a link to the latest #VisualVishay posts.