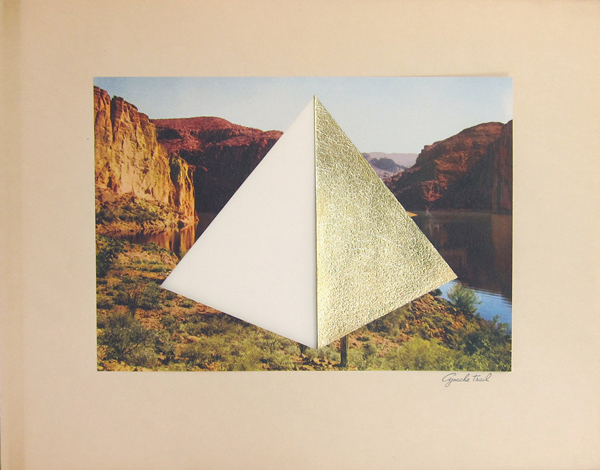 OTTAWA, ONTARIO, CANADA
Amy Thompson's work explores themes of memory, childhood and the natural world through the mediums of drawing, painting and collage.  She focuses on appropriating and re-contextualizing imagery from the 1940s and 1950s through mixed media and collage. The work has been exhibited across Canada as well as New York, Los Angeles, Chicago, Paris and Berlin. Amy Thompson is an artist, illustrator, and designer based in Ottawa. You can find out more at her website.
Thompson's portfolio appears in Issue Four where Ariane Fairlie writes,
Symbolically, Thompson's shapes relate well to memory. Our selective and emotional relationship to our memories is well represented with the use of a circle to block out a large portion of the landscape, or as a reminder of the golden hot heat experienced in a desert setting.
To read more about Amy Thompson, purchase Issue Four or SUBSCRIBE to never miss an issue.
Image:
Apache Trail
by Amy Thompson
9″x13″
mixed media on vintage paper
2012