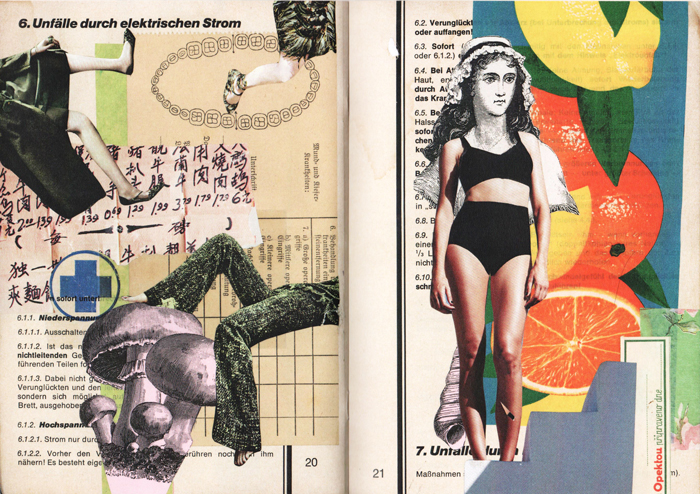 COLLAGE TAXONOMY FROM KOLAJ 21
Collage Play
The Collage Taxonomy Project is an ongoing survey of the wider collage community that attempts to define the language we use to talk about collage. Visit the project's website to suggest words or contribute definitions. In Kolaj 21, we explore the idea of Collage Play: "When an artist or artists assemble imagery without concern for meaning or concept." In the magazine, Ric Kasini Kadour examines how this concept plays out in the collage zine, Anleitung zur Ersten Hilfe bei Unfällen (or Instructions for first aid in the case of accidents) by Stefan Heuer and Susanna Lakner. Kadour writes:
"Too often, we mislabel this work as surrealism. I propose it is not. Surrealism is a strategy for artmaking in which the irrational juxtaposition of images is intended to unleash the artist and viewer's creative potential of the unconscious mind. That combination of intention and technique is the opposite of Collage Play, which I would define as artist or artists assembling imagery without concern for meaning or concept."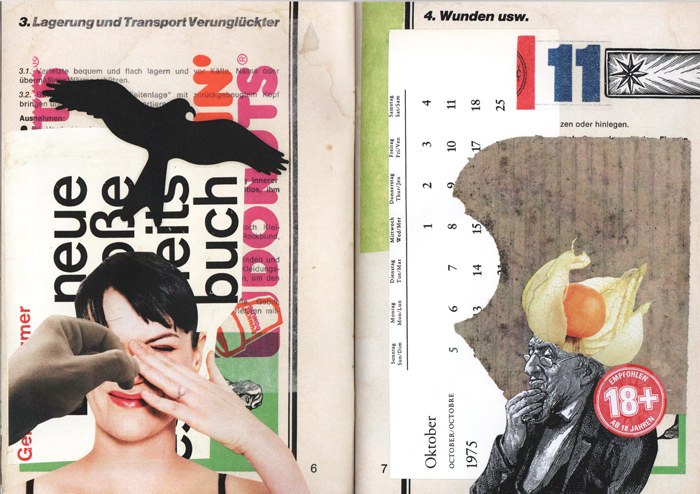 This collage taxonomy article appears in KOLAJ #21. For your own copy of the article, SUBSCRIBE to Kolaj Magazine or Get a Copy of the Issue.

To learn more about the artists and the project, visit Susanna Lakner's blog HERE. Susanna Lakner lives and works in Stuttgart, Germany. Visit her Kolaj Magazine Artist Directory page HERE. Stefan Heuer lives and works in Burgdorf, Germany. See his Facebook page for more information.
Images:
Page spreads from
Anleitung zur Ersten Hilfe bei Unfällen
by Stefan Heuer & Susanna Lakner
Self-published, 2017
8.3"x6"; 32 pages | Saddle-stitched | Edition of 50