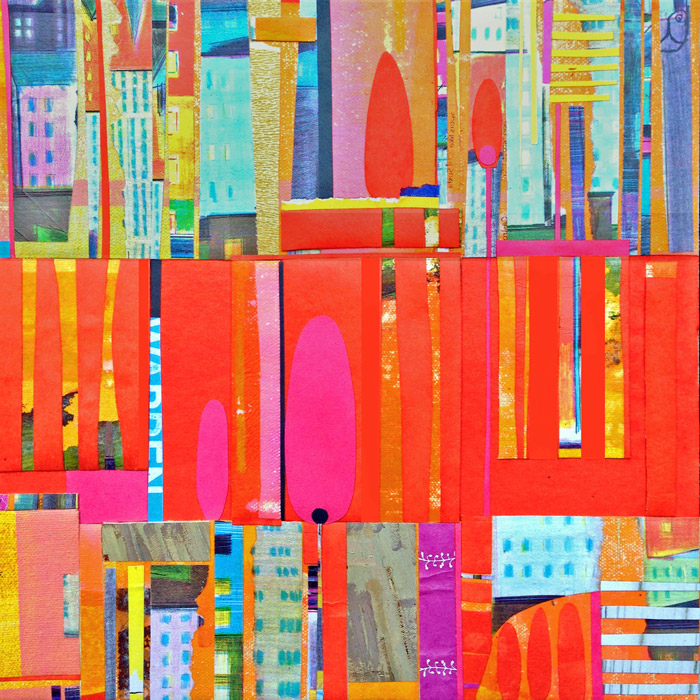 Holly Savas is a mixed media artist "with an affinity for transforming old and discarded items into new pieces of art, an act that I find gives me an optimistic view of the world." She said, "By creating art via repurposing and repositioning materials, I gain fresh perspective and expand my awareness of how colours, textures and shapes relate to one another. My goal is to present this new way of seeing things in an unusual and visually interesting way." Holly Savas lives and works in San Francisco.
Ariane Fairlie introduced Kolaj readers to Savas in an Artist Portfolio in Issue 11.
Holly Savas is a contemporary collage artist with modernist sensibilities. Coming from a design background that is evidenced in the orderliness of her compositions, she creates abstracted urban landscapes. She speaks about the optimism in her work, and it is here that the modernist qualities manifest. The forms are simple, colours bright and warm, and patterns and textures lively, all of this speaking to a portion of the modernist aesthetic.
To see all of Holly Savas' Artist Portfolio, purchase Issue Eleven or SUBSCRIBE to never miss an issue.
Image:
Summer in the City (3)
by Holly Savas
12″x12″x1.5″
acrylic, paper, collaged canvas, glue on canvas
2014
Courtesy of the artist