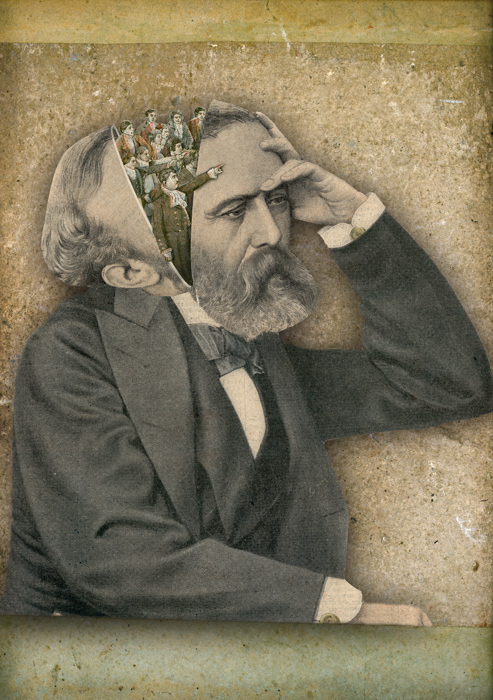 "Kolaj Past & Future II" by Benoit Depelteau
In my editorial for last issue, I used the two-year milestone Kolaj had reached as a pretext to make an observation about the state of collage and comment on its evolution. This time, as we officially start our third year, I would like make a similar reflection, but, this time, on the progression of our project.
It had been said before, but launching a printed arts magazine was a risky bet at a time when many publications, especially in the cultural field, have stopped distributing physical copies. We are grateful for the incredible support shown early on by the collage community and beyond. That allowed us to promptly establish our project's foundations and be able to concentrate on reaching the next step, our current stable situation.
As a member of Magazines Canada, besides having a voice in the publishing industry, we now have access to a national distribution network, which undoubtedly strengthens our position. Along the road, we were happy to reach some of our initial objectives, including writing about the work of dozens of fantastic artists, spreading the word for many events, and presenting fascinating portfolios. We also tried to publish as many reviews as possible because there was a serious deficit regarding collage exhibitions.
On the other hand, the number of collage exhibitions has rapidly increased in the last few years. Confronted with that unexpected situation, we made the choice to spend more of our time and energy on covering collage-related events than we had initially anticipated. Every time we encountered a new intriguing proposition, we were enthusiastic and felt the need to share it with our readers.
Sometimes, the time sensitive nature of this content obliged us to move away from our initial plan and push back some of our ideas, which is something we definitely want to adjust in the future. One of them is to have a deeper look into the different steps of the process in order to have a better understanding of collage.
Furthermore, the recent accession of collage by an increasing number of institutions has left surprisingly few traces in specialized publications. Not to mention that we sometimes had the impression that writers approached collage in a biased way to consolidate their general conception of contemporary art. Therefore, we are impatient to occupy our part of the conversation and to offer academic writing that makes the connection between the practice we see and its representation in museums.
That summarizes the direction we want to follow in the future. You will occasionally see adjustments in coming issues to reflect these ideas. Again, we really appreciate your support. Please continue to spread the word about Kolaj, to share your comments and ideas, and to be active on our social media platforms. Your participation will help us to grow, develop new projects, and enhance our contribution to the collage and its community.
PURCHASE ISSUE NINE | SUBSCRIBE | FACEBOOK
Image:
Victor Hugo
by Solange Gautier
40″x30″
engraving, newspaper, and book cover
2012
Image courtesy of the artist