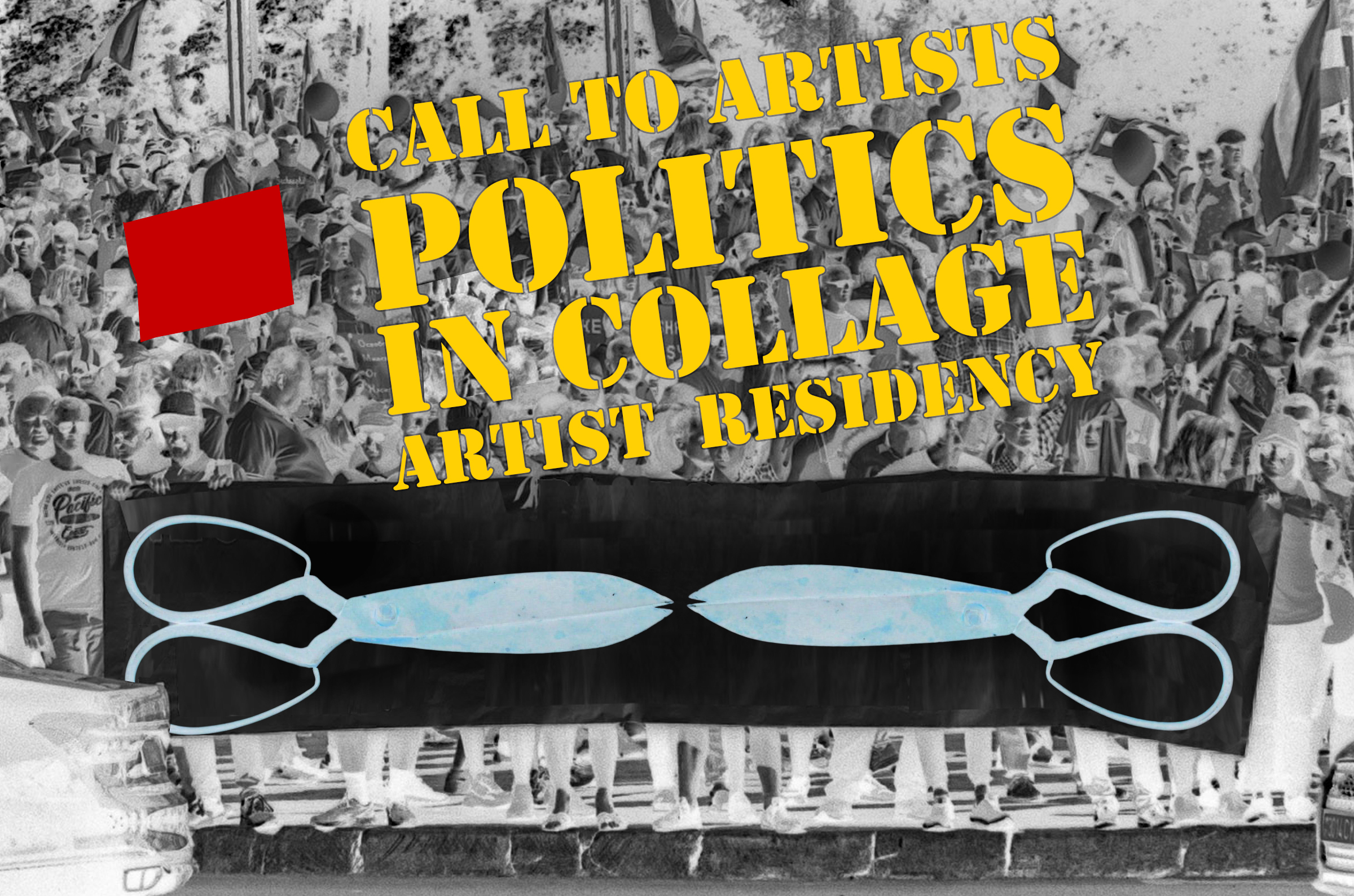 Politics in Collage Residency 2022
A four-week, virtual/online residency with Kolaj Institute in November and December 2022
Deadline to apply: October 16, 2022
We are living in an explosively political time, faced with crises that are not only deepening individually but becoming increasingly intersectional in relation to each other. There is a strong history of collage art being used to tackle complex socio-political issues during some of the most difficult eras but how can it meet this moment and spark meaningful dialogues about our varied, contemporary issues?
During the Politics in Collage residency, we will be discussing the history of political collage and important political collage artists, exploring how to curate and exhibit this crucial art form, and, most importantly, challenging ourselves to push our own artistic practice further in the creation of political collage. During the month-long residency, artists will hear from a variety of guest speakers specializing in different aspects of this form during four virtual meetings on Tuesdays from 4-6PM EST. Through ongoing online discussions and regular collage exercises in between meetings, artists will learn how to articulate complex political subjects in their work and explore how to inspire engagement with difficult socio-political topics through collage.
Artists in the residency will conceptualize and begin work on a piece exploring a political or social subject of their choosing. Although the works may not be completed by the end of the residency, they will be regularly critiqued and discussed by the group throughout. Artists will write an artist statement that documents and provides critical context for their work. The completed work and texts from the residency will result in a book published by Kolaj Institute and an exhibition, whether in-person or online, to be determined at a later date. Read about the results of the previous Politics in Collage Residency HERE.
G.E. Vogt will be leading the residency, shedding light on her own work as a political collage artist, as well as moderating discussions and sharing resources with artists. Professor John J Heartfield will discuss the history of his grandfather, John Heartfield, and how his work was not only a crucial part of the resistance to fascism in World War II, but continues to have a resounding impact in today's world. Professor Wendy Parker will take the artists through a broad history of political collage, how it has engaged with and influenced different socio-political movements, and various collage artists who have played key roles in furthering this art form. Kyle Williams, director of the non-profit Andrews-Humphrey Family Foundation, which oversees the Benny Andrews Estate, will speak about the development of Andrews's artistic practice as it led up to, and continued alongside, his political activism. Ric Kasini Kadour will speak to the importance and relevance of political art in relation to its influence on contemporary cultural and political narratives.
The goal of this residency is to help collage artists who are creating social/political work, or interested in doing so, to grow and expand their practice. By the end of the residency, the participants will be able to practically apply to their own work what they have learned from lectures, discussions, and practical exercises.
WHO IS THIS FOR?
Collage Artist Residencies are intended for self-motivated artists, at any stage in their career, who want to develop their practice by exploring a topic or working method and collaborating with others to produce a final product. This particular residency will be of interest to those artists working in social and political collage, or those who are interested in doing so. Residencies are open to any artist over the age of 21 from anywhere in the world.
COST
The cost of the residency is $500 USD per artist; however, no artist will be turned away for lack of funds and the organizers will work with artists to build a financial aid package.
HOW TO APPLY
Submit your application HERE.
WORKSHOP LOGISTICS
Dates: November 11 – December 6, 2022
SESSION DATES
Monday, November 14th, 4-5 EST
Tuesday, November 15th, 4-6PM EST
Tuesday, November 22nd, 4-6PM EST
Tuesday, November 29th, 4-6PM EST
Tuesday, December 6th, 4-6PM EST
The residency will begin with an invitation to join the Slack workspace on Friday, November 11th, followed by a one hour, online Meet & Greet on Monday, November 14th, 4-5 EST. The rest of the sessions will take place on the following Tuesdays, 4-6PM EST.
Artists are expected to attend all scheduled sessions and complete assignments. By participation in the residency, artists grant Kolaj Institute, Kolaj Magazine, and Maison Kasini permission to publish the images online and in book form and in the promotion of the project and book. Any original collages made during the residency remain the property of the individual artists with all rights retained.
APPLICATION PROCESS
The submission process asks applicants for:
• Contact information
• Artist Bio (50-250 words)
• Statement of Artist Practice (50-300 words)
• 5-7 images of artwork
• Statement of expectations
• Asks questions about your work and needs
QUESTIONS
If you have questions, send an email.
---
FACULTY
G. E. Vogt has exhibited in various juried exhibitions across the US. In 2019, Fresh Paint Gallery held a major exhibition of her work and she spoke on the "Women In Collage" panel at Kolaj Fest New Orleans 2019. She is currently participating in a five-month virtual residency with The Crit Lab, working with other artists in the field of critical, ethical art. Her works continue to explore the themes she has been interested in since her performance work which have become increasingly relevant—the unmanageable socioeconomic gap, the various forms of inequality prevalent in the U.S., and the toxicity of our political climate. However, as her work has advanced, Vogt has become increasingly committed to working with and building a community of other socio-political collage artists. She created and is currently curating the SoPoCollage page to showcase these artists; participated in Kolaj Institute's virtual Money Money Collage Residency, illustrating Eleanor Porter's 1918 social commentary on capitalism and wealth, Oh, Money! Money!, with eleven other collage artists; and most recently coordinated and directed Kolaj Institute's "Politics in Collage" virtual residency to further advance the field of socio-political collage, and help artists grow their work in this field. Vogt lives and works in San Diego, California.
Red Burns, the founder of New York University's multimedia program, described John J Heartfield as "a wonderful blend of the technical and the artistic, a musician with a keen appreciation for the visual arts." John received a Tisch School of the Arts award "for pioneering work in interactive media." John is the paternal grandson of the groundbreaking Dada artist and graphic design genius, John Heartfield. With the artist Lance Hansen, John is writing a graphic novel focusing on his grandfather's cinematic life. The first chapter, "The Night the Nazis Came to Murder My Grandfather", appears online and in print in The Nation Magazine (April 12, 2021). A chapter regarding German Dada's turbulent years will be available soon. An accomplished musician and songwriter, John has brought together a group of brilliant musicians for One Hand!, an upcoming international multimedia event to encourage voter participation. You can find out more about John's words and music at JohnHeartfield.com. John curates The John Heartfield Exhibition (JohnHeartfieldExhibition.com). In 2009, he built the exhibition to increase his grandfather's recognition and renown. The Heartfield Exhibition continues to grow beyond the most optimistic expectations. Today, it features world-class contemporary collage artists. Events worldwide ask Professor Heartfield to give his interactive presentation, Art As A Weapon. Audiences are particularly delighted to hear stories about his grandfather's fascinating personality and anecdotes from when John enjoyed vacations with his grandfather in Europe.
Wendy Ann Parker is an art historian currently teaching at Iowa State University. A Vermont native, she moved to the Midwest to do her graduate work at the University of Iowa, home of the International Dada Archives. Wendy's research is centered on activist art, and her MA thesis examined the political collage/photomontage work of Dada artists including John Heartfield, Hannah Höch, Raoul Hausmann, and Kurt Schwitters. She is currently finishing a doctoral dissertation focusing on more contemporary artists, particularly Martha Rosler. Wendy is especially interested in how activist artists reach their intended audiences and feels that in today's culture of visual sophistication, collage is arguably the most potent medium for communicating those messages.
Kyle Williams is an artist and educator, as well as the director of the non-profit Andrews-Humphrey Family Foundation, which oversees the Benny Andrews Estate. He lives and works in Brooklyn, NY, where he also teaches at Pratt Institute. The AHFF was established in 2005 by artists Benny Andrews and Nene Humphrey. The Foundation builds knowledge and fosters understanding around the life and work of Benny Andrews. It upholds Andrews's commitment to education, social justice, and the project of creating a fuller, more accurate historical canon that acknowledges the contributions of women and people of color to the arts. The Foundation oversees the Benny Andrews Estate: the artists' personal archive and an extensive collection of his artworks located in his former studio in Brooklyn, NY. The AHFF's mission is to provide educational programming on Andrews's life and work, including online resources, student outreach, access for academic researchers, and an artist fellowship through MacDowell.
Ric Kasini Kadour, a 2021 Andy Warhol Foundation for the Arts Curatorial Fellow, is a writer, artist, publisher, and cultural worker. Working with the Vermont Arts Council, Kadour curated four exhibits: "Connection: The Art of Coming Together" (2017) and Vermont Artists to Watch 2018, 2019 and 2020. In 2017, he curated "The Art of Winter" at S.P.A.C.E. Gallery in Burlington, Vermont. In 2018, Kadour curated "Revolutionary Paths: Critical Issues in Collage" at Antenna Gallery in New Orleans, which bought together collage artists whose work represents the potential for deeper inquiry and further curatorial exploration of the medium; followed in 2019 by "Cultural Deconstructions: Critical Issues in Collage" at LeMieux Galleries in New Orleans, which furthered the conversation. Since 2018, he has produced Kolaj Fest New Orleans, a multi-day festival & symposium about contemporary collage and its role in art, culture, and society. As Curator of Contemporary Art at Rokeby Museum in Ferrisburgh, Vermont in 2019 and 2020, he curated three exhibitions, "Rokeby Through the Lens" (May 19-June 16, 2019), "Structures" (August 24-October 27, 2019), and "Mending Fences: New Works by Carol MacDonald" (July 12-October 25, 2020). He also curated "Contemporary American Regionalism: Vermont Perspectives" (August 17-October 20, 2019); "Where the Sun Casts No Shadow: Postcards from the Creative Crossroads of Quito, Ecuador" (November 1-30, 2019); and "Many Americas" (August 20-November 27, 2022) in the Wilson Museum & Galleries at the Southern Vermont Arts Center. "The Money $how", co-curated with Frank Juarez, was presented at the AIR Space Gallery at Saint Kate-The Arts Hotel in Milwaukee, Wisconsin (April 10-September 12, 2021). For Birr Vintage Week & Arts Festival in Birr, County Offaly, Ireland (August 13-20, 2021), he curated "Empty Columns Are a Place to Dream", which traveled to the Knoxville Museum of Art in January-February 2022. At 516 ARTS in Albuquerque, New Mexico, Kadour co-curated with Alicia Inez Guzmàn two exhibitions: "Many Worlds Are Born" (February 19-May 14, 2022) and "Technologies of the Spirit" (June 11-September 3, 2022). Kadour is the editor and publisher of Kolaj Magazine. He has written for a number of galleries and his writing has appeared in Hyperallergic, OEI, Vermont Magazine, Seven Days, Seattle Weekly, Art New England (where he was the former Vermont editor) and many others. Kadour maintains an active art practice and his photography, collage, and sculpture have been exhibited in and are part of private collections in Australia, Europe and North America. In January-February 2020, he was artist-in-residence at MERZ Gallery in Sanquhar, Scotland. He holds a BA in Comparative Religion from the University of Vermont. Kadour splits his time between Montreal and New Orleans.