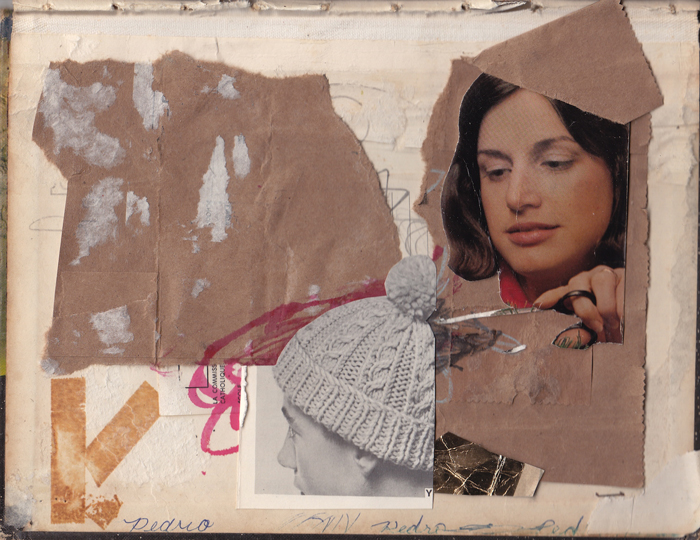 COLLAGE ARTIST TRADING CARD SPOTLIGHT
Spotlight on Collage Trading Card Artist Anouk Sugàr
Anouk Sugàr is a visual artist and writer who studied art and critical theory at Goldsmith's College, London (United Kingdom) and sociology at the Université du Québec à Montréal. Sugàr writes, "Collage to me is about the immediacy and spontaneity of the process, in an attempt to remain uncensored. If the result of a collage does not satisfy me, I'll discard it, rather then do more work on it. It sometimes happens that I take bits and pieces out of the trash and reassemble them all over again."
Sugàr recently exhibited in the Edinburgh Collage Collective's "Vinylism". She has also been organizing collage workshops in Montreal, where she invites "curious amateurs and aficionados, unleash your imagination and creative mind! Join a collage workshop for the pleasure of experimenting, sharing and exchanging of ideas."
Find out more about Sugàr's collage workshops HERE.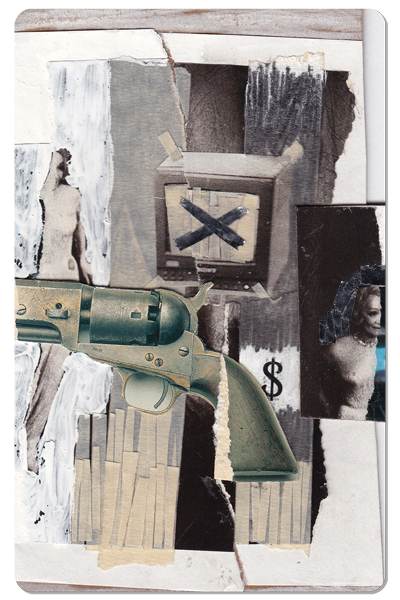 Sugàr is featured in Collage Artist Trading Cards Pack 8.
Packs of Collage Artist Trading Cards are a tool for discovering contemporary, fine art collage. Each card is a full colour, 5.5" x 3.5" postcard with rounded corners. An example of an artist's work is on the front of the card and the artist's public contact information is on the back.
We asked Sugàr some questions:
Can you explain the idea behind Gun?
I was making collages for the Main Film magazine for a while and got very interested in the imagery evolving around the film world. The material used in this collage is directly inspired by the filmic vocabulary.
How do you make this work?
Interestingly enough, at the time when I was making this collage, it all went wrong, so I tore it apart completely and left it lying there. Some time later, I saw all the scattered bits and pieces on the floor and put them together in a completely new configuration and everything felt suddenly right. That's how I learned never to throw away cut-outs or rubbish bits while working on something.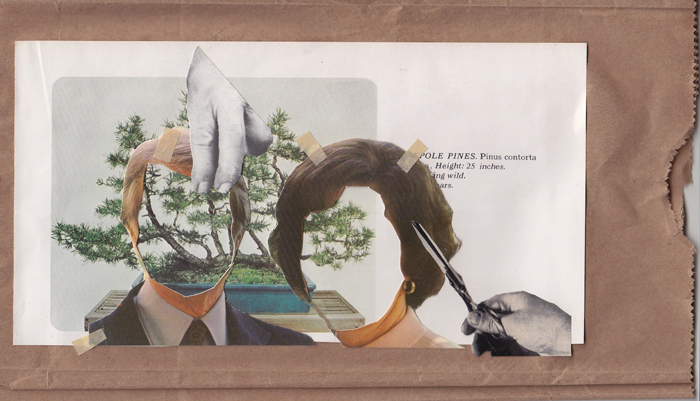 Why did you want to make this work?
The incentive came from trying to convey imagery from cinematographic language and the banalized access to and popular use of guns in filmic imaging.
SEE COLLAGE ARTIST TRADING CARDS AT ARTSHOP
You can see more of Sugàr's collage work on her website, www.anouksugar.com.
Images (top to bottom):
Snap II
Gun (6″x3.9″; paper, cardboard, tape, pencil, watercolour; 2015)
Jimmy Rosalynn