Two collages by Barcelona-based artist Rebeka Elizegi are on the cover of Kolaj #13. A knight rides an old Bell & Howell camera in her fantasia, SOMIERS, on the front cover. In PRIMAVERA, on the back cover, a boy swings from red licorice-coloured rope as he rides a collage of flowers with legs. Elizegi's collages are surreal, suggestive, and lovely.
Kolaj came to know Elizegi's work when she registered with the Kolaj Magazine Artist Directory. She is an analogue collage artist who works large and small.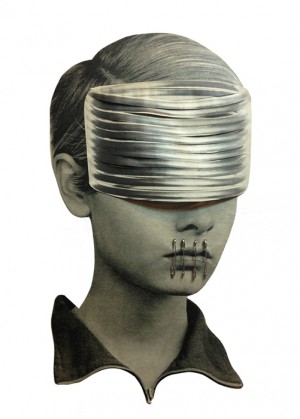 Some of her more interesting work is when she creates a silhouetted figure mounted on foam or wood. These collages float off the wall projecting a shadow.
"I also work on the idea of generic diversity and sexual ambiguity, always with surrealistic and suggestive language, and allowing total freedom of interpretation to the observer," she writes. "I am inspired by…anything that seeks to transgress what has been socially established as normal and correct."
Transgression in her work is subtle and often comes across in the sexual ambiguity of her figures or the surrealist dramas in which they are engaged. That Elizegi is able to engage in transgression while making collage that maintains an aesthetic beauty is the mark of a talented artist. We are pleased to share her work on the cover of this issue.
PURCHASE KOLAJ #13 or SUBSCRIBE to never miss an issue.
Images:
(top left)
POPKILLER by Rebeka Elizegi
5.5"x4.5"; handmade collage
(top right)
RECORDING by Rebeka Elizegi
8.3"x6"; handmade collage
(centre)
MINA by Rebeka Elizegi
16.5"x11.8″; handmade collage