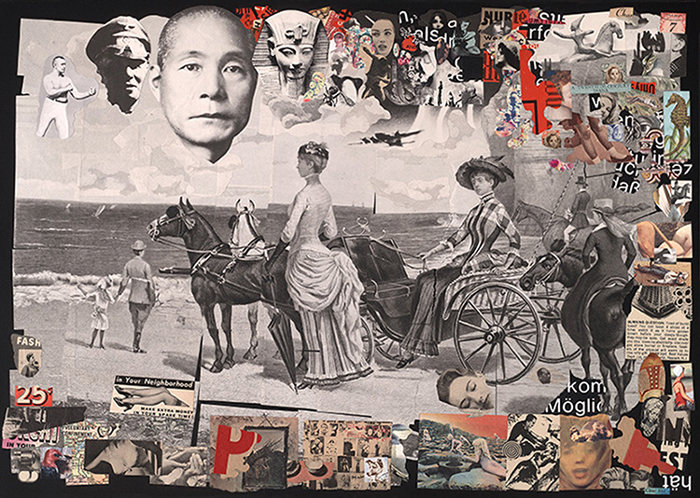 COLLAGE ARTIST TRADING CARD SPOTLIGHT
Spotlight on Collage Trading Card Artist Eric Knight
Mail art was Eric Knight's foray into collage. He writes, "I used to put a lot of time and energy into the letter and, almost more importantly, the envelope. The end of my Mail Art was when the Post Office lost a love letter/collage I sent to my girlfriend. It taught me to make collages on acid-free surfaces and put them in frames. So it was the end of my Mail Art, but not of collage!"
Knight's collage The Lake Eventually Became a Bog is featured in Collage Artist Trading Cards Pack 8.
Packs of Collage Artist Trading Cards are a tool for discovering contemporary, fine art collage. Each card is a full colour, 5.5" x 3.5" postcard with rounded corners. An example of an artist's work is on the front of the card and the artist's public contact information is on the back.
We asked Knight some questions about his work.
What's your story?
I am an artist living in Richmond, Virginia, since 1999. I grew up in Massachusetts with the woods and ocean–eternal inspirations. Twenty-two years ago (I'll be 62 in 2018), I decided that there were two things that I wanted to concentrate on for the rest of my life: drawing and collage (not necessarily in that order). They look very different but each informs and inspires the other. Recently I've been thinking of how to combine the two and am excited by the possibilities.
What was the idea behind The Lake Became A Bog?
I'd long been fascinated with bogs and "bog bodies". The title of the collage was very important. It came first and set the work in motion. Years ago, as a dishwasher, I would see bags of Prince Edward Island potatoes arrive in the kitchen. I loved the design and kept the empty bags, knowing it was great collage material. I used bits and pieces in other collages and finally had the idea to use only the P.E.I. pieces in a collage. The crucial element was the watercolour, added to suggest water.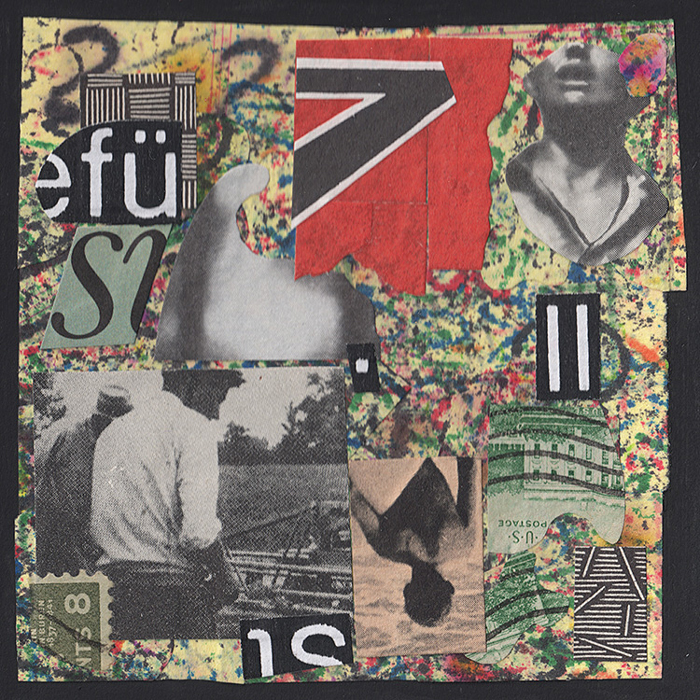 What are you working on next?
I'm always working on one drawing and one collage in tandem. Obviously this question is about collage. I'm working on a collage that is 24″x36″. It has, so far, the foundation/background pieces in place. Now I have to decide on the "centre of attention". From there to the extrapolating, the breaking down, the various subversions and small victories within the larger work. After all the "paperwork", I decide on where, if at all, to use paint. I can spend anywhere from two weeks to twelve months on a collage. It's important to spend time, lots of it, with each collage and I usually work on one at a time.
SEE COLLAGE ARTIST TRADING CARDS AT ARTSHOP
See more of Knight's work at www.ericknightink.com.
Images by Eric Knight: (top to bottom)
Red Sail Action (14″x20″)
The Lake Eventually Became a Bog (11″x8.5″; paper and watercolour; 2010)
Z
Courtesy of the artist