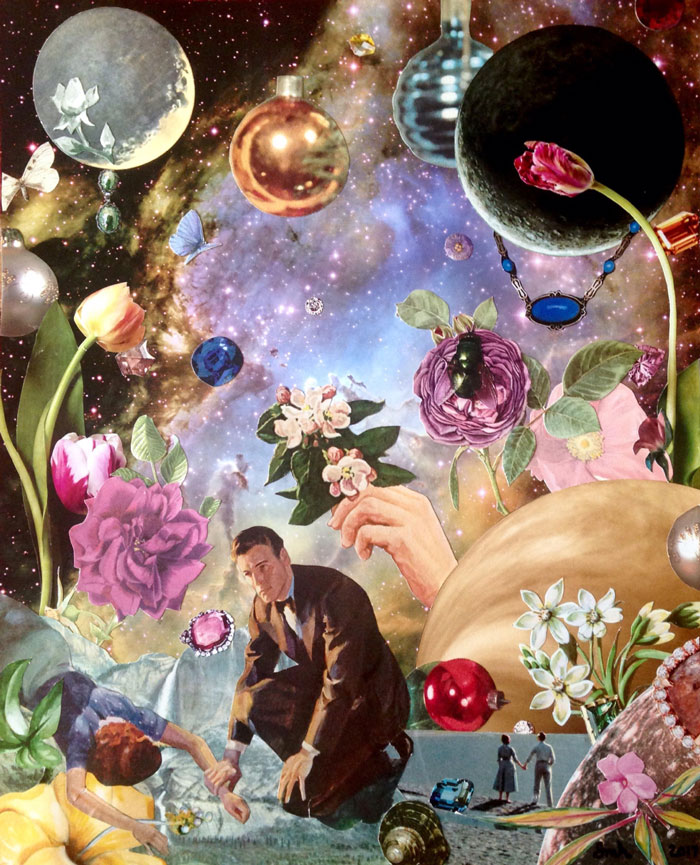 COLLAGE ARTIST TRADING CARD SPOTLIGHT
Spotlight on Collage Trading Card Artist
Shawn Marie Hardy
"When I discovered collage I found that the instant gratification from juxtaposing a few images cut out of old magazines, and arranged to resemble an old B movie still, was as satisfying as it was freeing," writes Eugene, Oregon collagist Shawn Marie Hardy. "I could make things look terrifying, humorous, and beautiful in the same short amount of time–something I've struggled with when painting." Hardy's collage are otherworldly, evocative of the sci-fi shows she watched as a kid. "Television was my favourite babysitter while my parents were busy and shows like The Twilight Zone, Land of The Giants, One Step Beyond, The Avengers, and numerous horror films helped shape my love of the macabre."
Her collage, She Was Once the Queen of Stars, is featured in Collage Artist Trading Cards, Pack 7.
Packs of Collage Artist Trading Cards are a tool for discovering contemporary, fine art collage. Each card is a full colour, 5.5" x 3.5" postcard with rounded corners. An example of an artist's work is on the front of the card and the artist's public contact information is on the back.
We asked Hardy some questions about her work.
Can you explain the idea behind She Was Once the Queen of the Stars?
I am often inspired by music and this piece was something I conjured up while listening to Echo and The Bunnymen's "The Killing Moon". Maybe my subconscious was at work, because when I looked at the similarities between my collage and the official video I was pretty happy.
How do you make this work?
I labouriously cut out over 50 elements for this piece and I glued them down with gel medium. Once over with the brayer helps hold the pieces down flat.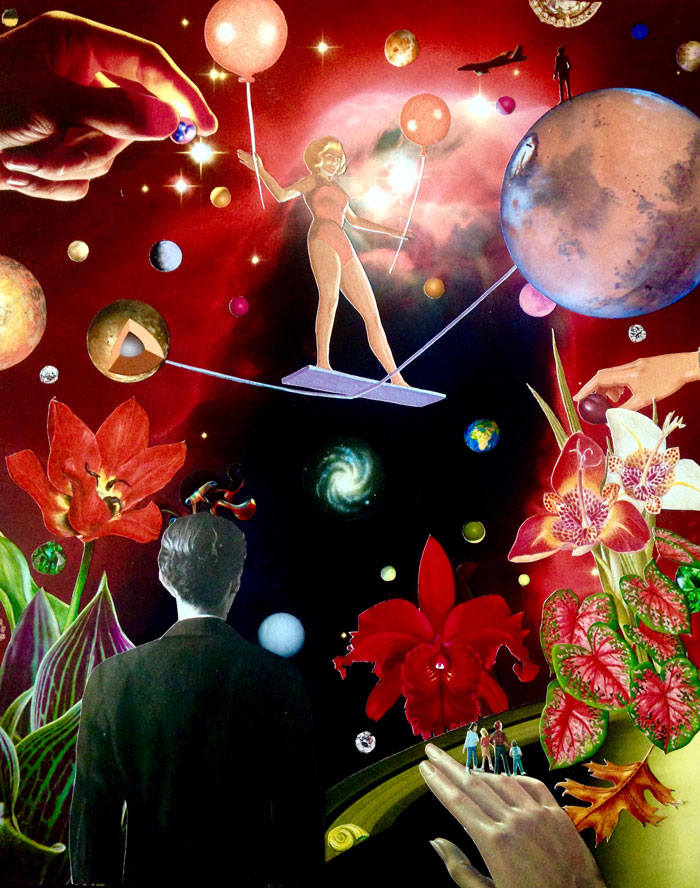 What are you working on these days?
I'm trying some new things. For the first time ever, I painted walls in the condo I've moved into. I have walls in green, red, purple, blue, pink, gray, and white. There's an orange door and soon to be doors in sage blue and baby blue. Next, it's doing some artwork on closet doors–I'm thinking of those jester patterns. As far as my art, I'm working on going rogue as an abstract painter in 2018. I need to simplify.
SEE COLLAGE ARTIST TRADING CARDS AT ARTSHOP
Hardy studied at City College of San Francisco and Lansing Community College in Michigan and she is a perpetual student of art and art history through her own self-education. Shawn has had numerous group and solo exhibits in the United States and abroad, most recently participating in "Dada Lives", a centennial celebration of Dada, at the University of Cincinnati's Blue Ash Gallery. She has received several accolades through the online art group, EBSQ. In 2013, her artwork won a silver medal at the Australian International Beer Awards after being featured on the bottle of a Southern Bay Brewing Company saison. She was featured on the Michigan Regional Comcast television show, Meet The Artist, and was a finalist in Nancy Grace's "Extraordinary Parent" contest for her collaborative art project, "Honor With Art". When she's not collaging, she's painting or repurposing found objects into art. See more of Hardy's work in the Kolaj Magazine Artist Directory and on her website: www.shawnmariehardy.com.
Images (top to bottom):
Plight of the Drop Dead Gorgeous
14″x11″; analogue collage of 44 hand-cut pieces (paper, scissors, glue); 2017
She Was Once The Queen Of Stars
13″x12″; analogue collage of over 50 hand-cut pieces (paper, scissors, glue); 2016
The Girl Most Likely to Succeed
14″x11.5″; paper on paper; 2017