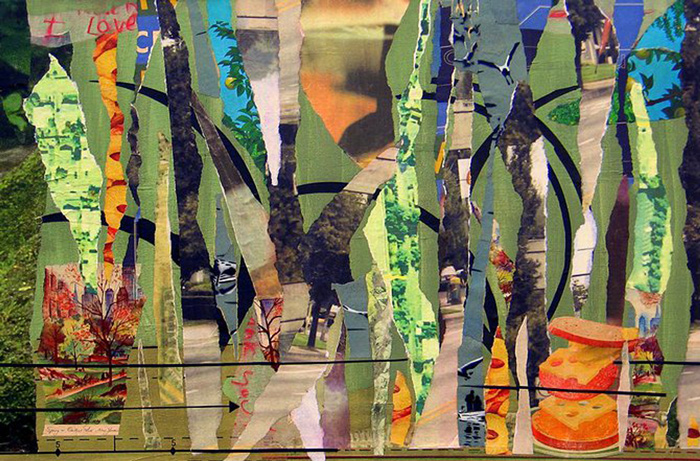 Kevin Sampsell profiled Portland, Oregon-based collage artist Kurtiss Lofstrom in Issue 12 of Kolaj Magazine: "Stumbling Around the Art World: Scavenger-Style Collage"
Sampsell writes:
Kurtiss Lofstrom has an affinity for the rough and the discarded. Look at his work, spread throughout his house in Northeast Portland, Oregon—and his backyard garage studio—and you'll see the beautiful chaos of his collage creations and wonder about the origin of his materials, some of which he found in dumpsters and has stored for decades. "For a long time I had a strict rule about only using found material. I couldn't buy it. It had to be found. But I don't stick to that anymore because I don't find stuff as much as I did before. I used to be an avid dumpster diver. I can actually pass one by without looking in it now."
…
When I ask him about his best find ever, he says, "I once found and made a piece from an entire pigeon skeleton when I was doing loft renovation. It had probably been there for ten years, so I cleaned it up and used it in an assemblage."
To read Kevin Sampsell's entire profile of Kurtiss Lofstrom, purchase Issue Twelve or SUBSCRIBE to never miss an issue.
To learn more about Kurtiss Lofstrom and his work, visit his Kolaj Magazine Artist Directory Page HERE.
Image:
Spring in Central Park
by Kurtiss Lofstrom
24″x36″
found papers and housepaint on canvas
2011
Courtesy of the artist