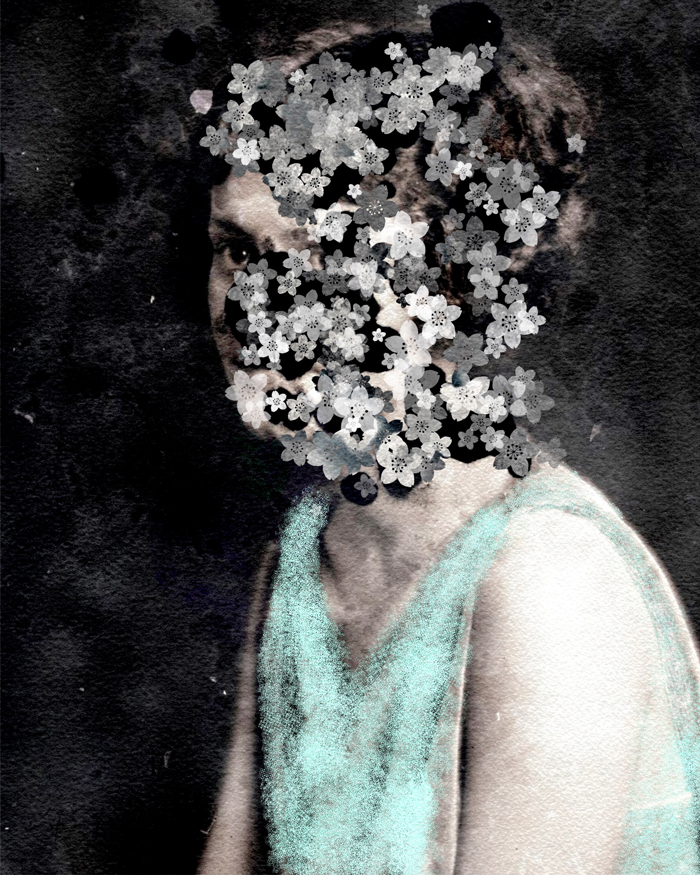 WORKSHOP REPORT
Ashley Pryor Geiger: The Missing Parts
Curator Valentina Granello
Ashley Pryor Geiger mines photography archives for material which she transforms using digital apps as a way of drawing out hidden dimensions and narratives. At Tulane University Special Collections, she found a trove of glass plate negatives by Joseph Woodson "Pops" Whitesell (1876-1958) that offered her a trove of material. Whitesell was a prolific photographer of New Orleans society. Artists, writers, photographers, debutantes, wedding parties, boards of directors and carnival royalty were frequent subjects. Curator Valentina Granello writes, "He became famous for his photographs depicting the French Quarter and was part of the arts and preservation movement that became known as the French Quarter Renaissance. In 1921, he settled at an apartment and studio at 726 St. Peter Street behind what is now the well-known Preservation Hall jazz club. Whitesell enjoyed a successful practice concentrating on portraiture; he was not only adept in the lighting of a single portrait subject or character study, but he was also acclaimed for staging and effectively lighting groups of eight people or more within the confines of the studio. His mature style of carefully lit portraiture involved softly focused subjects, richly toned prints and retouching that flattered his sitters."
Geiger mines images from the past to show contemporary viewers the value of history. Geiger "deconstructs and recomposes their identity, their fragmented souls," explains Granello. "Through her digital collage practice, she tried to find an answer to give to these creatures, to connect and complete their missing part in a contemporary vision."
"I really hope to inspire others to dream, cry, laugh, and express themselves through collage," said the artist. "I would be gratified if one of my strange juxtapositions would spark a new way of thinking about an object, institution, belief, or idea."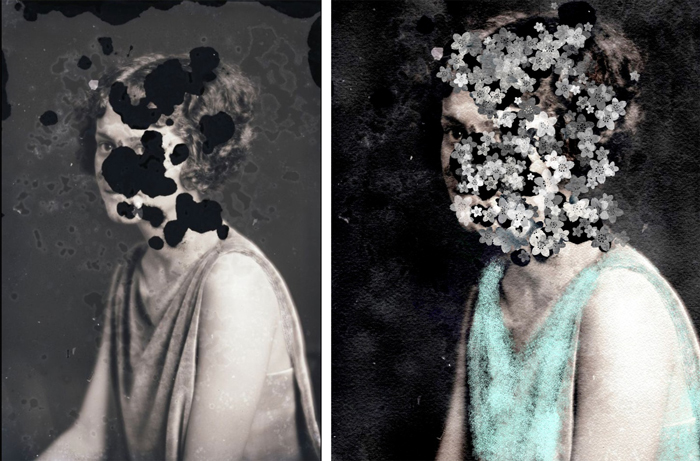 About the Artist
Ashley Pryor Geiger is an Associate Professor of the Humanities in the Jesup Scott Honors College at the University of Toledo. She is also a visual artist with a growing interest in digital and analog collage. She holds a doctorate in Philosophy and has interests and teaching experience in Visual Literacy, Philosophy, and Gender Studies. Geiger embraced the term "artist" in 2018 and began sending out work for publication. Her work has been published widely, including the Journal of Multimodal Rhetorics, Twisting Pixels, Ponder Midwest, Paris Collage Collective, Zoetic Press, and Nunum.
About the Curator
Valentina Granello holds a BA in Theatre from the University of Bologna and a Master's Degree in Visual Arts and Fashion from Venice International University. In Italy, she worked for several years in marketing and communication while also working as an actor and performer. Her work was shown in two exhibitions in Venice: "Lost in Venice – Disguidi Veneziani" at Galleria di San Marco (2016) and "ALCHIMIA tra Spazio e Tempo" at Ca' Tron (2017). Born near Treviso, Italy, Granello has lived in Milan, Venice, Bologna, Berlin and Barcelona. She now lives and works in Brooklyn, New York. Learn more at www.valentinagranello.com.
About the Curating Collage Workshop
The Curating Collage Workshop was a four-week, virtual/online workshop held in Fall 2020 with the University of Vermont's Fleming Museum of Art. The Workshop trained the twenty-one participating artists as curators. The group explored the fundamentals of curating, how to create critical context for collage, and various strategies for presenting collage to an audience. They also investigated art writing; gallery and museum issues; documenting artist practice; and working with art professionals. Each artist curated a collage from the collection of the University of Vermont's Fleming Museum of Art. They also curated each other's work to produce a statement of practice, biography and critical context for a body of work, which was developed into a proposal for an exhibition or book. To learn about upcoming workshops from Kolaj Institute, sign-up to the mailing list.