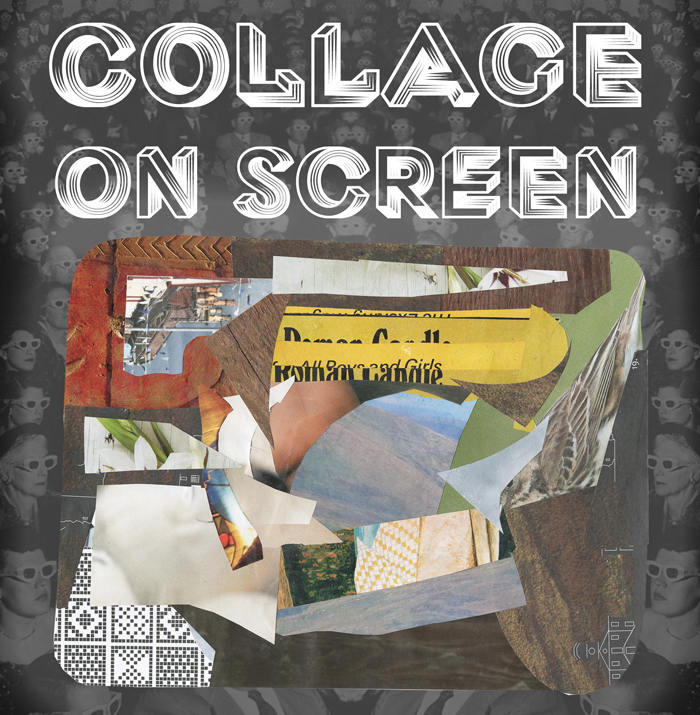 COLLAGE ON SCREEN
Kolaj Institute's "Collage on Screen"
at A' the Airts
8-16 High Street, Sanquhar, Scotland, United Kingdom
Wednesday, 20 September 2023, 7:30PM
NO RESERVATION REQUIRED (Free admission)
at The Stove
100 High Street, Dumfries, Scotland, United Kingdom
Friday, 22 September 2023, 7PM
RESERVE A SEAT (Free admission)
"Collage on Screen" is an eclectic evening of moving images, from Kolaj Institute's Collage in Motion project, which explores collage and the moving image, a broad, loosely defined category that includes animations, film cut-ups, collage film, stop-motion, documentaries about collage artists, and other forms of media in which collage—as medium or genre—is present. The hour-long program presents twenty-four short films by twenty-five international artists. Artists are working across disciplines and using painting, puppetry, dance, sound collage, comics, clay and other forms of craft to make films. Some artists use traditional methods of stop motion animation and collage film to make music videos, documentary films, and storytelling works while others are adapting the terrain of experimental video and video installation.
The subjects are as diverse as the methods: Absurdist takes on technology, consumerism, advertising, skateboarding and Sports Illustrated; the quirky English strangeness of Britain's youngest post-punk band; an early 20th century, Black, queer Brazilian writer. Films explore failure as an artist and American art history. A busy Berlin crosswalk becomes a metaphor for how quantum physics understands the behavior of subatomic particles. Artists draw from the visual legacy of wacky 90s television, 70s girl comics, vintage science education, landline telephones, linozip safety cutters, and phenological cycles in the garden. Filmmakers wrestle with migration, historical memory, the romantic melancholy of childhood, symbols in social media, and rage at the state of race relations in America. Films reflect on the pandemic and the war in Ukraine from the perspective of Argentina, Israel, and Germany. Yankee whaling-inspired puppetry retells the Greek myth of Scylla & Charybdis.
"We see our role as not one of defining 'collage in motion', but as one of asking what 'collage in motion' can be," said screening curator and Kolaj Institute director Ric Kasini Kadour. "Our hope is that this presentation inspires audiences to seek out 'Collage in Motion' and revel in the complex and diverse cultural expression it offers us. We hope it inspires artists to make new works that challenge our understanding of what this film genre can be." Kadour will be present at both screenings and will answer questions afterwards.
The screening at A' the Airts is part of Community Collage Nights, taking place every Wednesday in September at 7:30PM, in conjunction with Kolaj Institute's Collage Artist Residency Scotland: Folklore, Place, & Collage.
The Stove Café's screening of "Collage in Motion" is part of their Reel to Real Cinema project.
A version of this program was presented at Kolaj Fest New Orleans 2023.