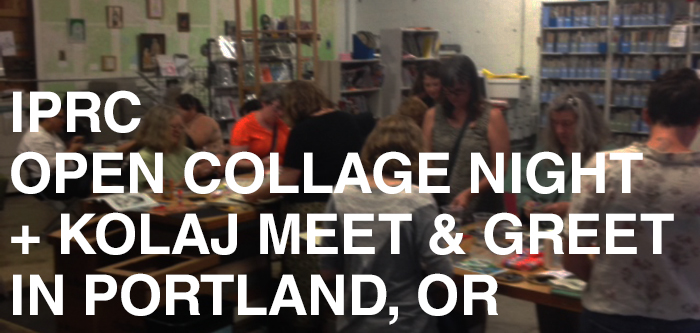 Open Collage Night & Kolaj Magazine Meet & Greet
Kolaj Magazine is kicking off a tour of the Pacific Northwest in Portland, Oregon on 12 October with a Meet & Greet at Portland's Open Collage Night at the Independent Publishing Resource Center. Kolaj Editor Ric Kasini Kadour is interested in meeting collage artists from the Portland area and sharing information about the magazine, the Collage Taxonomy Project, and other initiatives.
We will also debut the newest issue of the magazine, Kolaj #17!
See the Facebook event HERE for more information.
Open Collage Night Portland
12 October
6PM to 8PM
1001 SE Division Street
Portland, OR 97202
ABOUT OPEN COLLAGE NIGHT
A low-key, high-fun collage experience awaits at a monthly, open collage night sponsored by the Independent Publishing Resource Centre (IPRC) in Portland, Oregon. Held the second Wednesday of the month, the event is open to experienced collagists and those who are interested in learning more about collage. The event celebrated its 2nd anniversary in September. Portland collagists Leslie Harper, A.M. O'Malley and Kevin Sampsell curate the event. The organizers provide magazines, collage materials, some scissors, glue and ambiance, but plan on bringing some of your own materials and a donation to the IPRC (if you are able).
Kevin Sampsell said about the event, "The IPRC is…an epicentre for Portland DIY creatives with a lot of space and a wonderful staff. People don't even have to bring anything if they don't want to. There are tubs of books and magazines and plenty of scissors and glue sticks. At the Open Collage Nights we've had so far, everyone has had such a good time and people have been super focused. I love that this is happening here in Portland."
ABOUT KOLAJ MAGAZINE
Kolaj Magazine is a quarterly, printed magazine about contemporary collage. We are interested in how collage is made, how collage is exhibited, and how collage is collected. We are interested in the role collage plays in contemporary visual culture. We provide quality exposure for contemporary collage art. This full colour, internationally-oriented art magazine is published in Montreal, Quebec by Maison Kasini.
Image courtesy of Kevin Sampsell.