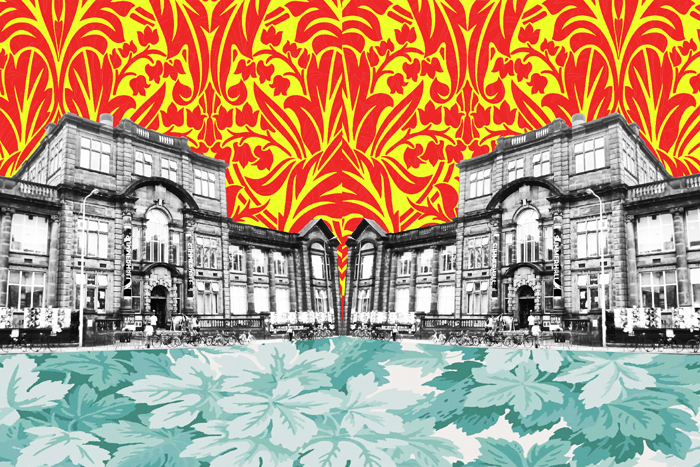 EVENT
Kolaj Meet & Greet
at Summerhall, Edinburgh
Tuesday, 14 January, 7PM
Join Kolaj Magazine Editor Ric Kasini Kadour and Rhed Fawell from the Edinburgh Collage Collective for an informal meet-up at Summerhall in Edinburgh.
The meet-up is an opportunity for Kadour to meet other collage artists in the area and an opportunity for artists to meet Kadour and hear about Kolaj Magazine, Kolaj Institute, World Collage Day, and Kolaj Fest. He will also speak about his residency in Scotland, the Schwitters' Army Project, and the MERZ Gallery Seminar and Workshop taking place on 25 January in Sanquhar. Issues of the magazine will be available.
Summerhall is a multi-arts complex and events venue in Edinburgh, Scotland. Located in a former Veterinary School, Summerhall is home to a diverse community of performing and visual artists as well as other creative businesses, including a pub, café, brewery and distillery. Summerhall is also the home of collagist Rhed Fawell's studio.
Artists are encouraged to bring a collage to show.
Progression of the evening: We will rendez-vous at the studio of Rhed Fawell and learn about her collage work and the Edinburgh Collage Collective. Then, we will visit Olmo Blanco's Instalodecoración at Summerhall and consider the artwork as a social intervention, a painting, a drawing, and a collage. Then we will head to The Royal Dick for drinks and conversation.
Questions or to RSVP, email Rhed
Rhed Fawell founded the Edinburgh Collage Collective (ECC) in 2016. Its mission is to develop an environment where like-minded collagists can share ideas and build creative opportunities. Through regular showcasing of artists' work and their Open Call Projects, ECC hopes to excite and inspire interest in collage and open up a dialog around the medium. At the meet-up, Fawell will share information about Februllage, a collaboration between the Scandinavian Collage Museum and Edinburgh Collage Collective that invites collage artists to challenge themselves to make a collage a day throughout the month of February, using a word from the Februllage Word Prompt Calendar.
---
INFORMATION
Summerhall
1 Summerhall Place
Edinburgh, Scotland EH9 1PL
United Kingdom