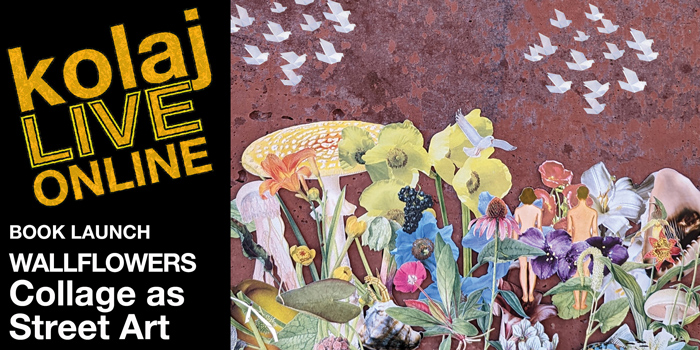 KOLAJ LIVE ONLINE
Wallflowers: Collage as Street Art Launch
Sunday, 22 January 2023 at 2PM EDT (1900 UTC)
A new book from Kolaj Institute explores the intersection of collage and street art and recalls the formation of the Kolaj Street Krewe from its creation at Kolaj Fest New Orleans to a guerilla art project during the COVID-19 pandemic to an artist residency for Street Artists. The book contains examples of collage as street art by twenty-four artists from eight countries. During this Kolaj LIVE Online program, we will hear from some of the artists who contributed to Wallflowers: Collage as Street Art and Kolaj Institute's plans for the Kolaj Street Krewe project. Lance Rothstein, aka FANCLUB13, Laurie O'Brien, and Rosie Schinners, the founders of Kolaj Street Krewe, will talk about their own street art work and the group's history and how it led to the creation of the book. Tm Gratkowski, Gabriela Gutiérrez, and Celia Crane, artists that participated in the 2021 Collage as Street Art Residency, will speak about their experiences adapting their collage practice for the street. We will also be discussing the open call for the next Collage as Street Art Residency taking place in New Orleans in June.
SPEAKERS
"FANCLUB 13" is the street art collage persona of Lance Rothstein. He has been making collages with trash and found objects, then leaving them out on the streets since 2010.
A professional photojournalist by trade, he's worked for many major newspapers and publications throughout the US and Europe, but he returned to his art school roots after moving to Belgium with his wife in 2009 and dove headfirst into producing several forms of Street Art. "I began leaving my little collage pieces everywhere I traveled, mostly working with objects found on the streets of the cities I visited, and making the artworks late at night in my hotel room before posting them up on the street the following day."
Rothstein prefers the dubious methods of posting street art and mail art, but has also had some more traditional exhibitions. His artwork has been shown in many local Belgian and Florida galleries, but also in Brooklyn, Detroit, Chicago, Pasadena, Pittsburgh, Atlanta, New Orleans, London, and Paris. His work has been featured in Kolaj Magazine, Be a Pal magazine, Unfamiliar Vegetables, and Circulaire 132. Works of his are also in the permanent collection of the Doug + Laurie Kanyer Art Collection in Yakima, Washington as well as The Schwitters' Army Collection of Collage Art at MERZ Gallery in Sanquhar, Scotland, and the Postcards for Democracy traveling collection by Mark Mothersbaugh and Beatie Wolf, opening first at the Bob Rauschenberg Gallery in Fort Myers, Florida.
The Performa/Printed Matter NYC 2015 Chelsea exhibition, "Please Add to and Return to Ray Johnson", also included one his works, as did the 10th Anniversary "A Book About Death" exhibition at the Islip Art Museum in New York.
Rothstein first attended Kolaj Fest New Orleans in 2018, and helped run Kolaj Fest New Orleans workshops as a presenting artist in 2019, and was a panelist for the Kolaj LIVE Online session, "Public Space, Street Art, and Collage: Kolaj Street Krewe" in July 2020. Additionally, he teaches collage workshops at the Morean Arts Center in St. Petersburg, Florida, where he runs the photographic darkroom, and teaches photography to adults and teens.
Rosie Schinners is a collage artist who resides on Salt Spring Island, British Columbia, Canada. She holds a Bachelor of Art from the University of Guelph as well as a Bachelor of Fine Art from the Nova Scotia College of Art and Design. Although focusing on painting during her formal art education, returning to collage art as a primary medium was a natural transition. From a young age, she has been cutting, pasting, and leaving trails of scrap paper around the house. In 2019 she was selected as Kolaj Magazine's World Collage Day featured artist. Editor Ric Kasini Kadour wrote about her work, "the combination of magical realism, heuristic nature, and poetic, outward-looking expression seemed to express something similar to the idea behind World Collage Day: That even far away from each other, we can come together as artists, work our magic, and put something beautiful into the world."
Working primarily with vintage print material, Schinners combines hand-cut collage with vibrant splashes of color to bring new life to old images. She looks to explore and express fleeting moments of magic, alchemy, and the shifting nature of the internal landscape. One particular definition of alchemy is "a seemingly magical process of transformation, creation, or combination." This alchemy can also be thought of as the invisible energies that surround us, things we cannot see which can make us feel connected or disconnected to the people and places we interact with. Schinners attempts to make that unseen energy visible, whether as magical blooms of flowers, crowds of connected people, or bursts of raw colour. Recent work has celebrated and reflected traditions of folk magic and brujeria, as a nod to the empowered 'wise woman' archetype.
Laurie O'Brien is a multi-disciplinary collage artist working in time-based art such as video installation, animation, & interactive media performances. She is interested in hybrid forms of expression that combine and defy categories. Her technology-centered projects often intersect with the hand-made and tactile. In conjunction with the manual and outdated, her art practice also includes working with emerging technologies including alternative viewing devices, GIFs, interactive video, electronics, & circuitry. A metaphor that continues to influence her work, the puppet, serves as an entry point for an investigation of contemporary ideas around technology, dual identities, exchange & deception. Her animations and video installations have been exhibited in numerous galleries nationally and internationally, such as the Ann Arbor Film Festival, Studio Des Ursulines in Paris, the Library of Congress, UnionDocs in Brooklyn, and the San Francisco International Airport. Her films are represented by Light Cone in Paris. She received her MFA from Cal Arts and lives in both Brooklyn and Rochester, NY. She is an Associate Professor of Visual Media in the Photography Department at Rochester Institute of Technology.
Tm Gratkowski's education and early works are rooted in painting, drawing, and architecture. His professional art practice uses paper as his primary material to create collages, installations, and sculpture. Gratkowski's artwork is a form of visual data gathering in which he aligns the act of looking with that of reading by using paper, images, and text to create a critical visual narrative about the culture of information we live with today. His artwork is densely layered to construct a surface rich in patterns, images, text typically pulled from fashion and design magazines. Going beyond historical definitions, concepts, and contemporary art practices, Gratkowski pushes the boundaries beyond traditional collage as he continuously looks for alternative ways to manipulate information within the material of printed paper materials. As a point to evolve and push his work and ideas further Gratkowski has taken unused material from his studio out to the street as a kind of urban collage experiment. This process presented an unexpected way to look at these elements normally found in his work in a new way and to consider a context outside of the traditional gallery walls.
Gabriela Gutiérrez is a Peruvian collage artist that wears many hats, including community psychologist, university professor, counseling center coordinator and expressive arts-therapist trainee, all of which she incorporates into her work as an artist. For Gutiérrez, collage-making is "a claim for diversity." Both in how we approach the technique by incorporating different mediums such as dance, drawing, embroidery, music and poetry, and in how we learn about the world by paying attention to how humans interact with nature and process things on an emotional level. An important aspect of her art is "to recognise that the way we create, speaks not only of ourselves, but of all that is alive in our communities."
Celia Crane is a collage artist, writer, and independent curator from upstate New York whose recent work focuses on making the unseen seen through creation of idiosyncratic analog collages and inventive community building initiatives. Soon after renouncing a long-standing marketing career in 2019, Crane unleashed her passion for optimizing spaces on a dilapidated 7'x7' storage shed in her backyard, transforming it into Vayo, Rochester, New York's first dedicated collage gallery. Crane subsequently studied curation with the Kolaj Institute and has since collaborated with hundreds of established and emerging artists from around the world to expand the public's awareness and appreciation of the contemporary collage medium.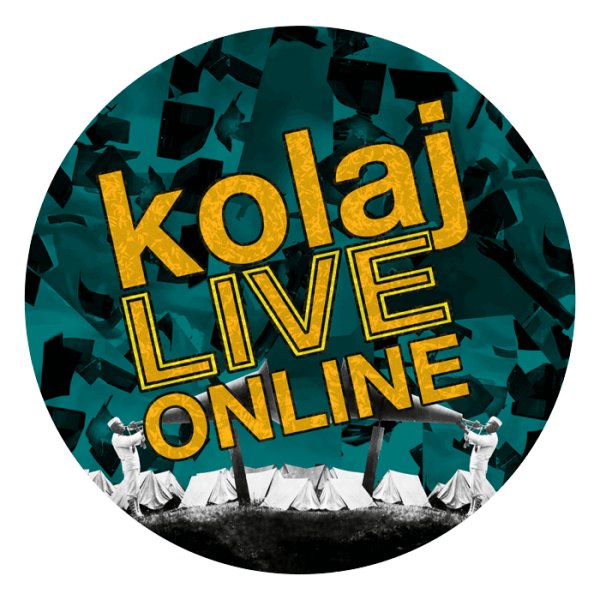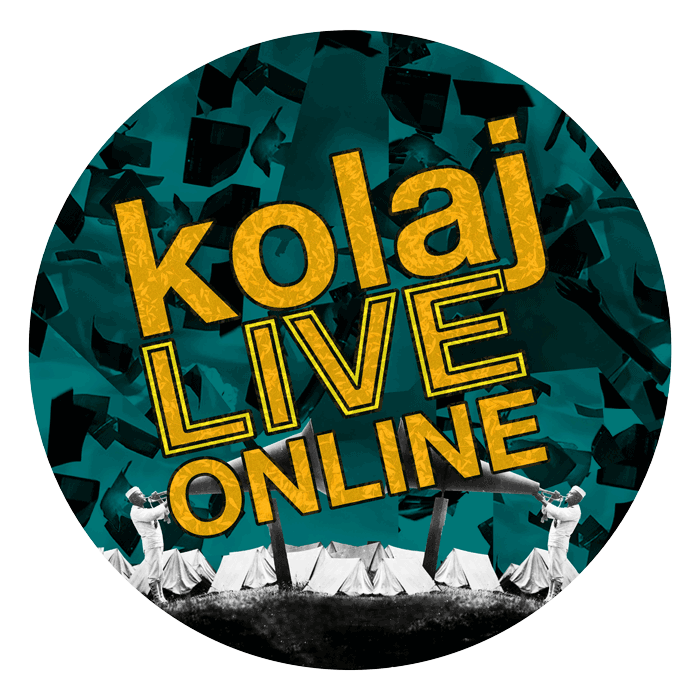 ABOUT KOLAJ LIVE ONLINE
Kolaj LIVE Online is a series of virtual programs in the form of forums, panels, workshops, artist talks, studio visits, and other activities that allow people to come together, learn and talk about collage, and connect in real time to the collage community. Our goal is to bring the community together in a spirit of mutual support and fellowship.Kolaj LIVE Online manifests Kolaj Magazine and Kolaj Institute by bringing together artists, curators, and writers to share ideas that deepen our understanding of collage as a medium, a genre, a community, and a 21st century movement. Learn more at the SERIES WEBSITE.