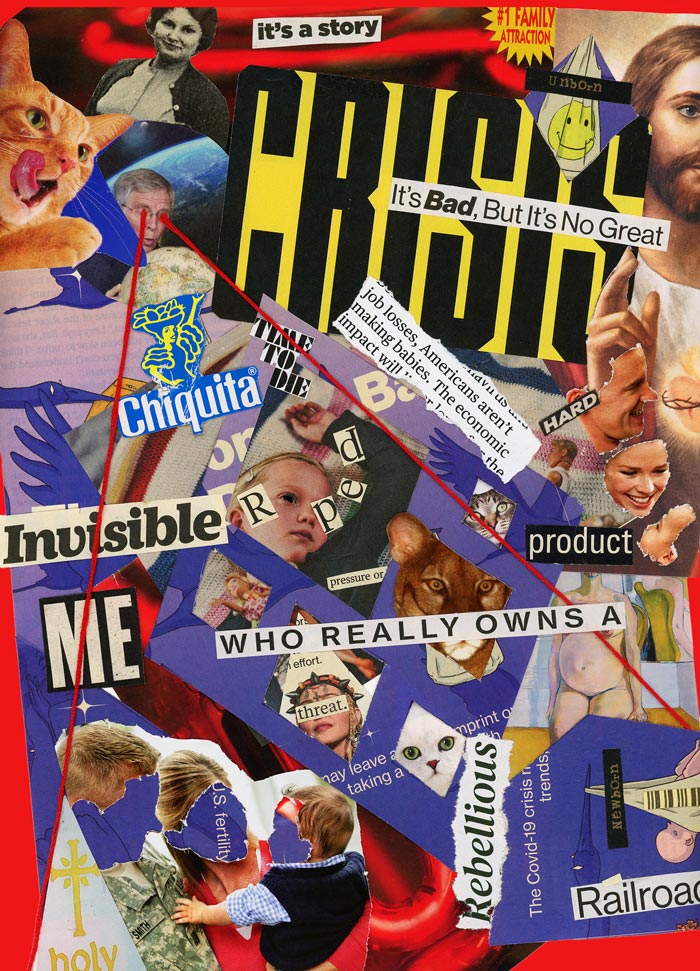 COLLAGE ON VIEW
Ileana Doble Hernandez & Robyn Day: #1 Family Attraction
at the Fountain Street Gallery Annex in Boston, Massachusetts, USA
2 March-2 April 2023
"#1 Family Attraction" features the collages of Robyn Day and Ileana Doble Hernandez. The show is a phenomenological response to this moment in U.S. history—the language of artists grappling with the enormity and complexity of sociopolitical tumult. Each artist turned to collaging the media to make sense of what seems incomprehensible in its pages: a global pandemic, totalitarian impulses in a U.S. political party and other parts of the world, the erosion of civil rights, and an incalculable backlash of racism, sexism, homophobia, and xenophobia. Day builds collages digitally, drawing historical parallels to earlier crises and pointing to the dangers and absurdities of extremism. Doble Hernandez browses through magazine pages in an attempt to get away from the screens, only to find reminders of the same news she's trying to avoid. Cutting and placing clips together helps her deal with the irrationality of the situation. Both artists are engaged in making political posters as a way to process, heal, refocus and continue the fight.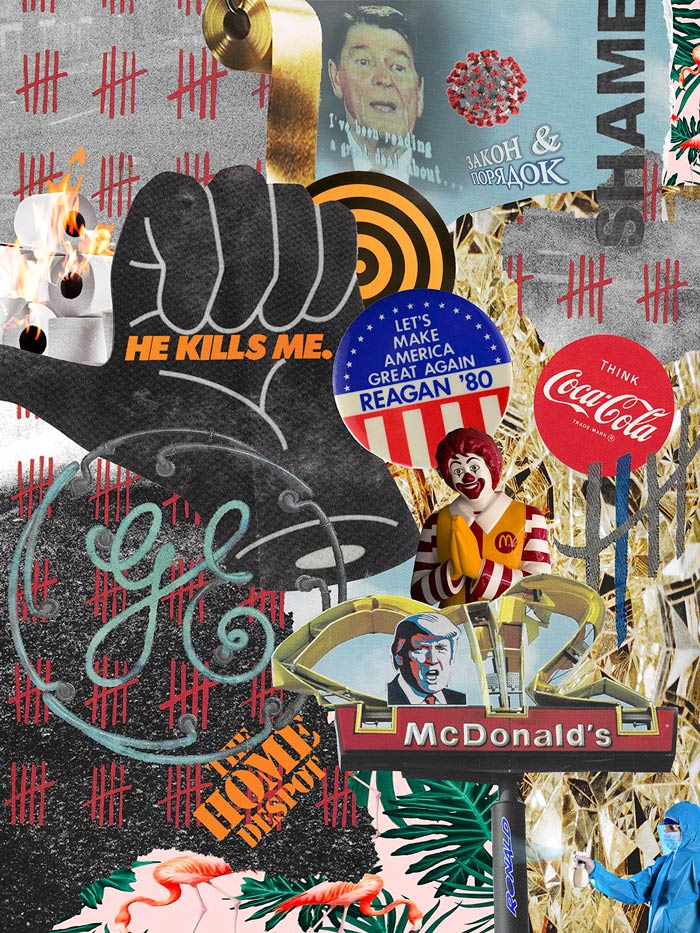 Robyn Day is a San Francisco-based photographer. In 2017, she graduated from the photography MFA program at Columbia College Chicago, where she received the Graduate Merit Award and the Stuart Abelson Graduate Research Fellowship. Day's work examines the queerness of identity categories, including the fluidity of gender, sexuality, and sex, through conceptual and documentary photography. She is interested in global queer identities, cultures, and communities, and makes art reflective of those
interests as a kind of "political portraiture" that calls into question heteronormative and gender-normative assumptions.
Ileana Doble Hernandez is an immigrant visual arts activist from Mexico; her socially conscious practice includes photography, video, and experimental installations. Doble Hernandez believes that art has the power to make people care. She uses her practice to promote gun reform and the fair inclusion of immigrants in American society. Through her installations, more than 500 postcards have been mailed to U.S. elected officials to advocate for gun control.
(text adapted from material provided by the artists and the gallery)
---
INFORMATION
Fountain Street Gallery
Suite 2
460C Harrison Avenue
Boston, Massachusetts 02118 USA
(857) 302-3067
Hours:
Thursday-Sunday, Noon-4PM and by appointment