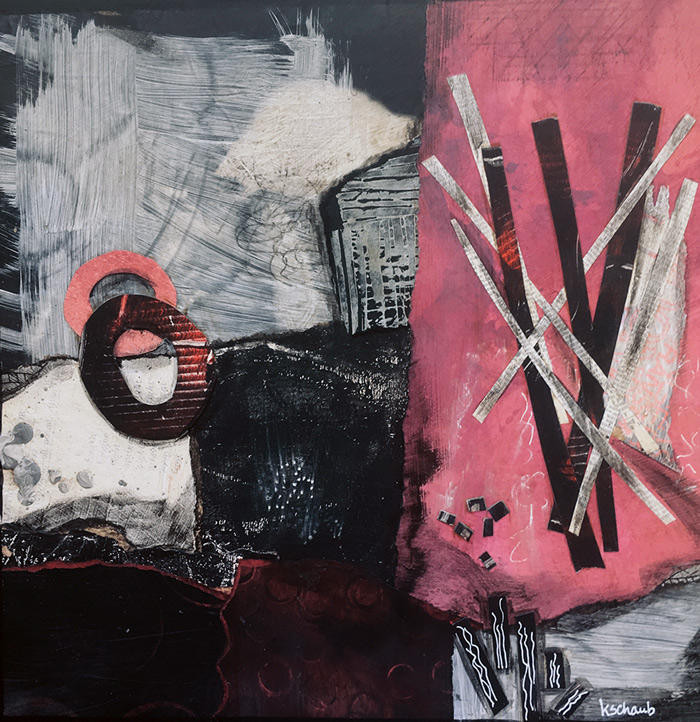 COLLAGE ON VIEW
Kelly Schaub: Abstract Musings
at Estelle Stair Gallery in Rockport, Texas, USA
10-18 May 2019
Kelly Schaub's "Abstract Musings" are presented in conjunction with "Local Glue", a crowd-sourced collage being created during World Collage Day, 11 May 2019, 10AM-4PM, and during the Rockport Art Loop, 18 May 2019, 5-7PM.
Kelly Schaub was a theatre artist and administrator for over 30 years. She relocated from Minnesota to Texas in 2011 and soon discovered a love of collage. As a full-time RVer, Kelly discovered Rockport as a Winter Texan, and eventually settled there. You can see her work in Rockport, Corpus Christi, and Port Aransas, and you will often find her teaching mixed media collage locally. "I love teaching collage because it is so accessible. Anyone can cut and paste!" In an effort to spread her love of collage, she organized "Local Glue" as part of World Collage Day
and is launching collage-lab.com as a resource for collage artists.
(text adapted from the gallery's press materials)
---
INFORMATION
Estelle Stair Gallery
406 South Austin Street
Rockport, Texas 78382 USA
(361) 463-1059
Hours:
Thursday-Saturday, 10AM-5PM
and by appointment
Image:
Shrouded Behind the Facade
by Kelly Schaub
16″x16″
mixed media collage on Masonite
2019
Courtesy of the artist and Estelle Stair Gallery, Rockport