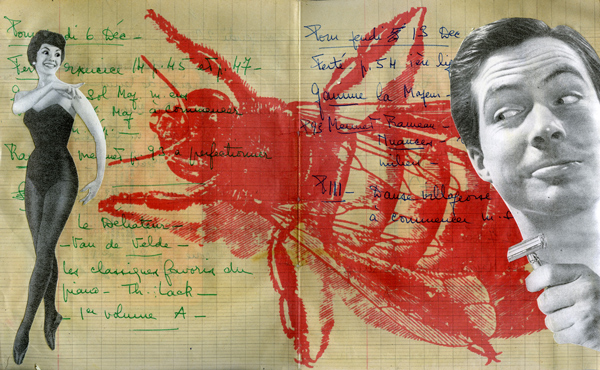 10-31 January 2013
"No Assembly Required" is an exhibition is a collection of collage, assemblage, drawing and painting by artists Adrienne Geoghegan and Una Gildea.
The theme of domesticity inspires and impassions both artists. It evokes a multitude of ideas, images, and feelings, both in terms of their own childhoods, and what domesticity signifies today. The two artists share a passion for collage. They are collectors, hoarders of books, magazines, photos, ephemera; they are drawn to objects that have a sense of history about them. They recontextualise them, giving them a new identity, encouraging the viewer to experience them in a new light.  Their approach to their work process is comparable yet distinct. They both start out not consciously knowing what the result will be. They respond intuitively to their chosen material: selecting, rejecting, cutting, and pasting in an intensely hands-on process.
Geoghegan and Gildea, are members of Illustrators Ireland. They live and work in Dublin, Ireland. This is their first joint exhibition. You can see more of their work at their individual websites: Adrienne Geoghegan and Una Gildea.
(from the artists' press materials)
---
INFORMATION
The Culture Box
12 East Essex Street
Dublin 2
Ireland
(1) 6772255
Hours:
Monday-Friday, 9AM-1PM, 2:15-5:30PM
Image:
Shave Me
by Adrienne Geoghegan
1954 French exercise book pages, ink print, collage