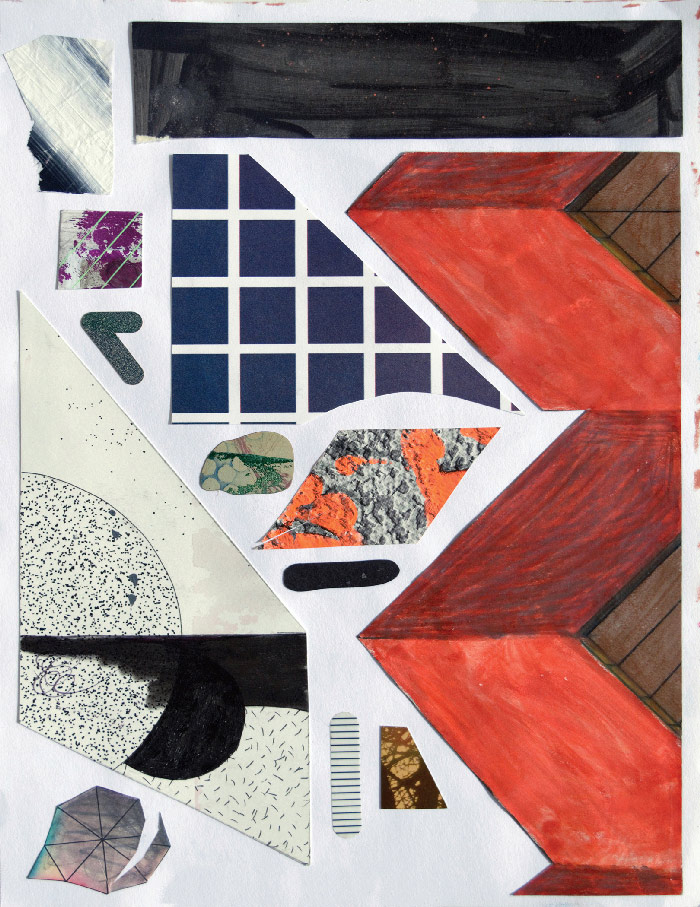 COLLAGE ON VIEW
Boundaries: Sara Willadsen
at Frank Juarez Gallery
in Milwaukee, Wisconsin, USA
8 September-20 October 2018
With this series, "Boundaries", Sara Willadsen's work deviates from environments and structures to focus on curated, contained objects. By carefully arranging collage materials within specific parameters, she is able to analyze her visual language as well as use this act of simplifying as an agent for clarity. Each composition is made with restraint and reveals an organized, deconstructed view that can typically only be seen early on in her creative process.
Sara Willadsen was born in Sheboygan, Wisconsin in 1987. She received her Master of Fine Arts in Painting from Northern Illinois University in 2014 and her Bachelor of Arts in Studio Art and Graphic Arts from Lakeland University in 2010. Working mainly with paint and various collage elements, Willadsen's work explores concepts of abstract spaces and objects guided by her surroundings. She has had work featured in New American Paintings and shows frequently in regional and national exhibitions. She is currently works as a visual artist and graphic designer in Sheboygan Falls, Wisconsin. Willadsen is represented by Frank Juarez Gallery.
The exhibition is accompanied by a catalog, with foreword written by Kolaj Magazine editor Ric Kasini Kadour. Visit his website for more information HERE.
(Text adapted from the gallery's press materials.)
---
INFORMATION
Frank Juarez Gallery
Suite 600
207 East Buffalo Street
Milwaukee, Wisconsin 53202 USA
(920) 559-7181
Hours:
Saturday, 11AM-4PM
and by appointment
Image:
Same Pace 2
by Sarah Willadsen
11″x8.5″
handmade paper, ink, graphite, acrylic, found materials on paper
2018
Image courtesy of the artist and Frank Juarez Gallery, Milwaukee