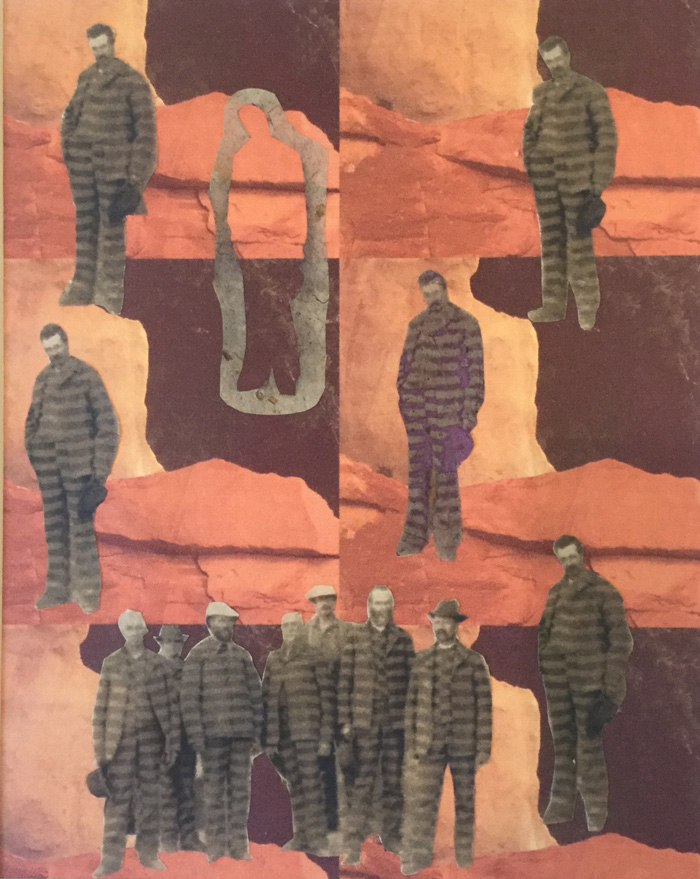 COLLAGE ON VIEW
Bricolage
at Crowell Gallery at Moore Free Library in Newfane, Vermont, USA
4-31 January 2020
Reception: 25 January, 1-3PM
Bricolage: Construction or creation from a diverse range of available things, something constructed or created from what is at hand.
The word suggests collage, the medium of Jim Tober's artwork, while Claude Lévi-Strauss introduced the word in anthropology, the disciplinary background of Carol Hendrickson. This show brings together the work of two educators whose love of creative reconstruction has cohabited with a life of academia, and has come to the fore in their combined exhibit.
Carol Hendrickson is professor emerita of anthropology at Marlboro College. During her teaching career she used her college art training to encourage students to draw as well as write as part of field research. This work with students led her to keep extensive visual field notes documenting her own travels and research abroad. While on location, she spends hours drawing, allowing her to capture the immediate impressions of a time and place. She sometimes enhances journal pages with ephemera from trips—tickets, wrappers, photos, flyers—thus producing collages of materials that are telling of a society. Along with store-bought journals, Carol creates handmade field journals as well as artists' books for her work. In May 2019 she was an AIRIE (Artist In Residence In Everglades) fellow and spent the month living and working in the Everglades.
Hendrickson says of her journals: "They have become another means by which I think through my experiences and those of others."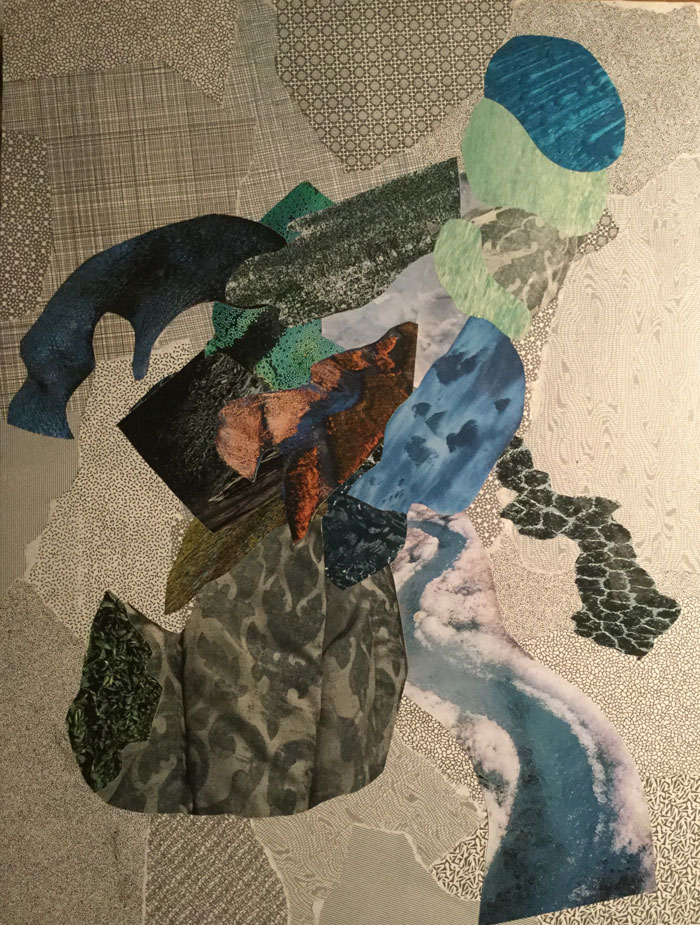 Jim Tober is emeritus faculty in economics at Marlboro College. He studied economics at Berkeley (BA 1968) and at Yale (Ph. D 1973) and came directly to Marlboro to begin his 40-year teaching career. His diverse teaching and administrative work over the years has no doubt influenced his collage making, but he is reluctant to speculate as to the particulars.
Tober says about his process: "My collage work to date is eclectic and does not seem to me to be informed by a uniform aesthetic. Although I repeat some imagery, my work varies greatly in composition, materials, and presentation: a manipulated found-photograph is shown in its original, chipped frame; altered images from a 1964 visit to the Riverside (CA) Raceway are arrayed in a grid; torn washi and other specialty papers are abstractly arranged. As I sift through accumulated materials, I happen on a starting place and work from there, sometimes completing a collage, sometimes letting partially realized pieces pile up for later consideration."
(text adapted from the curator's press materials)
---
INFORMATION
Crowell Gallery at Moore Free Library
23 West Street
Newfane, Vermont 05345 USA
(802) 365-7948
Hours:
Tuesday, Wednesday, Friday, 1-5PM
Thursday, 2-7PM
Saturday, 10AM-1PM