COLLAGE ON VIEW
Art to be seen, Galleries to visit
during Kolaj Fest New Orleans
Kolaj Fest New Orleans is a multi-day festival and symposium about contemporary collage and its role in art, culture, and society, July 12-15, 2018. Visit the website to learn more, see an overview of the program, and register to attend.
The primary exhibition of Kolaj Fest New Orleans is "Revolutionary Paths: Critical Issues in Collage" at Antenna Gallery (see information HERE). Like any vibrant, contemporary art scene, New Orleans is full of remarkable galleries showing collage.
On Thursday, July 12th, Ric Kasini Kadour will lead Kolaj Fest New Orleans registrants on a tour of several galleries in Arts District New Orleans.
Here is our list of places we recommend checking out:

Stella Jones Gallery
in the Place St. Charles
201 St Charles Ave, Suite 132, New Orleans 70130
www.stellajonesgallery.com
Established in 1996, Stella Jones Gallery provides a venue for artists of the African diaspora to exhibit superior works of art. 6/18-7/31/2018: Phyllis Stephens is an award-winning fifth generation quilt maker, considered by critics to be a Master of African-American Story Quilts. She has quilted professionally for more than thirty years and her quilts have been displayed in such institutions as The Museum of the American Quilter's Society in Paducah, Kentucky and the National Museum of Ghana in Accra. Also on view is Field Slave's Locker Room by John Barnes, an assemblage sculpture with a biting take on current politics. Open Tuesday-Saturday, 10AM-5PM (image: Field Slave's Locker Room by John Barnes (50″x30″x60″; reclaimed wood and signage subtracted from an old church sign))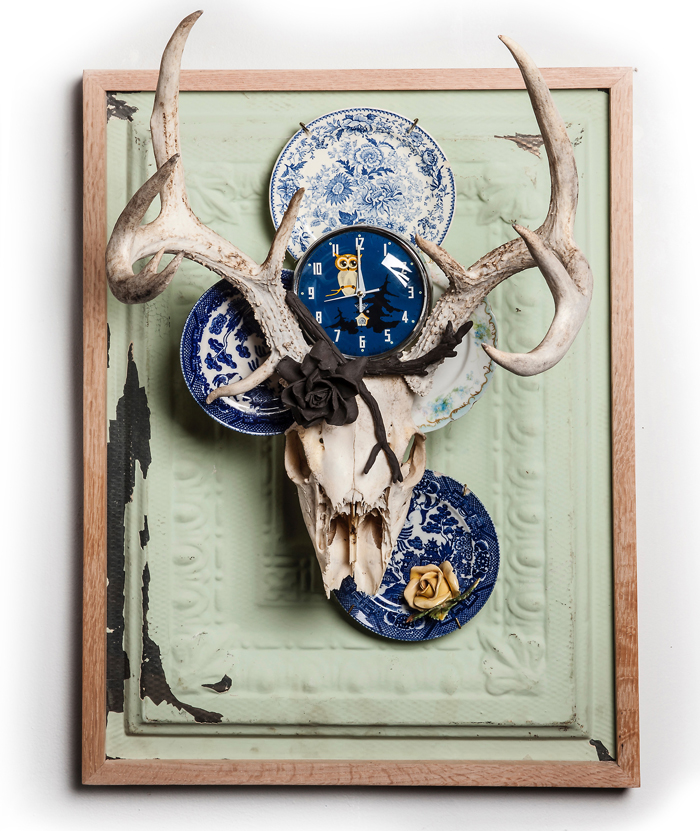 LeMieux Galleries
332 Julia St, New Orleans 70130
www.lemieuxgalleries.com
Originally established in 1983, LeMieux Galleries focuses on work by emerging and established artists of the Southern U.S. 7/2-28/2018: Sculptor and ceramicist Marcy Lally's "Wild Wisdom" is a body of work based on nature and the passage of time, which is most evident in the animal skulls adorned with flowers. Based in Kansas City, Lally studied at the Kansas City Art Institute, Northern Illinois University and in Italy at Studio Palla and Founderia Tomassi. Open Monday-Saturday, 10AM-5:30PM (image: Midnight by Marcy Lally (24″x19″x18″; deer skull, mixed media with handmade ceramic flowers in black Laguna clay on vintage tin))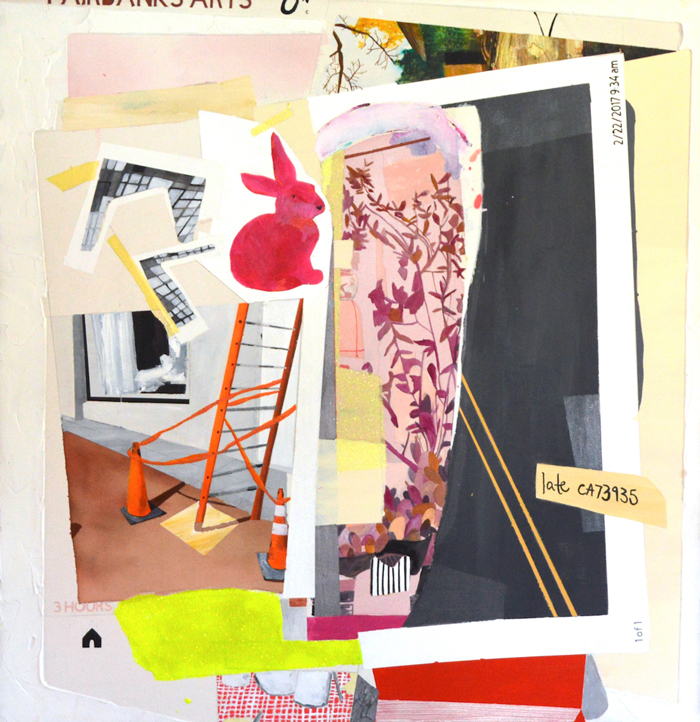 Jonathan Ferrara Gallery
400A Julia St, New Orleans 70130
www.jonathanferraragallery.com
Jonathan Ferrara Gallery presents forward-thinking national and international, emerging and established artists who have a sense of purpose, mission, and message in monthly shows. 5/31-7/14/2018: "Anthropocene": with a strong interest in environmentalism, Los Angeles-based Richelle Gribble examines human impact on nature and the biological consequences of human influence. Gribble's highly conceptual work includes painting, drawing and sculpture. Tucson-based Jenny Day's "Our Shared Disaster" presents eight new paintings reminiscent of her earlier landscape work, but now in a more fragmented and abstracted composition. Day was the winner of the gallery's 2017 "No Dead Artists" juried exhibition. Open Monday-Saturday, 10AM-5PM (image: 1 of 1 by Jenny Day (36″x36″; acrylic, spray paint, flashe, collage, pencil, paint pen and crayon on canvas; 2018)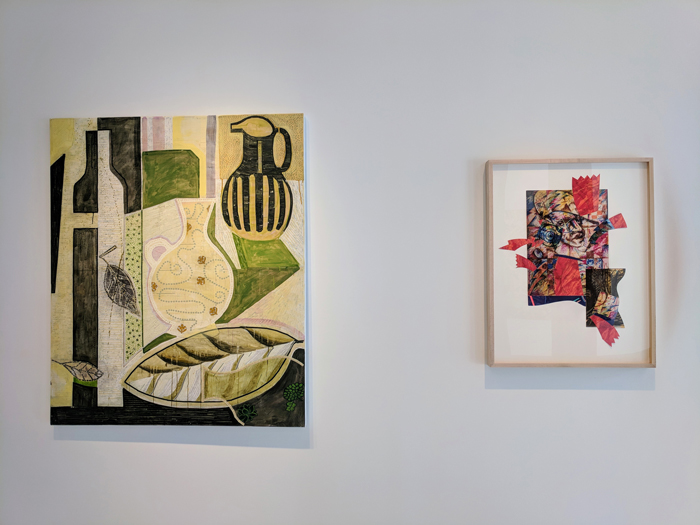 Arthur Roger Gallery
432 Julia Street, New Orleans 70130
www.arthurrogergallery.com
Arthur Roger Gallery presents an impressive selection of collage work by the gallery's artists. Among the dozen artists on view: Cuban-born New Orleans artist Luis Cruz Azaceta whose chromogenic prints on wood express the artist's concern with violence, displacement, homelessness, isolation and exile. Jacqueline Bishop's intricate renderings of flora and fauna reflect the absolute beauty and mystery of the natural world yet also impart a certain solemnity as she explores the complex connections between climate change, species extinction and migration. Troy Dugas cuts or shreds product labels and then intricately arranges them on paper, canvas or wood to form meticulous mandala-like compositions as well as evolved works incorporating paint in synthesized large-scale portrait and still life assemblages. The collages of Douglas Bourgeois juxtapose the degraded and the sacred, light and darkness, the mundane and the transcendent. The psyche and its relation to poetry and to the self are also core elements in Lesley Dill's paper cut and thread work. Open Tuesday-Saturday, 10AM-5PM.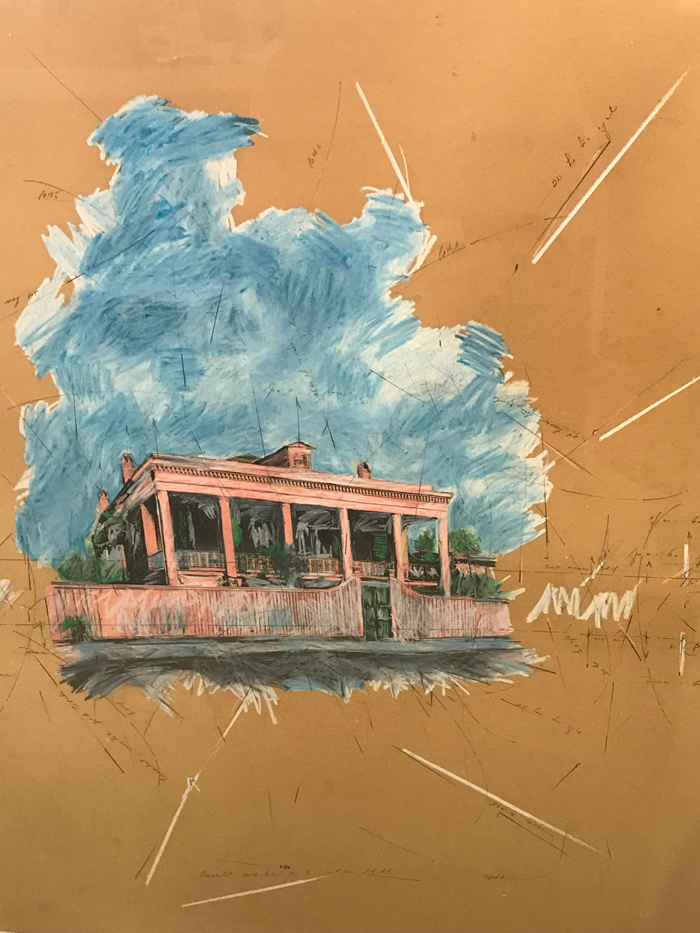 Octavia Art Gallery
454 Julia Street, New Orleans 70130
www.octaviaartgallery.com
Through 7/28/18: "Constructing Worlds: Intersections of Art and Architecture" focuses on the relationship between architecture and fine art. Collage is featured in the work of New Orleans artist Grover Mouton, whose works on paper demonstrate a humanized scale in understanding larger urban design and architectural concepts. In the gallery's viewing room is mixed media work by New Orleans artist James Henderson, who explores the concept of memory and the idea of "home" as an emotional space, rather than a physical one. Open Tuesday-Saturday, 10AM-6PM. (image: New Orleans House in Space by Grover Mouton (30″x24″; collage, graphite, colored pencil; 1986))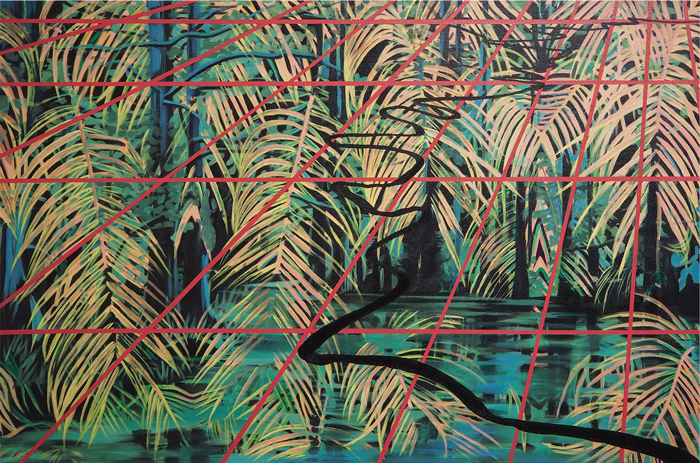 Brand New Orleans Gallery
646 Tchoupitoulas Street, New Orleans 70130
www.brandneworleansartgallery.com
7/12-8/31/18: "River of Palms" by Anne Blenker is an exploration of various New Orleans landscapes created with unique layering techniques that echo the process of collage. The exhibit encompasses different views of the southern region's subtropical ecology and urban landscape, including the Mississippi River and surrounding swamplands. Opening reception, Thursday 7/12, 6-9PM. Open Tuesday-Saturday, 11AM-6PM. (image: untitled by Anne Blenker (32″x48″; acrylic on canvas; 2018))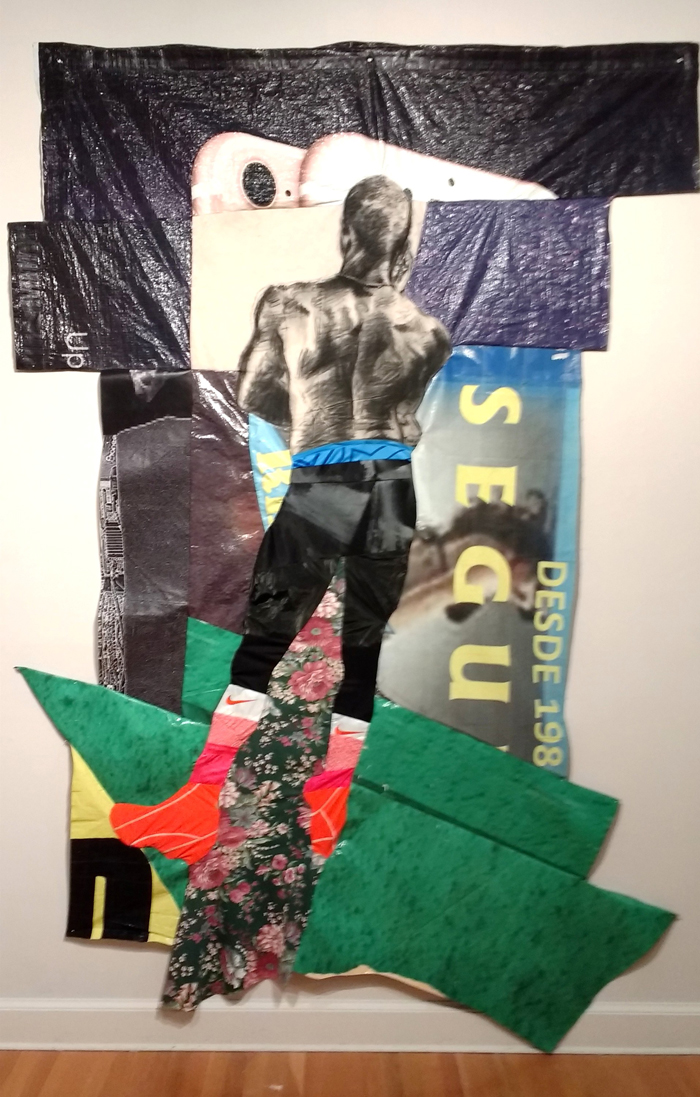 The Front
4100 St. Claude Avenue, New Orleans 70117
www.nolafront.org
Saturday, 7/14/18, 6-10PM: In Gallery 1, "Convoluted", a solo show by Front member Cynthia Scott, explores the tangled nature of the contentious issues currently besetting us, through various sculptural mediums including cut and glued paper. Gallery 2 features "Piecework", five artists of varying disciplines who combine fragments of a wide assortment of materials into unexpected aesthetic compositions. Stretching the concept of collage to its widest latitude, the mediums range from photography through metal, fiber, and wood. Galleries 3 and 4 present Film Festival shorts that form a collage of a different sort. Sunday, 7/15/18, 3PM: artist walkthroughs of the exhibitions. Open Saturday-Sunday, Noon-5PM. (image: I Want My Spot Back by Abdi Farah (2018))
Callan Contemporary
518 Julia Street, New Orleans 70130
www.callancontemporary.com
Head to the viewing room in the back for work by two artists who incorporate collage elements in their work. New York-based Irish artist James Kennedy creates geometric paintings that have the intensity of gestural abstraction. New Orleans artist Raine Bedsole creates lyrical sculptures and mixed media drawings, which incorporate found papers, maps and fabrics. Open Tuesday-Saturday, 10AM-5PM.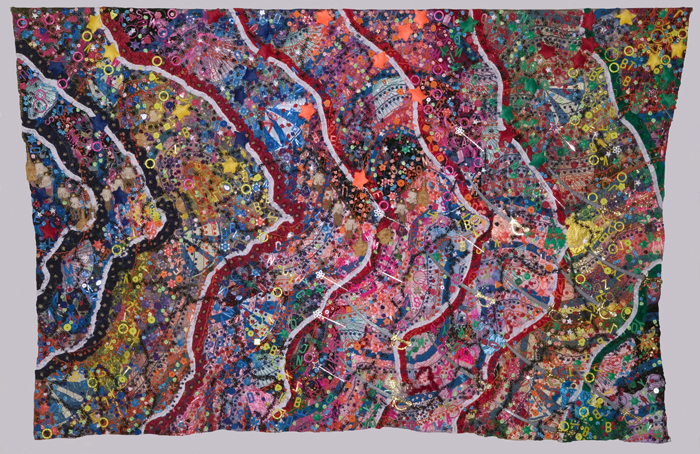 Ogden Museum of Southern Art
925 Camp Street, New Orleans 70130
www.ogdenmuseum.org
The Ogden is offering Kolaj Fest New Orleans registrants half-price admission to the museum during Kolaj Fest New Orleans, including their Thursday night concert series. Simply show your name badge at the museum's ticket desk.
Through 7/22/18: "The Whole Drum Will Sound: Women in Southern Abstraction" celebrates strong female voices in abstract art in the American South. Of particular interest to Kolaj Fest New Orleans attendees is Eating Cake by Shawne Major, a mixed media piece including paratroopers, alphabet letters, sheriff badges, plastic ants, rings, bracelets, buttons, tassels, silk flowers, Barbie clothes and more. The Benny Andrews Gallery also features collage work. Open daily 10AM-5PM (until 8PM on Thursday). (image: Eating Cake by Shawne Major (mixed media; 2008). Gift of the artist))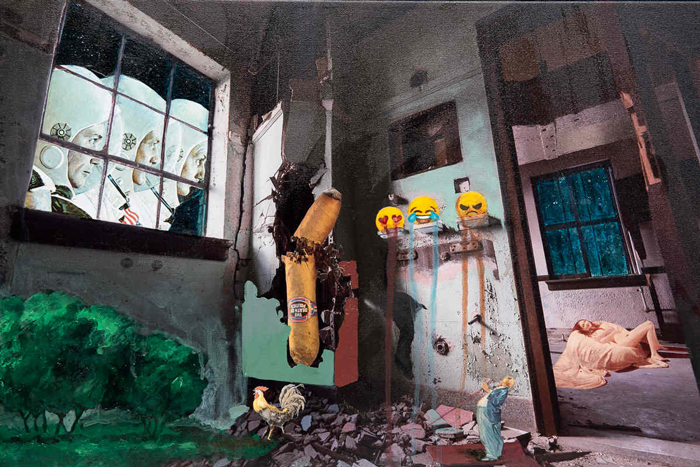 New Orleans Art Center
3330 St. Claude Avenue, New Orleans 70117
www.theneworleansartcenter.com
Opening 7/12/18: "Menage à Collage" is presented as part of the current exhibition, "Expect Delight". Artists include: Keith Duncan, Michael Fedor, Dama Fountain, the duo Barbie L'Hoste/Brandt Vicknair, and Britney Penouilh. L'Hoste and Vicknair create new worlds from old abandonments where photographs printed on canvas are combined with mixed media elements. For Fedor, "Collage making is the active place where his inner diety of the unknown embraces chaos, and its laws of magic, chance and synchronicity." Fountain's collages have been produced for the last 20 years as the annual commemorative posters for The Social & Marching Club Mondo Kayo. Keith Duncan is known for his collage paintings that frequently use satire to create dialogue. Britney Penouilh combines her passion for geology, nature and time into large mixed media paintings where she works the surface, peeling back layers of history that often include historical printed references as part of the media. Also on display is work by Jillian Gibson, whose collage paintings are part of "Expect Delight", and a unique collage painting by Larry Daniel Nevil. Opening reception: Saturday, July 14, 6-10PM. Open daily 10AM-6PM and by appointment. (image: All Apollojis by Barbie L'Hoste/Brandt Vicknair)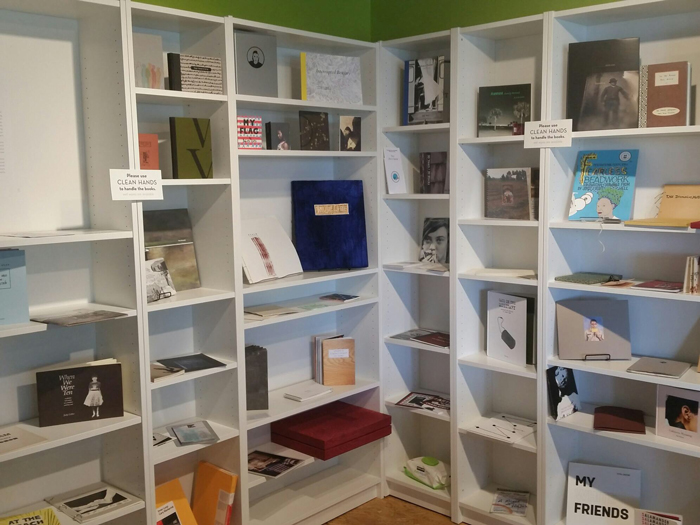 Paper Machine
6330 St. Claude Avenue, New Orleans 70117
www.papermachine.works/artist-book-collection
The Artist Book Collection at Paper Machine houses a rich resource of artist's books for the city of New Orleans and surrounding areas. Envisioned as a teaching collection, ABC@PM collects artists' books in all media, editioned and one-of-a-kind, on all variety of subject matter. Interdisciplinary by nature, artists' books move through the crossroads of visual art, literary art, graphic design, printmaking, bookbinding, papermaking, and publishing. ABC@PM is particularly interested in books in which the structure and actions of reading are integral to the content and the ideas within. Open Monday-Friday, 9AM-4PM, and by appointment.
Kolaj Fest New Orleans is a multi-day festival and symposium about contemporary collage and its role in art, culture, and society, July 12-15, 2018. Visit the website to learn more, see an overview of the program, and register to attend.