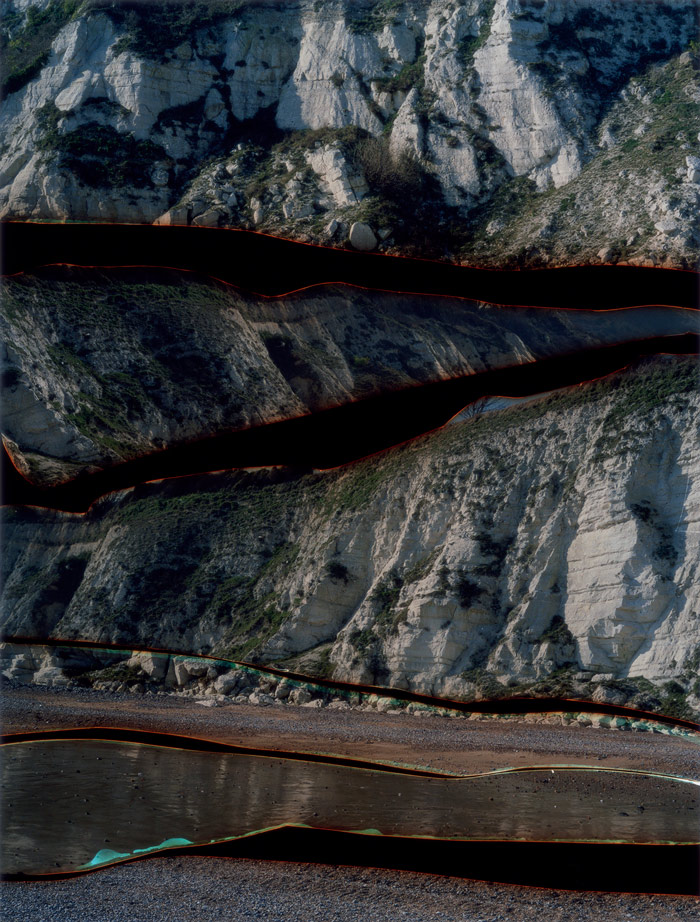 COLLAGE ON VIEW
"Constructed Landscapes": Dafna Talmor
at the TOBE Gallery in Budapest, Hungary
23 March-21 April 2018
Dafna Talmor says about this work:
This ongoing body of work consists of staged landscapes made of collaged and montaged colour negatives shot across different locations that include Israel, Venezuela, the UK and USA. Initially taken as mere keepsakes, landscapes are merged and transformed through the act of slicing and splicing. The resulting photographs are a conflation, "real" yet virtual and imaginary. This conflation aims to transform a specific place–initially loaded with personal meaning, memories and connotations–into a space that has been emptied of subjectivity and becomes universal.
In dialogue with the history of photography, "Constructed Landscapes" references early Pictorialist tendencies of combination printing as well as Modernist experimental techniques such as montage, collage and multiple exposures. While distinctly holding historical references, the work also engages with contemporary discourses on manipulation, the analogue/digital divide and the effects these have on photography's status and veracity. Through this work, I am interested in creating a space that defies specificity, refers to the transient, and metaphorically blurs space, memory and time.
Dafna Talmor is an artist and lecturer based in London whose practice encompasses photography, video, curation and collaborations. Her photographs are included in public collections such as Deutsche Bank, Hiscox and in numerous private collections internationally. Her work has been featured in publications such as Camera Austria, ArtReview, Hotshoe, Elephant, GUP, British Journal of Photography, Photomonitor, BLOW and Photography & Culture and included in Post-Photography: The Artist with a Camera by Robert Shore (Laurence King Publishing 2014) and Alternative Photographic Processes: Crafting Handmade Images by Brady Wilks (Focal Press 2015). Talmor is the recipient of Arts Council England Grants for the Arts Awards (2013, 2014 & 2017), the Breathing SPACE Bursary (2016), Photofusion Select Bursary Award (2013), selected as a series finalist for the Renaissance Photography Prize (2013) and the IV Daniela Chappard Biennale Photography Award (2007). Recent exhibitions in 2017 include a solo show, Constructed Landscapes, at Photofusion (London) and group shows "Inner Landscapes" at Sid Motion Gallery and "Synthetic Landscapes" curated by Meadow Arts at Weston Park.
Her publication, Constructed Landscapes, has been shortlisted for the First Book Award 2018; shortlisted entries will be displayed at Photo London 2018.
(adapted from the gallery's and artist's press materials)
---
INFORMATION
TOBE Gallery
Bródy Sándor u. 36
1088 Budapest, Hungary
+36 20 484 0490
Hours:
Wednesday-Friday, 2-6PM
Saturday, 11AM-3PM
Image:
Untitled (EA-131313-4) from "Constructed Landscapes II"
by Dafna Talnor
C-type prints made of collaged colour negatives
2014
Courtesy of the artist