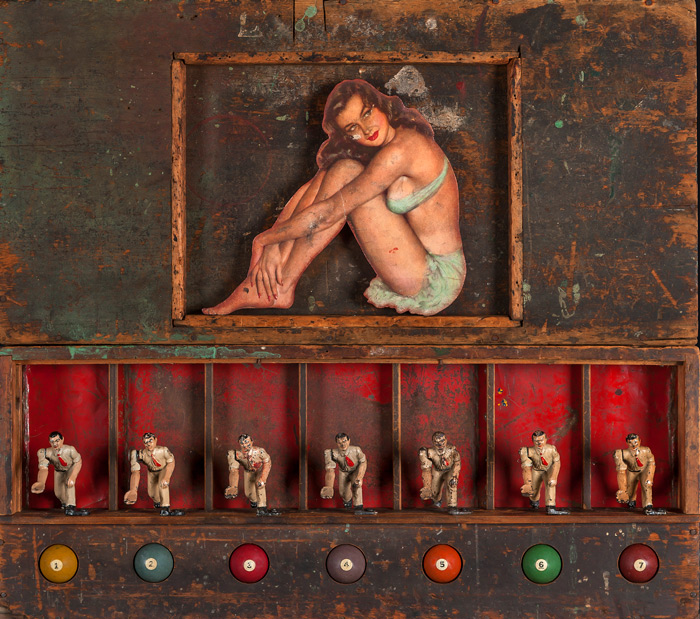 5-16 July 2013
Dave Laro: "What's Inside", Pop constructions
Dave Laro has spent the better part of the past two decades quietly, almost covertly creating a story book whose pages take form as super realistic oversized hand-carved objects, or repetitious iconic imagery purposely arranged out of context, and even the most familiar paragons of pop culture contrasted with contemporary ideology. As story teller, Laro unsuspectingly lures the viewer into his work, first with an immediate response to the visual impact of color, composition, and craftsmanship, and then with a blindsided hook that makes it impossible to walk away without trying to get inside of the artist's head. At times, Laro's "unwritten stories" run as deep as the viewer dares to go, while others reveal with the simplicity of a nursery rhyme. Much of Laro's materials are retrieved from long forgotten relics that find their way to an attic corner, basement shelf, or if lucky, to a flea market where Dave may opt to give them a second chance. Laro's work breathes new life into the abandoned in a way that can be uncharacteristically provocative, politically suggestive, and unquestionably deliberate.
"What's Inside" is keenly charged with the wit and wisdom of the native Vermonter's perspective on everything from war to childhood nightmares to sex appeal. Each of Laro's new constructions are born of his ability to see things beneath the surface, and consummated at the hands of a master craftsman.
Dave Laro lives and works in White River Junction, Vermont. He refined his skills as a master woodworker and wood carver as an apprentice for the renowned furniture designer and maker Charles Shackleton. Dave's work has been exhibited in galleries throughout New England, and is in private collections across the country and abroad.
(adapted from the gallery's press materials)
---
INFORMATION
Kobalt Gallery
366 Commercial Street
Provincetown, Massachusetts 02657 USA
(508) 487-1132
Summer Hours:
Daily, 11AM-10PM
or by appointment (phone or email)
Image:
Take a Number
by Dave Laro
28″x30″
assemblage
Image courtesy of Kobalt Gallery, Provincetown, Massachusetts, USA