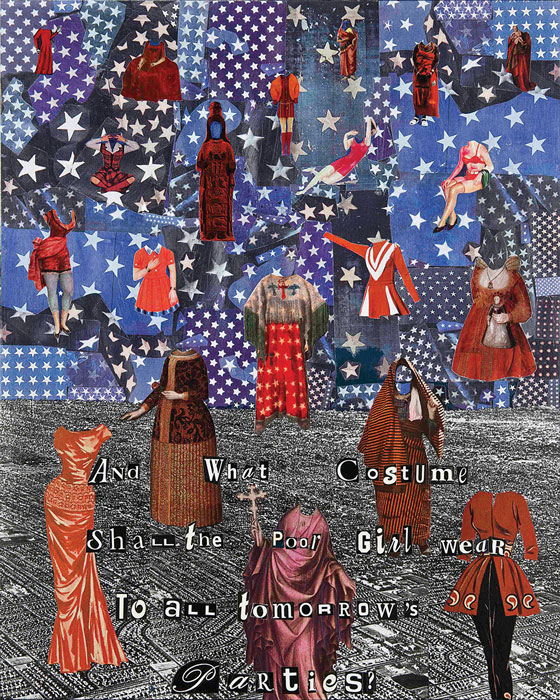 9 January-22 February 2014
Reception and Artist Talk: Saturday, 18 January, 6-9PM
Deborah Faye Lawrence: "Dee-Dee Redux"
"Dee-Dee Redux" is a retrospective of work by Seattle-based artist Deborah Faye Lawrence, primarily featuring work made since her move to Seattle from Los Angeles in 1993.
Lawrence manipulates images she finds in popular culture to create intricate collages that are at once political and vulnerable. Dee-Dee Lorenzo is Lawrence's alter-ego and the heroine of her collages. While the artist tackles a range of social issues and presents them for our examination, Dee-Dee is often found on the front line as activist and witness. Like Dee-Dee, Lawrence's role in the space she occupies is charged and intentional. She approaches her work (and life) with sincerity and wit, consistently choosing specificity over ambiguity. The ArtsWest exhibit is the first survey of work spanning Lawrence's prolific, heart-infused career.
(from the gallery's press materials)
Read more about Deborah Faye Lawrence on her Kolaj Magazine Artist Directory Page.
---
INFORMATION
ArtsWest
4711 California Avenue SW
Seattle, Washington 98116 USA
(206) 938-0339
Hours:
Thursday-Friday, 1-7PM
Saturday, 1:30-7:30PM
Image (top):
All Tomorrow's Parties
by Deborah Faye Lawrence
20″x16″
acrylic, collage, varnish on panel
2013
Image courtesy of the artist and ArtsWest, Seattle, Washington, USA