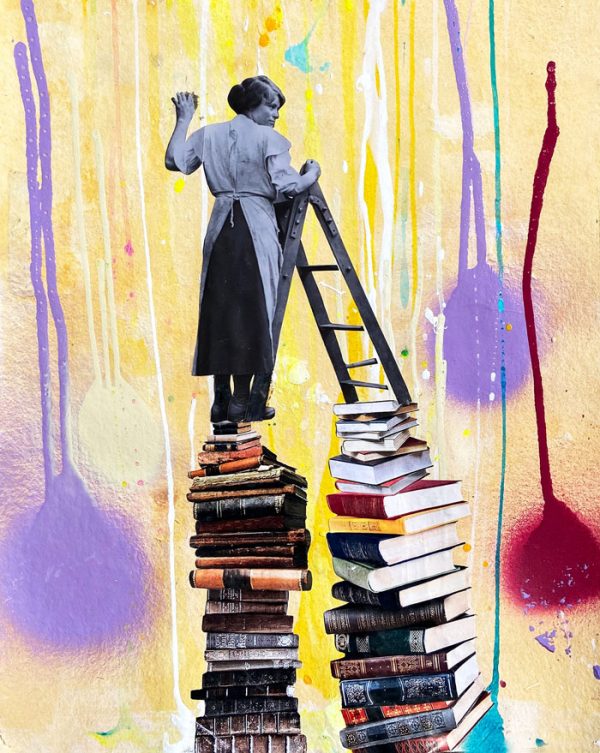 COLLAGE ON VIEW
Destinia: Daniel Txopitea & Ainize Txopitea
at Menchu Gal in Irun, Spain
24 September-21 November 2021
"Destinia" presents sixty works by father and daughter artists Daniel Txopitea (painting) and Ainize Txopitea (collage) and a documentary video. Daniel's work on display includes a careful selection of thirty works of varied techniques, in various formats and from different periods of Daniel Txopitea's career. The majority of the works are paintings belonging to his last creative stage which are presented in dialogue with thirty recent pieces of mixed media collages and biographical photomontages produced by his daughter Ainize Txopitea, which she made in Lisbon and at the International Center for Contemporary Culture Tabakalera.
"Destinia" is a transgenerational encounter between father and daughter, an analogy of symbolic meanings between the artistic practices of both. It represents a fabulation of the idea that if a bird is able to fly from one continent to another, why not open the door that separates two worlds to connect them again through the red thread of destiny that unites them in this installation.
The exhibtion is sponsored by the Irun City Council. The exhibtion was curated by Ainize Txopitea.
(text adapted from the gallery's press materials)
---
INFORMATION
Sala de exposiciones Menchu Gal  
Urdanibia Plaza 5 (enter via Vega de Eguzkitza)
20304 Irun, Spain
+34 943 50 51 52
Hours:
Friday-Saturday, 6-9PM
Sundays and Holidays, 11:30AM-1:30PM