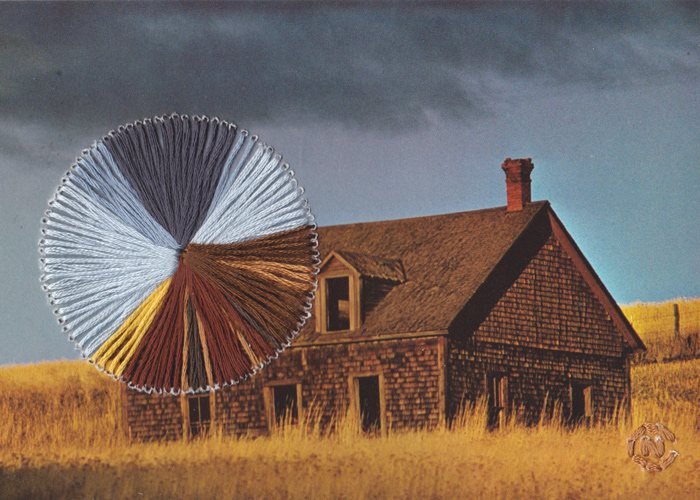 COLLAGE ON VIEW
Down the Color Hole: Natalie Ciccoricco
at the Zukowski Collective in Pacifica, California, USA
23 February-23 March 2019
"Down The Color Hole" is Natalie Ciccoricco's mixed media collages: original, analogue works of embroidery thread and found images, which she uses to weave together new narratives on paper.
"Down The Color Hole" is an exploration into colour and the concept of multiple dimensions. Ciccoricco uses embroidery thread on images of old books and magazines to create the visual illusion of a new vantage point–a glitch in space and time from which the image seems to explode or implode, depending on how you look at it.
Natalie Ciccoricco is a Dutch collage artist who lives and works in San Carlos, California. After moving to the United States in 2012, she started making mixed media collages and illustrations inspired by her new surroundings. She has shown art in juried shows in galleries including the Yosemite National Park Museum Gallery, the Bedford Gallery in Walnut Creek, STUDIO Gallery in San Francisco, Glass Rice in San Francisco and La Luz de Jesus in Los Angeles. Her work is characterized by her use of embroidery thread in combination with other materials such as old books, magazines, photographs and other ephemera. Learn more about the artist at her Kolaj Magazine Artist Directory page HERE.
(text adapted from the artist's and gallery's press materials)
---
INFORMATION
Zukowski Collective
1905 Palmetto Avenue
Pacifica, California 94044 USA
(415) 572-0611
Hours:
Thursday-Friday, 11AM-4PM
Saturday, 10AM-4PM
and by appointment
Image:
When the Rain Came
by Natalie Ciccoricco
5.5″x7.875″ in 11″x14″ frame
embroidery thread and paper
2018
Courtesy of the artist