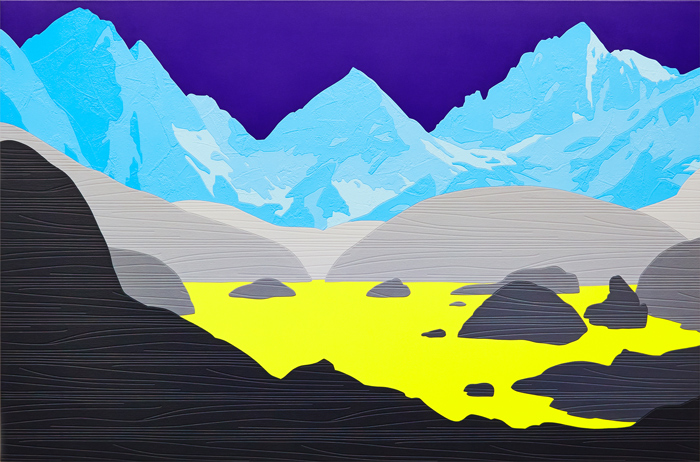 "Empire": David Wightman
13 October-11 November 2016
David Wightman is well known for his imaginary landscapes featuring mountains and lakes. The surfaces of Wightman's intensely-coloured acrylic paintings are made from meticulously hand-cut collaged wallpaper using a technique similar to marquetry. Each painting is painstakingly collaged, crafted, and painted over a period of several weeks. His fictional landscapes pay homage to earlier landscape painters and Japanese wood-block printers, while remaining utterly unique and personal. Cherie Federico, editor of Aesthetica Magazine, has said: "You must spend time with Wightman's paintings; on the surface they are beautiful and intricate, and like the layers they are made from, there is so much depth to his work." Waterfalls, mountains, lakes, and valleys combine to form landscapes that Wightman describes as being "idealised and impossible".
David Wightman studied Fine Art at Middlesex University and gained an MA in Painting at the Royal College of Art, London. While still at the Royal College of Art, he won "Young Artist of the Year" at the Hunting Art Prize. He graduated from the Royal College of Art in 2003 as the youngest graduate at the age of 23. He has had solo exhibitions at galleries in London, Berwick-upon-Tweed, and Manchester in the United Kingdom.
In 2010, Wightman was awarded the Berwick Gymnasium Arts Fellowship, a six-month residency in Berwick-upon-Tweed, Northumberland funded by Arts Council England and English Heritage. In 2013, he was selected by the curator of House Arts Festival, Mariele Neudecker, to make a site-specific painting for a disused pavilion on Brighton's seafront. The commission was funded by Arts Council England. Wightman has also collaborated with the fashion label Akris for their Fall/Winter 2014/15 collection. Wightman's work has featured in Harper's Bazaar, The Guardian, The Telegraph, The Financial Times, and Money Week.
(adapted from the gallery's press materials)
---
INFORMATION
Long & Ryle
4 John Islip Street
London SW1P 4PX, United Kingdom
+44 020 7834 1434
Hours:
Tuesday-Friday, 10AM-5:30PM
Saturday, 11AM-2PM
Image:
Ottoline iii
by David Wightman
31.5″x47″
acrylic and collaged wallpaper on canvas
Courtesy of the artist and Long and Ryle, London