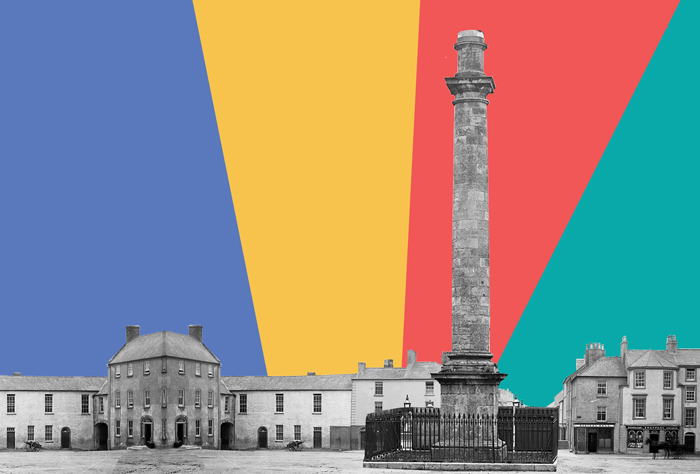 COLLAGE ON VIEW
Empty Columns Are a Place to Dream
at the Knoxville Museum of Art in Knoxville, Tennessee, USA
4 January-19 February 2022
Book Launch & Talk: Saturday, 29 January 2022 at 2PM EST
Each of the eighteen artists–from eleven countries–in "Empty Columns Are a Place to Dream" reimagines an empty column in Birr, County Offaly, Ireland as a monument that speaks to a world where all people enjoy safety, security, well-being, and dignity on their own terms. The exhibition will be on view at the Knoxville Museum of Art from January 4 to February 19, 2022.
In 2021, at the invitation of the citizens of Birr, curator Ric Kasini Kadour invited eighteen collage artists from eleven countries to use the photograph, The Square, Parsonstown by Robert French (1841-1917) from the Lawrence Photograph Collection, to imagine a monument that speaks to a world where all people enjoy safety, security, well-being, and dignity on their own terms. The collage prints debuted during the 53rd Annual Birr Vintage Week & Arts Festival, where the project was recognized with a National Heritage Award.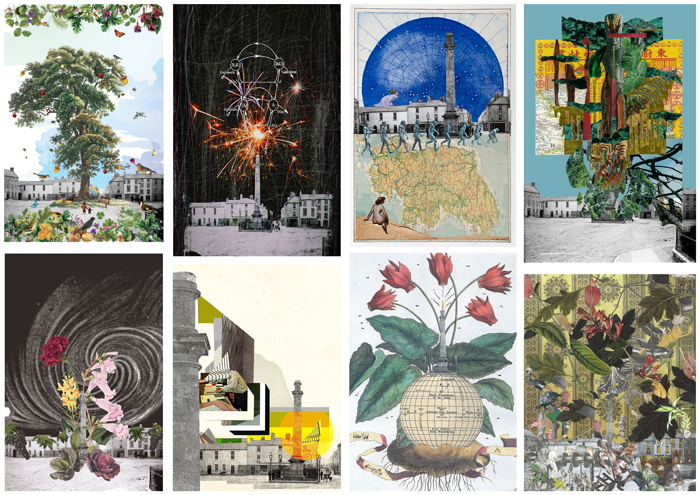 "The exhibition of these works in the American South changes the context of the project from one rooted in British imperialism to an opportunity to reflect upon the role monuments can play in historical revisionism, in particular as we work to undo the legacy of slavery and the use of Confederate monuments to distort history and intimidate the descendants of enslaved people," writes Kadour. "That important civic conversation has focused on whether monuments should stay or be removed. We hope this exhibition invites a different conversation: What role do we want monuments to play in our community? What shared ideas or collective memories do we want future generations to celebrate? And ultimately, how can we build communities where all people enjoy safety, security, well-being, and dignity on their own terms."
In the book, Empty Columns Are a Place to Dream, Ric Kasini Kadour unpacks what monuments are and their role in our communities. He takes the reader on a tour from the Megalithic Temples of Malta to Brú na Bóinne in Ireland to the Confederate monuments of Obion County, Tennessee to the empty column in the center of Birr, County Offaly, Ireland. On Saturday, January 29, 2022 at 2PM at the Knoxville Museum of Art, Kadour will speak about the life cycle of monuments and why conflicts around monuments are important to figuring out who we are as a people. Pre-register for the event HERE. The book, Empty Columns Are a Place to Dream, is available at Kasini House ARTSHOP.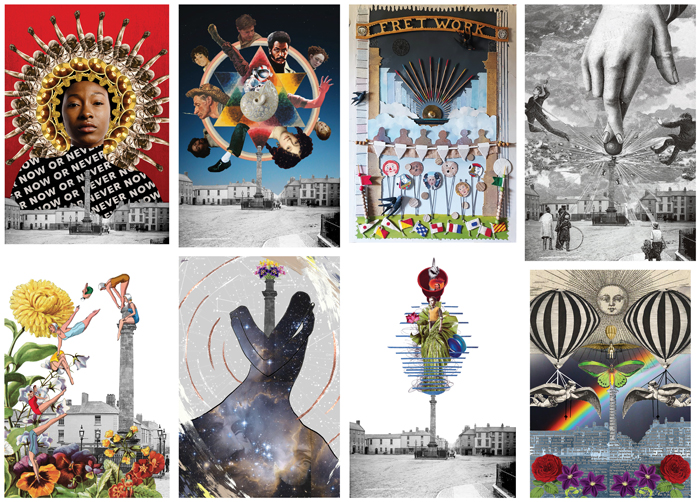 ABOUT THE ARTISTS
From Cape Town, South Africa, Duduetsang Lamola's Imagined Monument to Scattered Routes and Roots uses the complex history of Birr; its hidden stories; its botanical relationship with China; and ideas about nature and motherhood to ask how our relationship to our histories inform how we imagine a collective future-past. An interdisciplinary artist of the African diaspora, Rashad Ali Muhammad's collage asks us to think about those rebels and radicals who inspire us, who inspire others, and who have helped move humanity forward.
Tel Aviv, Israel artist Avi Yair shows us Emmet Square as a parade of human evolution, Darwin's apes to humans but in reverse order, walks past the Birr Column which the artist leaves empty to "represent what is no longer there and to leave room for hope and renewal." Born in Romania of Palestinian descent, Inas Al-soqi's collage recalls the history of educator, suffragist, and Irish nationalist Catherine Mohan as a way of pointing to how the small gestures of history shape our world today. Upon learning about the Cáin Adomnáin at The Synod of Birr in 697 that paved the way for the Declaration of Human Rights and Geneva Conventions, Tehran, Iran collagist Elyana Shamselangeroodi was moved to make "a thank you note to Birr."
From Castlebar, County Mayo, Anthony D Kelly's A Monument to Dreaming Together allows viewers to dream backwards and forwards in time through the use of faces, each rendered from a different period of history. Frustrated by the state of society, Birr artist Lynne Hoare imagines the Birr Column into a carnival game booth where she can toss her troubles away. "Now is the time for everyone to possess their own empty column, pillar or tower," she writes. Caroline Conway pays homage to Birr's history of hosting the Irish Hot Air Ballooning Championships and the joyous optimism such a spectacle inspires. From Dumfries, Scotland, Denise Zygadlo subverts the Birr Column's original purpose and converts it into a shining beacon of positivity.
Canadian collagist Danielle Cole reassembles North American vintage print culture from 1920s-1960s into "playful and cheeky collages." She reimagines the Birr Column as a diving board where "women leap joyously away from the past and towards a future of gender equality for all female identified people." A suite of collages from Toledo, Ohio's Ashley Pryor uses Jacques Lacan's graph of desire to interrogate the human state of want. Here, the monument becomes an object of prayer. Christopher Kurts lives and works in New Orleans, Louisiana, a city that has struggled in recent years with its legacy of monuments to white supremacy. Kurts' collage uses space and floral imagery to celebrate science and discovery, shifting the idea of monuments away from the "Great Men of History" and towards the ideas that made them great.
From Brussels, Belgium, David Crunelle presents an image evocative of his paper intarsia and lenticular cut outs to suggest an invisible presence that he hopes comes back to life in the hearts of the people of Birr. Marta Janik of Warsaw, Poland imagines an oak tree on the top of Birr column as an act of reconciliation with the planet and the people on it. Renowned Birmingham, England artist and designer Mark Murphy imagines a second Birr Column and a line of images, shapes, colors, and textures between them as a way of celebrating small, individual contributions to community that help shape a place long after they are completed. Originally from London, England, Simon Blake imagines a giant hand atop of Birr Column as a symbol of our collective consciousness, which he sees as a force for good, and a response to the communal pain caused by man's decisions. From Vienna, Austria, Kevin Geronimo Brandtner imagines the Birr Column on the top of the world as an expression of hope for unity and diversity.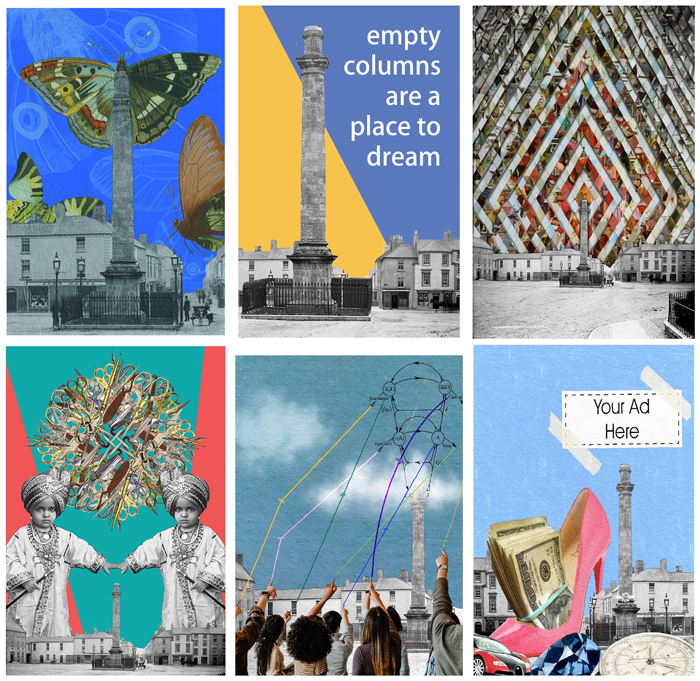 ABOUT THE CURATOR, RIC KASINI KADOUR
Ric Kasini Kadour, a 2021 Andy Warhol Foundation for the Arts Curatorial Fellow, is a writer, artist, publisher, and cultural worker. Working with the Vermont Arts Council, Kadour curated four exhibits: "Connection: The Art of Coming Together" (2017) and Vermont Artists to Watch 2018, 2019 and 2020. In 2017, he curated "The Art of Winter" at S.P.A.C.E. Gallery in Burlington, Vermont. In 2018, Kadour curated "Revolutionary Paths: Critical Issues in Collage" at Antenna Gallery in New Orleans, which bought together collage artists whose work represents the potential for deeper inquiry and further curatorial exploration of the medium; followed in 2019 by "Cultural Deconstructions: Critical Issues in Collage" at LeMieux Galleries in New Orleans, which furthered the conversation. Since 2018, he has produced Kolaj Fest New Orleans, a multi-day festival & symposium about contemporary collage and its role in art, culture, and society. As Curator of Contemporary Art at Rokeby Museum in Ferrisburgh, Vermont in 2019 and 2020, he curated three exhibitions, "Rokeby Through the Lens" (May 19-June 16, 2019), "Structures" (August 24-October 27, 2019), and "Mending Fences: New Works by Carol MacDonald" (July 12-October 25, 2020). He also curated "Contemporary American Regionalism: Vermont Perspectives" (August 17-October 20, 2019) and "Where the Sun Casts No Shadow: Postcards from the Creative Crossroads of Quito, Ecuador" (November 1-30, 2019) in the Wilson Museum & Galleries at the Southern Vermont Arts Center. "The Money $how", co-curated with Frank Juarez, was presented at the AIR Space Gallery at Saint Kate-The Arts Hotel in Milwaukee, Wisconsin (April 10-September 12, 2021). For Birr Vintage Week & Arts Festival in Birr, County Offaly, Ireland (August 13-20, 2021), he curated "Empty Columns Are a Place to Dream". Kadour is the editor and publisher of Kolaj Magazine. He has written for a number of galleries and his writing has appeared in Hyperallergic, OEI, Vermont Magazine, Seven Days, Seattle Weekly, Art New England (where he was the former Vermont editor) and many others. Kadour maintains an active art practice and his photography, collage, and sculpture have been exhibited in and are part of private collections in Australia, Europe and North America. In January-February 2020, he was artist-in-residence at MERZ Gallery in Sanquhar, Scotland. He holds a BA in Comparative Religion from the University of Vermont. Kadour splits his time between Montreal and New Orleans. www.rickasinikadour.com
---
INFORMATION
Knoxville Museum of Art
1050 World's Fair Park Drive
Knoxville, Tennessee 37916 USA
(865) 525-6101
Hours:
Tuesday-Saturday, 10AM-5PM
Sunday, 1-5PM