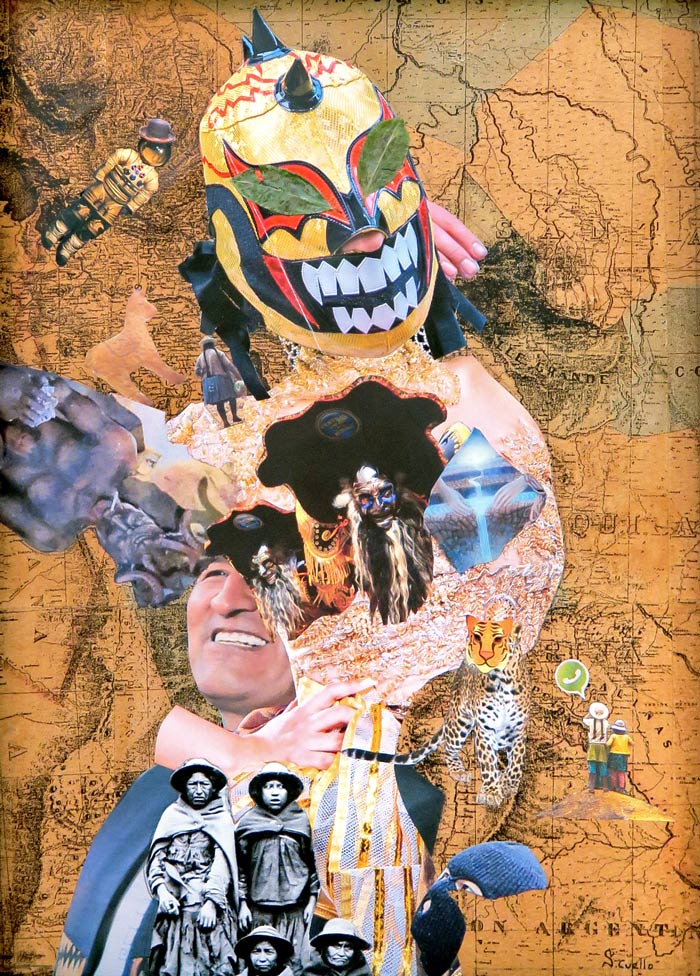 COLLAGE ON VIEW
Encuentros irreversibles
at Museo Tambo Quirquincho in La Paz, Bolivia
2-28 February 2019
"Encuentros irreversibles" ("Irreversible Encounters") brings together the latest collages by Bolivia-based, Spanish artist Silvia Cuello.
The title of the series refers to the artist's creative process, where chance and intuition generate an infinity of fleeting encounters with images, of which only a few survive and are fixed on paper. These irreversible encounters are instantly recognized, because they reveal the unconscious and, from there, there is no turning back.
In the words of the psychologist Francisco Da Costa, "Surrendering to the artist's dream images is to wake up inside." By sharing this set of images and potential metaphors with the public, Cuello offers the viewer the chance to experience curiosity, surprise, interest, repulsion, laughter, discomfort: a whole range of emotions.
A good book is not the one we read, but the one which reads us. Cuello's collages help to not only express ideas, but also to get in touch with feelings, desires and psychodynamic aspects that are still out of reach or lacking a clear expression, like dreams. This type of communication is often able to reach us more easily than the objective and the rational. We must remember that what is unconscious often has good reasons to remain that way and a direct approach can strengthen the resistance to knowledge.
(adapted from the artist's press materials)
---
INFORMATION
Museo Tambo Quirquincho
Plaza Alonso de Mendoza esq. Evaristo Valle
La Paz, Bolivia
+591 2390969
Hours:
Tuesday-Friday, 9:30AM-12:30PM and 3-7PM
Saturday-Sunday, 9AM-1PM
Image:
untitled (Bolivia)
by Silvia Cuello
8″x5.5″
collage
2018
Courtesy of the artist