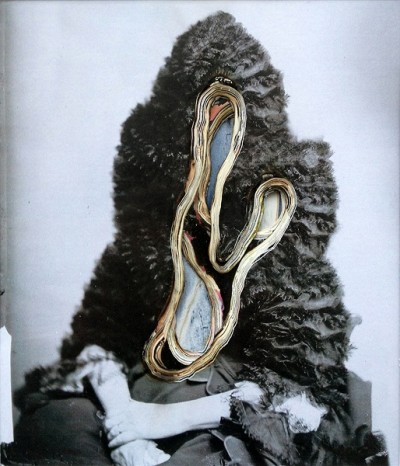 18 October-3 November 2012
ESH – Evil's Rainbow
Recognizing the potential of objects and images from his environment and giving them a new meaning is what Emir Šehanović does in his work. For his series "Zumra", he used old photographs that appealed to him and which he found in his digital and physical surroundings. Using these found objects as a starting point, Šehanovic manipulated them following an almost classical form of collage and assemblage, which he finds the simplest and most effective way of transforming them.
He uses already existing elements and upgrades them. Various superstitious customs and ritual elements that surround him also have a great impact on his work, merging altogether in an artistic dialogue, resulting in his multiple collages.
Šehanović, also known as ESH, is a Bosnia-based graphic designer, street artist and collage artist. He was one of the founders of the Bosnian art group Manufaktura and participated in "Art of Asfalt", a four-part project that brought together different artists from the former Republic of Yugoslavia, all of which have their roots in skateboard culture and use the street as a space for expression.
(from the gallery's press materials)
---
INFORMATION
Gallery AU
Brunnengasse 76
1160 Vienna
Austria
Image:
Zumra 6
by Emir Šehanović
9.84″ x 7.48″
mixed media
2012