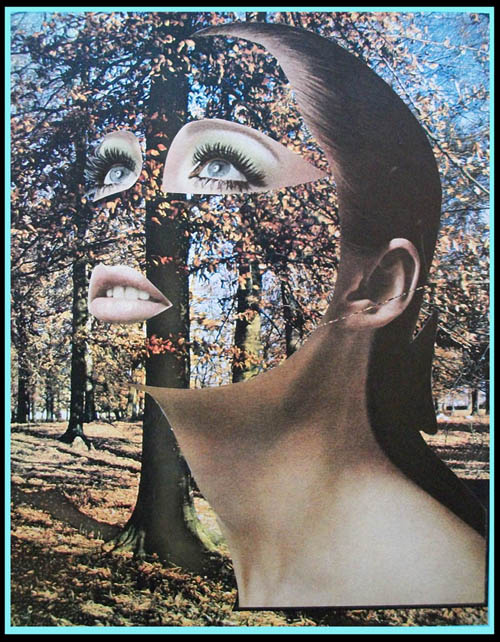 3-26 April 2014
Eva Lake: "Anonymous Women: Recent Collage"
"Anonymous Women" is the most recent body of collage work by Portland, Oregon artist Eva Lake. In her previous collage series, Lake presented women of celebrity, drawing on implied or familiar narratives in association with their imagery. Lake then realized she had an emotional investment in the unnamed glamour girl as well, beauties whose likenesses she had studied since childhood. Lake describes how "their looks were their only story, voiceless and anonymous." In considering her muted subjects, Lake found that these beautiful, anonymous women carried all kinds of identity for her, and chose to make them vehicles for the tales of identity she wished to tell.
In this work, Lake states, she wants to place "beauty and glorious artifice where you least expect her to be…She [the beauty] is often shoved into a box and I want to bust her out. She's the ocean, the sky, the forest. She's the skyscraper, the Pantheon, the illuminated manuscript. She's also the wall, the decor, the carpet you step on. A girl from southern Oregon gazing down a muddy road. She's the mover in art history and the genius of the crime." Around the time she began making the "Anonymous Women" suite, Lake had resumed work as a makeup artist after a fifteen year hiatus. She describes in her artist's statement that the two activities played off of each other and her idea of the anonymous beauty was freed up and reshuffled, resulting in a heightened awareness of the face being sectioned and cut up, and of the literal slicing and dicing of women's faces for the sake of beauty.
Eva Lake has shown her paintings and collages in group and solo exhibitions on the East and West Coasts since 1980 and is represented by frosch&portmann gallery, New York City. In 2011, Lake was chosen as a resident artist at Crow's Shadow Institute in Oregon, and in both 2012 and 2013 was the recipient of career opportunity grants from the Oregon Arts Commission and the Ford Family Foundation. She has hosted and produced the popular Portland KBOO radio show Art Focus since 2008. Lake has also exhibited internationally in Germany, Ireland, and Switzerland, most recently at VOLTA9 in Basel, Switzerland in 2013.
(adapted from the gallery's press materials)
---
INFORMATION
Augen Gallery
DeSoto
716 NW Davis Street
Portland, Oregon 97209 USA
(503) 546-5056
Hours:
Tuesday-Saturday, 10:30AM-5:30PM
and by appointment
Image:
Anonymous Woman #71
by Eva Lake
14.5″x9.5″
collage
2012
Courtesy of Augen Gallery, Portland