COLLAGE ON VIEW
Feral Stitching: Four Artists Go Wild
at Furchgott Sourdiffe Gallery in Shelburne, Vermont, USA
25 March-7 May 2022
Beginning in early spring of 2021 four artist friends–Sarah Ashe, Janet Fredericks, Kari Hansen and Lily Hinrichsen–began a weekly journey into the unexplored topography of textile bringing with them needle, thread, curiosity, and each other's encouragement.
The artists wrote, "There is a wildness in our approach to this age-old art of needlework. With little experience and much enthusiasm about this medium we decided, in our initial gathering, to jump in and follow our instincts. We came to it as painters—free of conventions, unencumbered, and joyfully fierce. We let our minds and needles wander, exploring a new territory of pattern, color, and process which we call feral stitching.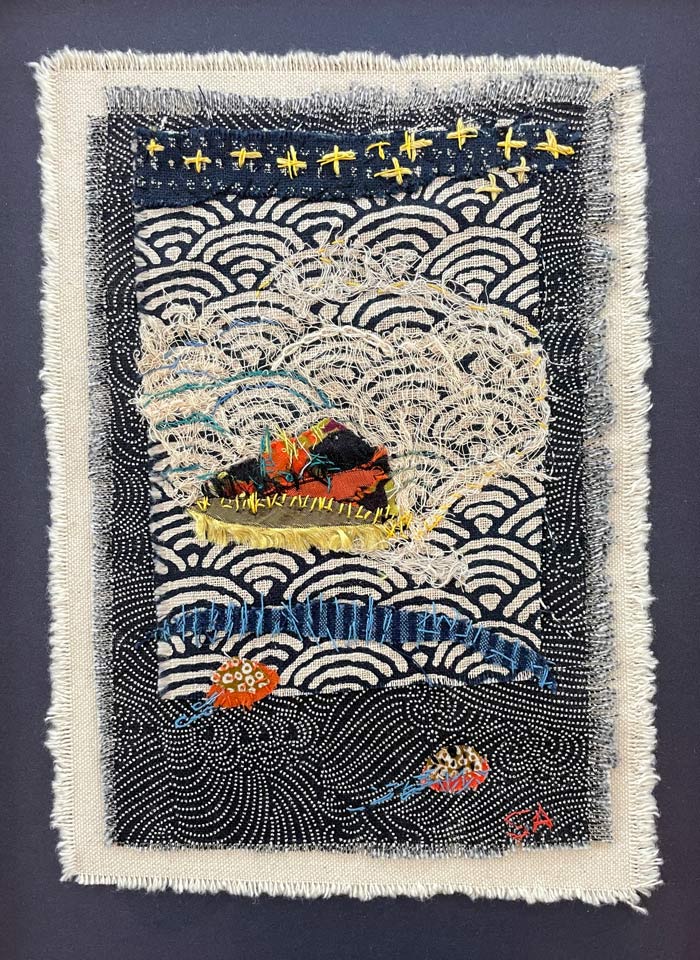 "In our early days together we challenged ourselves by each of us selecting the same fabrics, then taking them home to stitch our interpretations. A week or two later we came together again to share our creations. The excitement of seeing each other's work provided inspiration, further explorations, and technical learning that transcended the work itself.
"As the weeks and months passed we each began to find our own methods and aesthetic. We shared fabric, embroidery floss, ideas, and discoveries from stitchery books and other cultures. It has been, and continues to be, a rich exploration where our backgrounds in other art disciplines inform our work, and where we find the comfort of collaboration in these uncertain times."
(text adapted from the gallery's press materials)
---
INFORMATION
Furchgott Sourdiffe Gallery
86 Falls Road
Shelburne, Vermont 05482 USA
(802) 985-3848
Hours:
Tuesday-Friday, 10AM-5PM
Saturday, 10AM-4PM