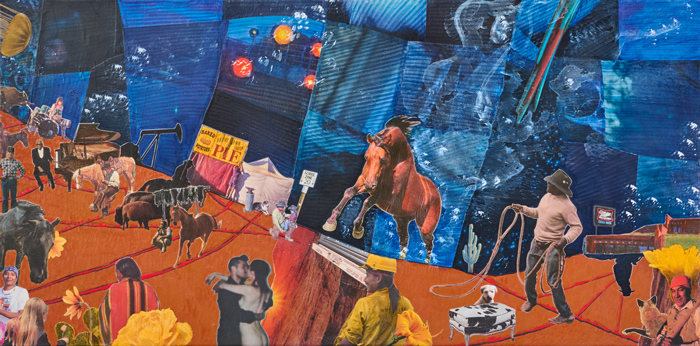 COLLAGE ON VIEW
Vanessa Compton: Grandmothers
at Karma Bird House Gallery in Burlington, Vermont, USA
5 November-9 December 2021
Vanessa Compton says about this work:
This show is devoted to my Grandmothers. Coming from two very different cultures, both were/are professional visual artists and their collective devotion to color and lifelong creative practice informs my own work. The pieces in this exhibition showcase my obsession with certain colors in the spectrum. This show is also about reckoning with different stages of life as this past year I've been trying to better understand how I think and feel about time, aging and elderhood.
My paternal Grandmother Kay Brown was a professional artist all of her life. While she worked in a variety of media including pastel, watercolor, acrylic, oil and ink, the last 20 years of her life were devoted to collage. When I was a little girl, I remember going into her studio and watching her work. She would often work in silence and there a solemnity to her creative process. I remember art making seemed like an equally serious and beautiful pursuit. My Grandmother had a handwritten sign that hung high in her studio that read "Nothing in art is easy". Now, when I'm working and wrestling with own artistic ideas in the studio I look up at her sign.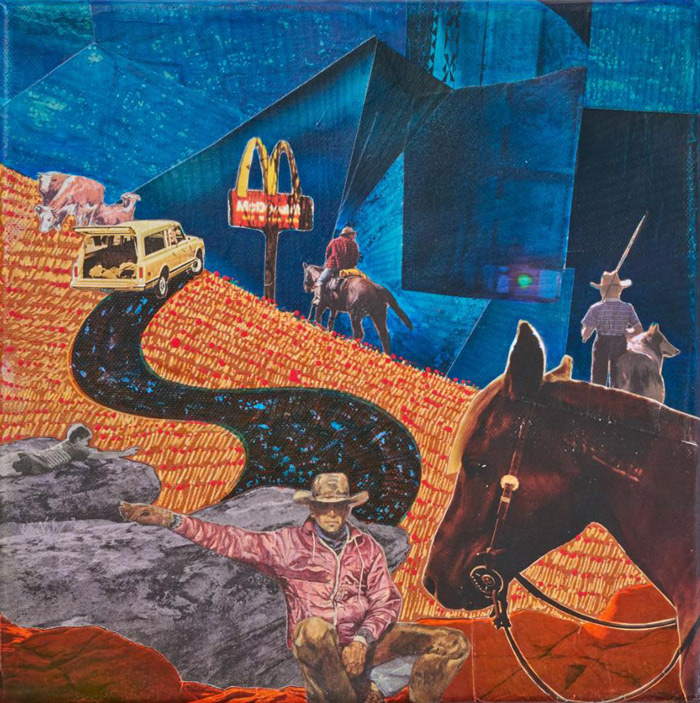 My maternal Grandmother Agathe Labrosse Bissonnette has been a painter all her life. Working in watercolor, oil and acrylic, she is drawn to reflect what is around her and has always maintained a studio practice. When I was younger, language was a barrier between us, but art was always a form of communication as she would often take me into her studio and show me what she was working on. My mother's side of the family is proudly, fiercely Quebecois. Growing up in Vermont, I was always fascinated how a vibrant and utterly different culture existed just north of the US/Canada border and I think because of this I've always been drawn to borders and the inherent tension that exists within borderlands. For many years I lived on the US/Mexico border outside El Paso, Texas. These borderlands were explicitly charged and informed by US immigration policies infused by nationalism and fear. 
I've always loved the crepuscular and view that space as a kind of border town between day and night. For this exhibition, I was thinking about Frederic Remington's nocturnes of the early 20th century. Informed by his experience in war and loss, I am drawn to the light in these pieces, the firelight, candlelight and moonlight. With my own work, I love the challenge of collaging a world of night. How the beauty of the nocturnal world can also reflect change, loss, transformation, death and other shadows. I've been thinking about some of tragedies in my family and how they led some of my elders to commit their lives to advancing social justice. I have also been deeply motivated by the work of the younger generation to challenge systems of oppression in their own ways. I am especially grateful for the ways in which they lift up issues that can be blind to us older folks. I enter my fourth decade of life with respect for the liminal space of this middle age and am grateful to those who have come before and those yet still to come.
Both works in this post were created at the Tongue River Artist Residency in Dayton, Wyoming, USA, September 2021.
(text adapted from the artist's press materials)
---
INFORMATION
Karma Bird House Gallery
47 Maple Street
Burlington, Vermont 05401 USA
(802) 343-4767
Hours:
Monday-Saturday, 8AM-3PM