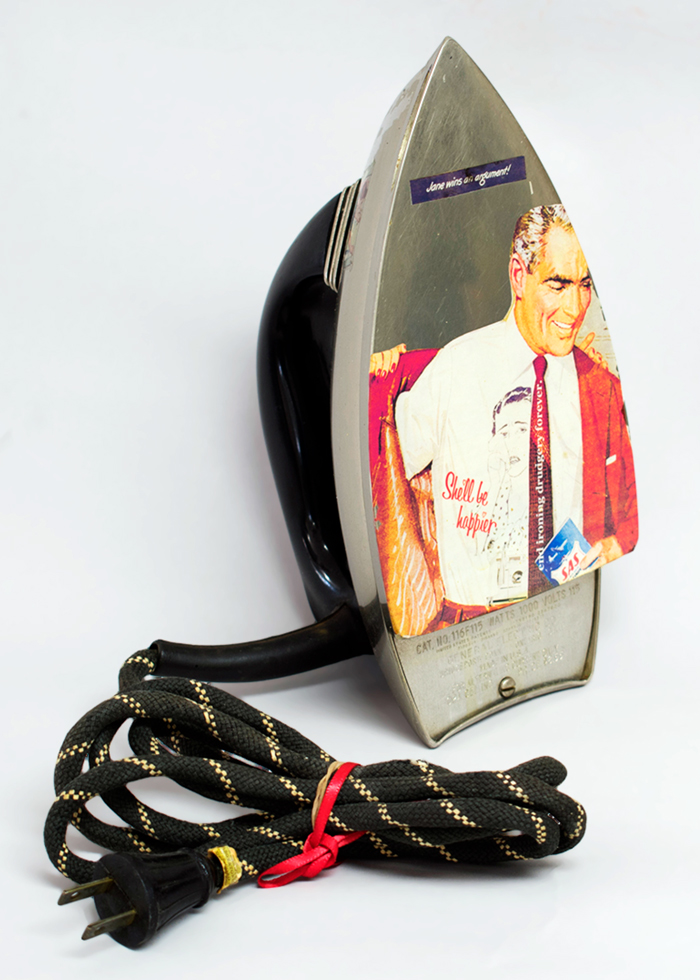 COLLAGE ON VIEW
Evelyn Davis-Walker: House + Wife Revisited
at the Thompson Gallery at the Cambridge School of Weston in Weston, Massachusetts, USA, 17 December 2018-15 March 2019
The second show in the "Circulus Retro" (Circle Back) exhibition series presents Evelyn Davis-Walker's assisted readymades installation, which converts the Thompson Gallery into a 1940s home, replete with period objects littered with collages that critically explore advertisement imagery. "My work is predicated on images that were created for the people of the 1940s, 50s and 60s," the artist said.
Utilizing various industrial decaling techniques, Davis-Walker creates collages on top of consumer goods that reunite message with object. Trained in the graphic arts, Davis-Walker re-focused her area of expertise, turning it upon itself in order to examine the impact of the message in the medium. In her "House + Wife Revisited" series, Davis-Walker collected and combined household objects and advertisements from the 1940s to the 1960s. Through her retrospection, she amassed a collection of distinctly American things and ephemera that targeted "women in the home". "It feels as if I am able to speak through the artwork with information and aspects of today's society that really wasn't talked about so many years ago. It was visually shown, but it wasn't acceptable as a society to address, and so for me I feel as if I am 60+ years late, if you will, with bringing these up to have a conversation," Davis-Walker explained.
Evelyn Davis-Walker's fine artwork is inspired by her career in graphic design. Davis-Walker studied Visual Communication and Computer Art at Otterbein University, earning a B.A. in 2000 and an M.F.A. in Advertising Design at Marywood University in Scranton, Pennsylvania in 2007. She began her teaching career as a graphic design professor at Virginia State University before coming back to Otterbein to teach Communication Design and Art Foundations for eight years. In 2016, Evelyn moved to South Georgia, where she currently oversees the Graphic Design area of Valdosta State University's Art & Design department. She has received numerous awards and has been exhibited widely in solo, group, and juried exhibitions in Arizona, Georgia, Illinois, Indiana, Maryland, Massachusetts, Minnesota, Missouri, Montana, New Hampshire, New York, North and South Carolina, Ohio, Tennessee, Virginia, and Washington. Evelyn's work is part of the Fort Wayne Museum of Art and private collections around the U.S.
Gallery Talk: Saturday, 9 February 2019, 1-2PM
Artist Reception: Tuesday, 26 February 2019, 4-7PM
(Text adapted from the gallery's press materials)
---
INFORMATION
The Thompson Gallery
at The Cambridge School of Weston
45 Georgian Road
Weston, Massachusetts 02493 USA
(781) 398-8316
Hours:
Monday to Friday: 8:30AM to 4:30PM (school calendar applies)
and by appointment: please send an email.
Image:
Tricia's Iron
by Evelyn Davis-Walker
9.25″x5″x5″
digital image transfer on metal
2014
Otterbein University Permanent Art Collection