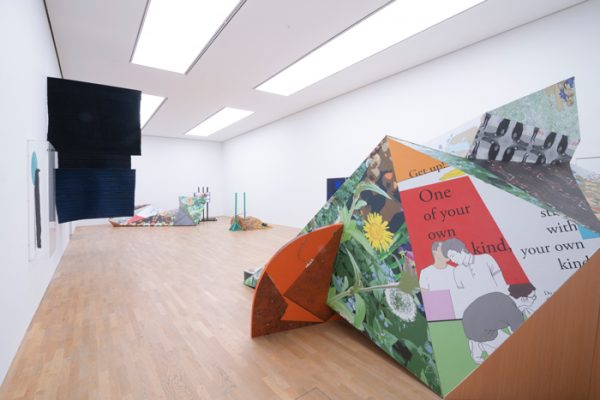 COLLAGE ON VIEW
Sonia Boyce: In the Castle of My Skin
at MIMA (Middlesbrough Institute of Modern Art) in Middlesbrough, England, United Kingdom
11 June-10 October 2021
In the Castle of My Skin features a large angular sculpture by renowned British artist Sonia Boyce based on the shape of pyrite, a shimmering mineral commonly known as Fool's Gold. The structure is clad in wallpapers made by Boyce since the early 1990s.
In the Castle of My Skin uses the metaphor of skin as a covering, a surface, a barrier, a marker of identity and a connector between internal and external worlds. A newly-commissioned video by Boyce features skateboarders from Tees Valley-based collective Girls Skate North East (GSNE) and ukulele-playing skateboarders in Birmingham. The work connects with the artist's long-held interests in improvisation as a way of generating new ideas. The skateboarders play in urban environments, using their bodies to understand space and architectural surfaces.
Pieces by 12 artists based in the Tees Valley and around the United Kingdom join works from the Middlesbrough Collection selected with Boyce. They spill from Boyce's extraordinary structure, encouraging freewheeling connections across artworks from different eras and made in a range of materials. A dynamic five-meter wall painting by Emma Bennett responding to local modernist architecture is paired with prints by world-famous Op Art artist Bridget Riley. Photographs by Kev Howard show the intricate designs of prosthetic limbs, while Harold Offeh's Selfie Choreography video invites visitors to explore the exhibition using selfie-sticks and cameras to think about technology as an extension of the body and how we perform our identities.

Boyce has had a long association with Middlesbrough and MIMA holds one of Boyce's key early works, She Ain't Holding Them Up, She's Holding On (Some English Rose), 1986 (acquired in 1987). Throughout 2019 the artist has collaborated with the institution and colleagues from the Black Artists & Modernism research project to audit the collection for contributions by black artists.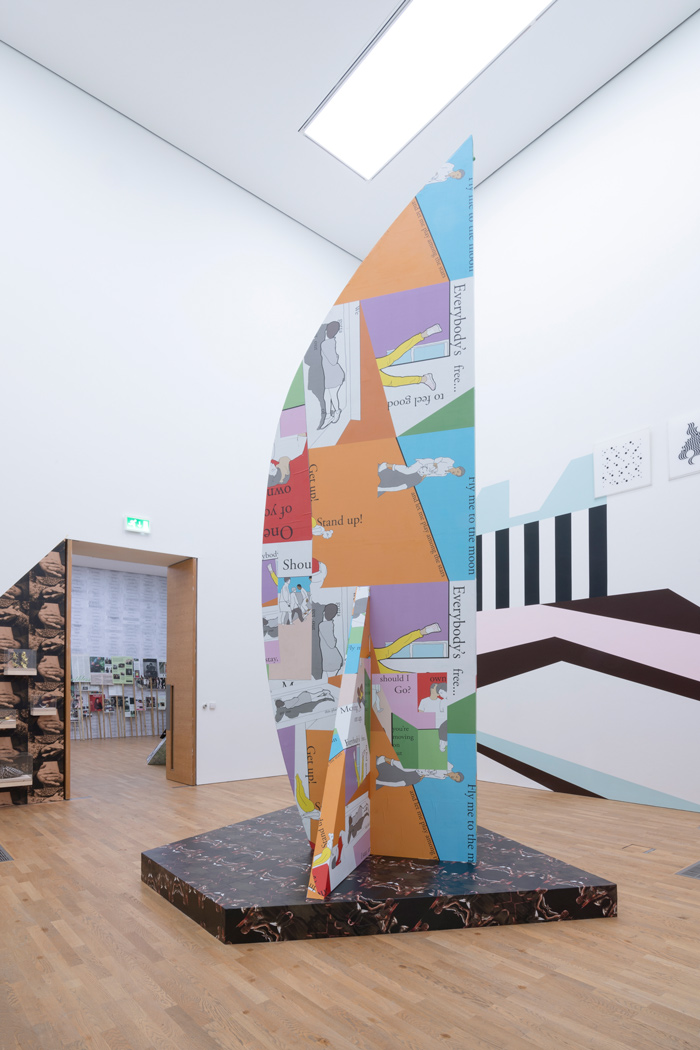 In 2020 MIMA was awarded Boyce's landmark artwork Devotional Wallpaper and Placards, 2008-2020 through the Contemporary Art Society Rapid Response Fund, in partnership with Frieze London, an initiative to support artists and museums during the Covid-19 pandemic. The installation will be presented as part of this exhibition to mark its entry into the Middlesbrough Collection.

The title, In the Castle of My Skin, comes from an autobiographical novel by George Lamming, a study of colonial revolt that is seen as one of the great political novels in modern "colonial" literature. Set in the 1930s in Barbados, where the author was born, the story follows a young boy's life against the backdrop of major societal change. Boyce's reference to this narrative builds on her extensive work in re-evaluating modernism to incorporate a range of perspectives, journeys and voices.

The exhibition is organised in partnership with Eastside Projects with new works co-commissioned by Eastside Projects and MIMA, with support from The Henry Moore Foundation and Elephant Trust.
(text adapted from the institute's press materials)
---
INFORMATION
Middlesbrough Institute of Modern Art
Centre Square
Middlesbrough TS1 2AZ United Kingdom
+44 1642 931232
Hours:
Tuesday-Saturday, 10AM-4:30PM
Sunday, Noon-4PM