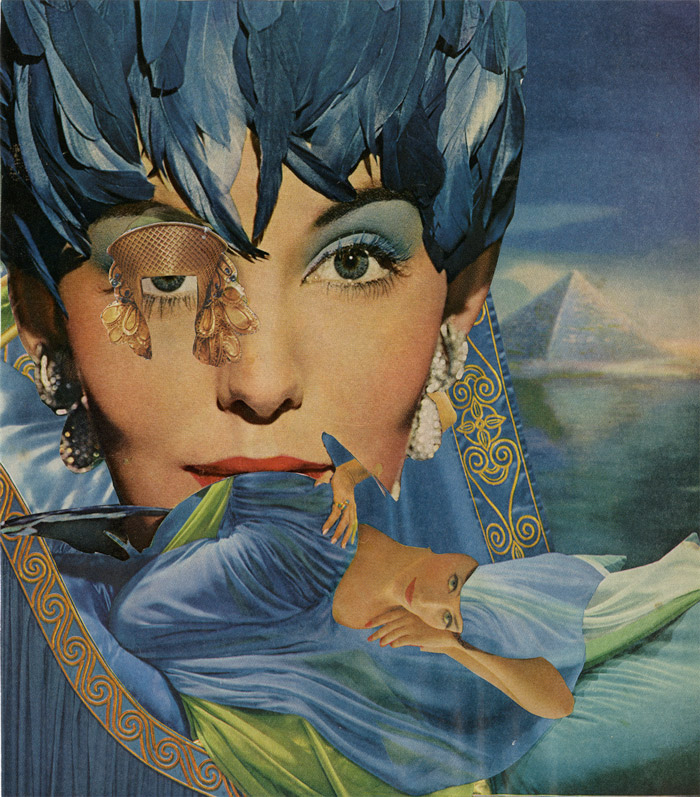 COLLAGE ON VIEW
Jean Conner: Collage
at the San Jose Museum of Art in San Jose, California, USA
6 May-25 September 2022
"Jean Conner: Collage" is the first museum solo exhibition of San Francisco-based artist Jean Conner (born 1933, Lincoln, Nebraska), bringing long overdue recognition to the 88-year-old artist's extraordinary work. The exhibition features collages from the 1950s to the present and highlights Conner's whimsical imagination and clever critiques of mass media representations of women, war, and the environment. It includes rarely seen materials from the Conner Family Trust, new acquisitions by SJMA, and works from public museums and private collections.
Paper collage represented the majority of her output since she moved to San Francisco in 1957. Conner's early collages include newsprint and paint in abstract compositions, and her more figurative works of that decade, such as Nixon (1959), were made from black-and-white images. Her approach to making art from everyday objects and images was echoed in the culture around her: the Beat Generation artists in San Francisco who embraced an ethos of experimentation and rebelled against traditional art practices and economic materialism. Resourceful and unconventional, these artists practiced assemblage through various mediums such as photography and sculpture. By 1960, she was using color magazines almost exclusively. She would create seductive and humorous scenes from images cut out of large-format magazines, exploring the aspirations and fears of postwar modern life as they were reflected in publications such as Life Magazine and Ladies' Home Journal. Conner reveled in color and figuration, depicting flamboyant scenes as excessive and strange as the era's advertisements, as in Tomato Soup (1960), a bold, crimson collage in which a spoonful of tomato soup doubles as a looking glass for a manicured finger applying matching ruby lipstick.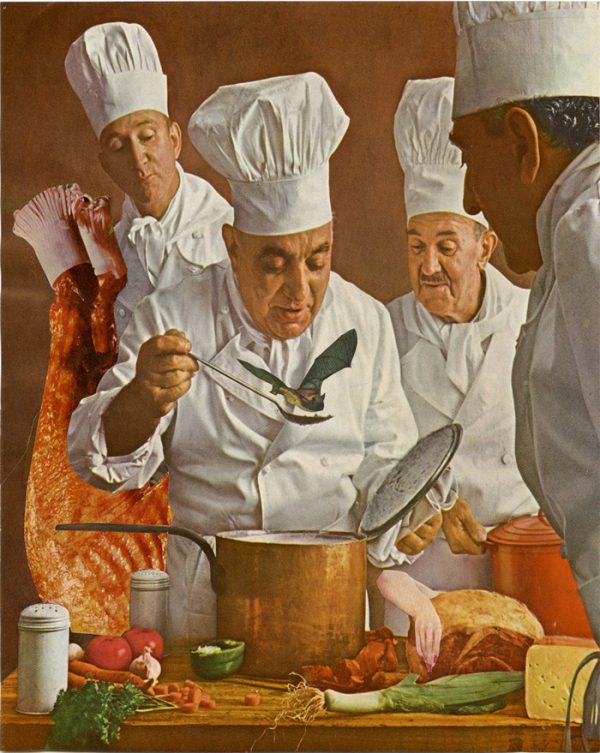 Her observations of technological advancements can also be read in such works as Adding Machine (1969), in which synchronized dancers spring from a computer's numbered keys in an orchestrated explosion superimposed over a scene of war-wrought destruction. Strange ecologies emerge in Octopus (1982), which shows a reef diver overcome by a giant octopus rising from a swamp, as a blue shark swims across a blue sky.
The exhibition was curated by Rory Padeken.
(text adapted from the museum's press materials)
---
INFORMATION
San Jose Museum of Art
110 South Market Street
San Jose, California 95113 USA
(408) 271-6840​
Hours:
Thursday, 4-9PM
Friday, 11AM-9PM
Saturday-Sunday, 11AM-6PM